Stocking up more than 100,000 , Jiayu G4 8-core edition ready on May 15th
by Shine Wong May 12, 2014 7:50 pm0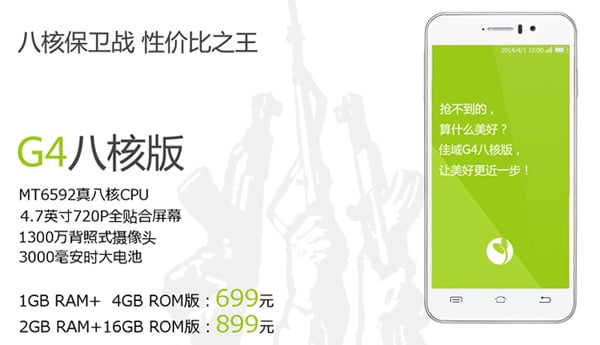 In order to improve production competence, Jiayu is upgrading its cost performance Jiayu G4 8-cores standard edition. From previous 1.4GHz MT6592 to 1.7Ghz MT6592. The upgraded basic version will be first released this Thursday(May 15th), and there comes with a higher spec version with 2G RAM inside.
The number of this launch is vastly various, while the official provided more than 100,000 units. It is predicted that you can get one if you are going to buy it. The detailed timing is 15th noon 12:00 to 14:00, Jiayu G4 8-core standard and high-spec sold in RMB 699 Yuan ($113) and RMB 899 Yuan($145), both are black.
Jiayu G4 octa core /Jiayu G4S are the types of Jiayu Mobile which sales for quantities. It is designed to compete many thousand-Yuan selling phone products on the market. Although it is based on original quad core products, it keeps the advantage of the quad core types, such as OTG and gyroscope and compass, covered by 2nd Corning gorilla glass, these features are not only supplied by higher edition but the 699 Yuan basic type.
The standard edition and higher edition are built in 1GB+4GB/2GB+16GB memories, 4.7 inch 720 resolution LTPS screen, MT6592 8-cores, 3MP and 13MP camera etc, 3000 mAh battery, Android 4.2 system and can approve WCDMA+GSM double card double standby.