NOMU LMV7H Rugged Military Phone Is Under $130
by Shine Wong May 14, 2014 8:28 pm0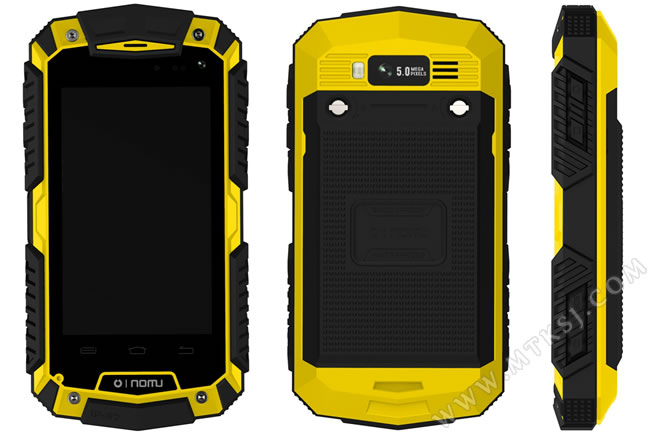 For those who always working outdoors, a rugged phone can be far more realistic than others.. So some domestic brands focus on 3 proof phones. NOMU has launched LMV7H, which is a reasonable priced , the V7's price is only about 1/3 of V9.
NOMU LMV7H designed with a rhombus shape, a common design beyond the 3 proofs, hard shaped, classic black and yellow design, and all black one also available. V7H's body is covered by high strength rubber, the screen is Corning 2nd generation gorilla glass, providing hard protection , earphone socket is plugged with rubber stopper to avoid water and dust. Official data shows NOMU V7's three proofing is IP67.
The phone is well functioned , supporting glove operation, talkback and all purpose remote control function, and SOS one key help function and double microphone design. V7H has a 3600 mAh battery, which is a sales point of the phone.
Compared with V9, the LMV7H is lower in specification, it has 3.5 inch WVGA resolution screen, and 1.3GHz frequency MT 6572 duo core processor and 512 Ram + 4G ROM memory, 5MP camera, running Android 4.2 system, can be WCDMA+GSM double card double standby.
Now NOMU LMV7H is launched officially, selling for RMB 799 Yuan ($130).