Huawei introduces trio of mid range mobile phones in India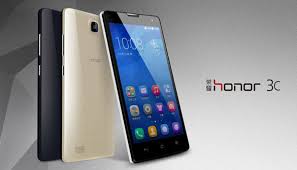 Chinese Company Huawei announced today that it is introducing 3 new mobiles in Indian Market. The released handsets include the Honor 3C, the Ascend G6 and the Ascend G750. The Honore 3C is considered the Huawei's counterpart of Moto G. Moto G is considered the best phone in its price range category. The handset has been marketed at Rs. 14,000 or $250. It is in the ambit of Phablet category. It has 5-inch screen with 720 x 1280 high-definition LTPS (Low Temperature Poly-Silicon). Moto G's price is Rs 12,999 for the 8 GB version and for 16 GB version the price is 13,999.
The Media Tek processor's speed is 1.3 Ghz quad-core with a Mall 400 GPU. It sports 2GB of RAM. Some experts considered it contender to Moto G's 8 GB version. The Moto G has processor's speed of 1.2 Ghz quad-core Qualcomm Snapdragon 400. 1GB of RAM and 8GB expandable storage.
Honor 3C set some good results which could be considered equivalent of Google's Nexus 4. The dual SIM Honor 3C has Android Jelly Bean with a touch of Huawei's Emotion User Interface on it. It has 8MP back camera. Which has blue glass filters. Similarly some other photography related enhancements. It has 5 Megapixels front camera.
In phablet category Huawei also introduced Ascend G750, which is priced at Rs. 24,999. It has 1.7 Ghz octa-core Media Tek MT 6592 processor. The high end processor is the main reason for the price hike. It sports 8GB storage which could be extended through microSD. Its rear camera has resolution of 13 MP with LED Flash. Front camera is 5 MP. The color choice is Deep black and Pure White.
The last camera in the trio is Ascend G6, which Huawei unveiled in Mobile World Congress in December. The price of the handset is Rs. 16,999. It has 540 x 960, 4.5 inch qHD display. It has features similar to Honor 3C which includes 1.2 Ghz processor. Android Jelly Bean with Emotion on Huawei's UI. 8 MP rear camera and 5 megapixel front camera is good for selfies. The high price is due to quad-core Qualcomm chipset.