Samsung Galaxy W phablet device is leaked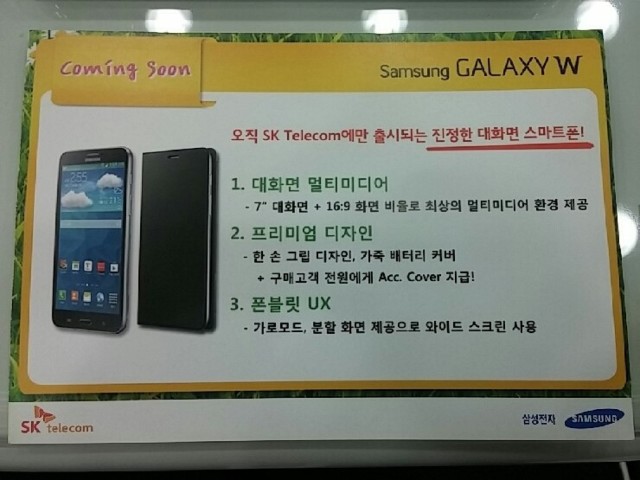 The new Samsung phablet device is leaked from the brochure that is heading for the South Korean mobile operator SK Telecom. The brochure is showing the feature of upcoming Samsung Galaxy W.

The device will has 7-inch screen size with a resolution of 720p, this device will has UX interface with landscape mode, and Multi Window for multitasking feature. The device is also use leather back cover, this design is similar with the Galaxy Note 3.
According to leaked information, the device will be marketed internationally as the Galaxy Mega 2, but now the device is marketed with Samsung Galaxy W name.
The device is also known as Samsung SM-T2558 that powered by quad-core 1.2 GHz processor, sports with 1,5GB of RAM, 8 megapixel rear camera and 2 megapixel front-facing camera, equipped with 8GB of internal storage and running with Android 4.3 Jelly Bean operating system.