Smartisan T1 Evaluation: Pros and Cons Coexist
by Shine Wong May 28, 2014 1:24 am2
" I don't care win or lose, I am just serious." A statement that ll audience who watched mobile phone release conference  in the evening of 20th ,May would remember. For domestic phone market, win or lose is difficult to be separated. And the only way to shake users opinion may be your attitude, those only made by serious attitude could earn user's attention, and Elder Luo can be one of them.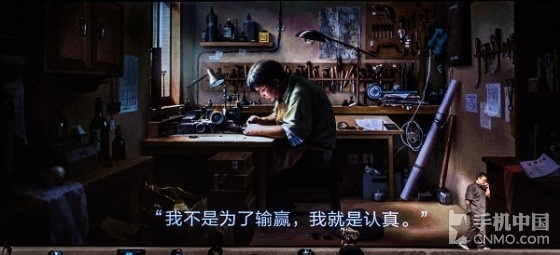 I don't care win or lose, I am just serious.
This is a rapid changing era, flagship phones are coming out every month, 2 years appears too long for designing a phone, so long that normal people may have"postpone" come in mind if they think about Smartisan phones.
It is believed that Elder Luo do have a good speech ability, telling us all sales point of the Smartisan T1 and its background, however, it may take time to prove whether he was right.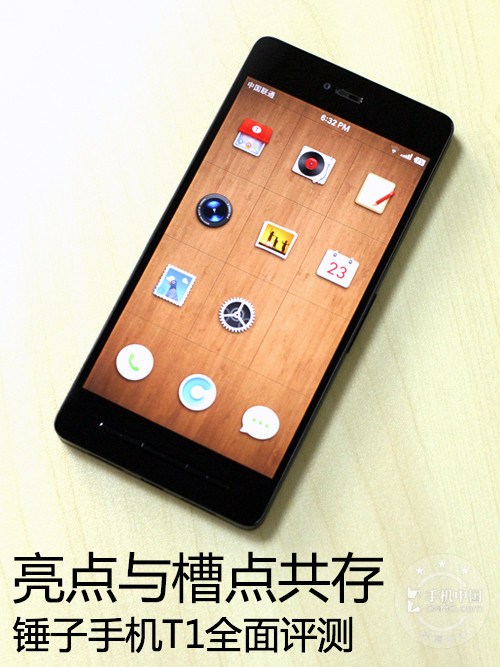 After writer's done a week's test on the Smartisan T1, beside experience Elder Luo's user experience, there is still many to improve in both hardware and software, let's not to be emotional, and have a look at the "well crafted" phone.
Elder Luo went to the topic after easy chat teasing his counterpart, and made the configuration the 1st part of all, this shows how Elder Luo does not care the hardware. But hardware is an issue that most can't avoid while buying a phone, as we will introduce Smartisan T1's hardware along with the pace of the release conference.
Smartisan T1
Detailed Specs
Screen
4.95inch Pixel Eye screen;

1920

×

1080

pixel;

445ppi

Processor Type
Snapdragon 801(MSM8274AC)Quad core 2.5GHz
Memories
2GB RAM

;

16GB ROM

Cameras
5.03mp front +12.78mp main camera
Battery capacity
2570mAh
Operation System
Custom Smartisan OS 1.0b based on Android 4.4.2
Network Module
GSM

、

WCDMA

Dimensions and Weight
141

×

67.74

×

8.23mm

;

About167g
Although the hardware is not stressed, the Smartisan T1 do reach main flagship phone level. The phone use Quadcomm 8274AC quad core processor, main freq 2.5 GHz, the screen is Japan made 4.95 inch Pixel Eyes screen, resolution 1920 x 1080 FHD.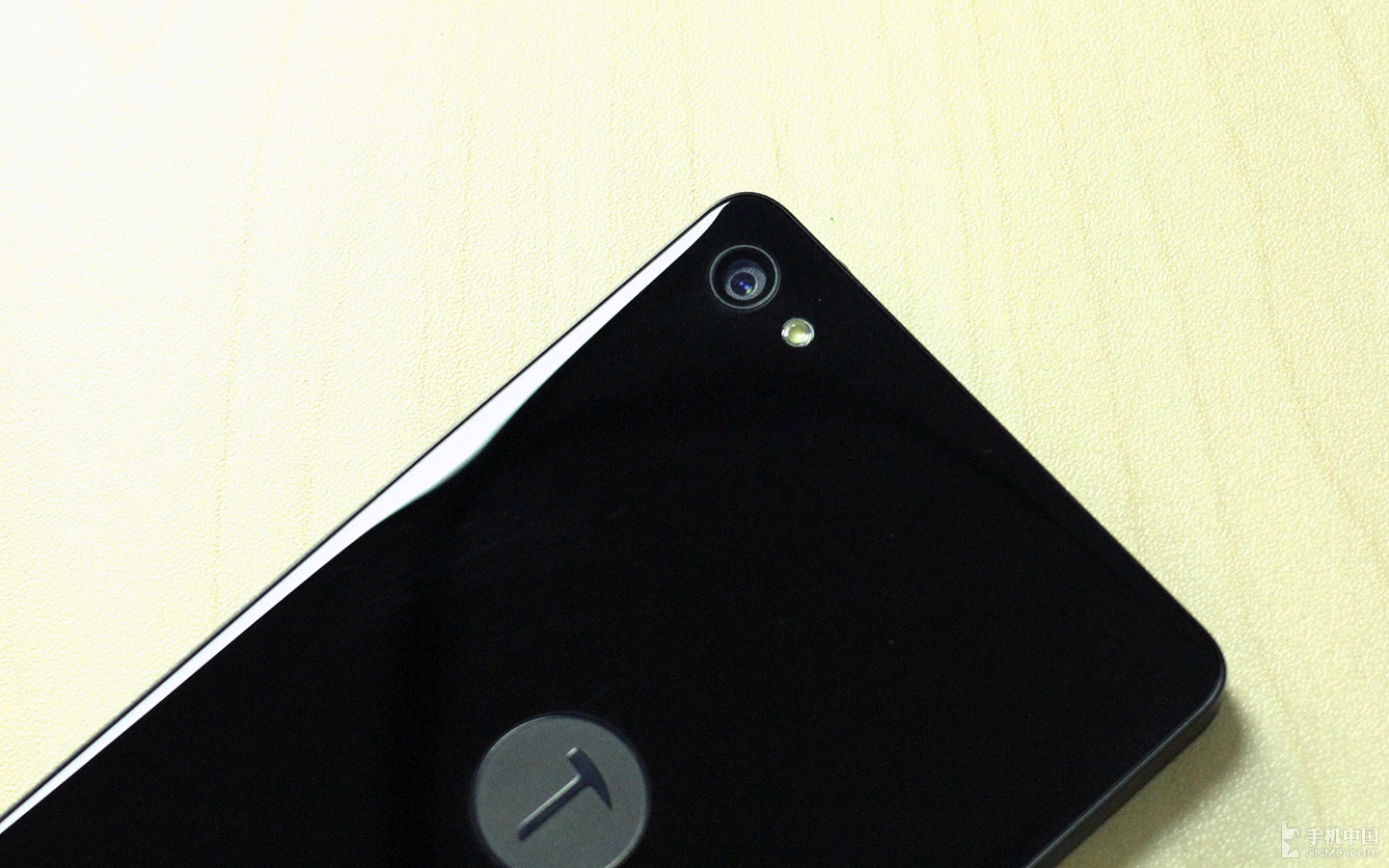 12.78MP effective pixels Sony stack camera
Camera is one point that worth to notice,  Smartisan T1 carries 12.78 MP Sony stack camera, and consolidated Fuji's Milbeaut Mobile photography solution and ACUTE ogic auto white balance and ArcSoft scenario auto recognition and night shot noise reduction technology. But Elder Luo said honestly the noise control was not ideal but will be solved in the final edition. We will bring the sample photos later.
The hardware part is end, as Elder Luo claimed, all of best. Let's look at a Antutu score finally, because it is the engineer sample, adjustment may not be the best, we find it scored 31844, it is predicted the final sales edition will get higher.
Smartisan T1's Antutu Score
People hold different opinion to Smartisan T1's out lookt the phone exposed it's photo just a week before launch, nothing was heard before that.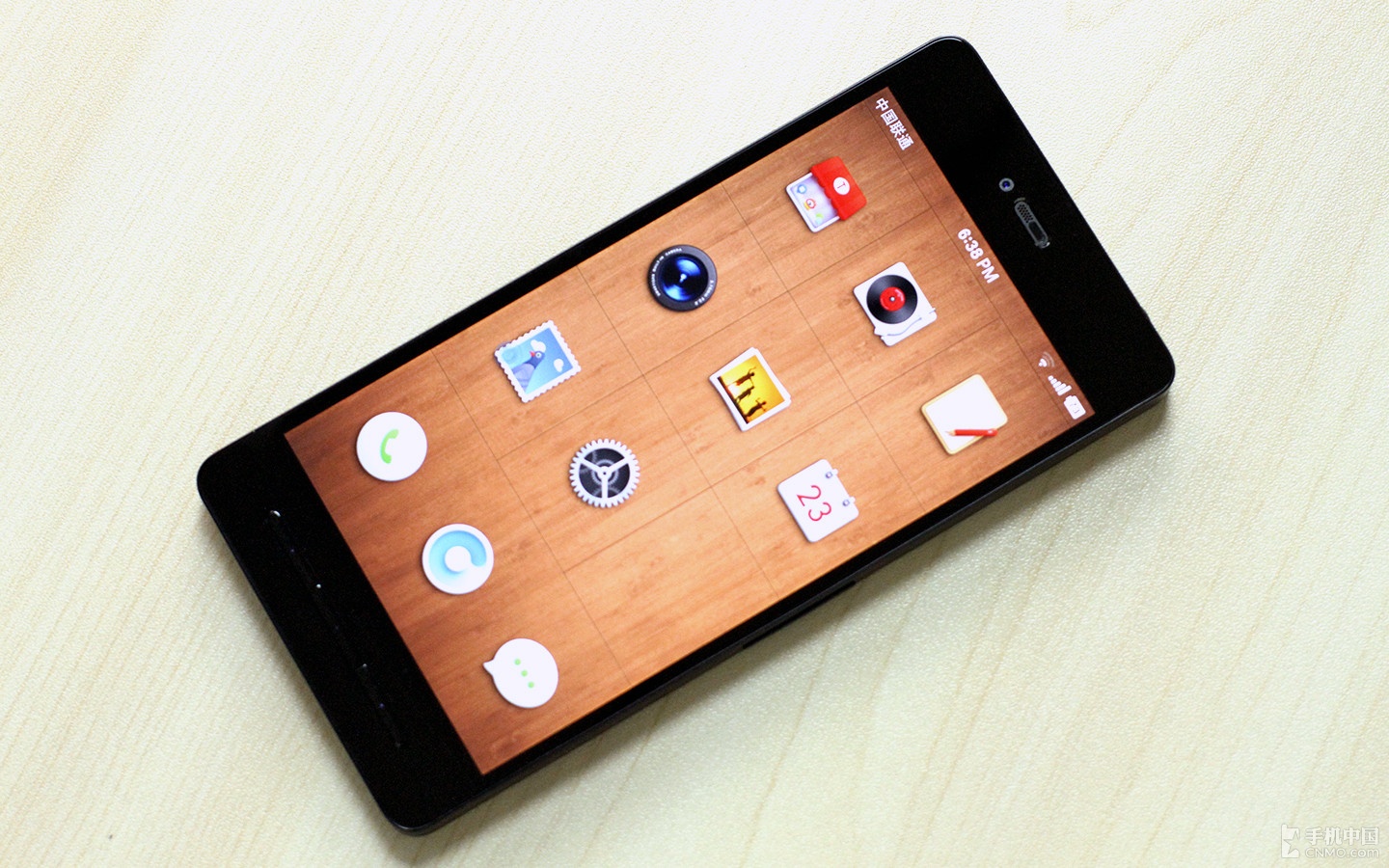 83.8% of the front is covered by glass
Elder Luo said the phone is designed by Robert Brunner, who was Apple's industrial designer director, founder of Ammunition design Studio, meanwhile he directed the design of Kindle reader and its counterpart Bams%Nook and well known Beats by Dr.Dre earphones. Hence we can find some "Apple style " among the Smartisan T1.
When I handled the Smartisan T1 last time, the first impression was the body is bulky, it is afraid to be designed as a male-orientated phone, although there are more girl-friendly white edition coming out later, I am afraid its weight will attract not many female customers.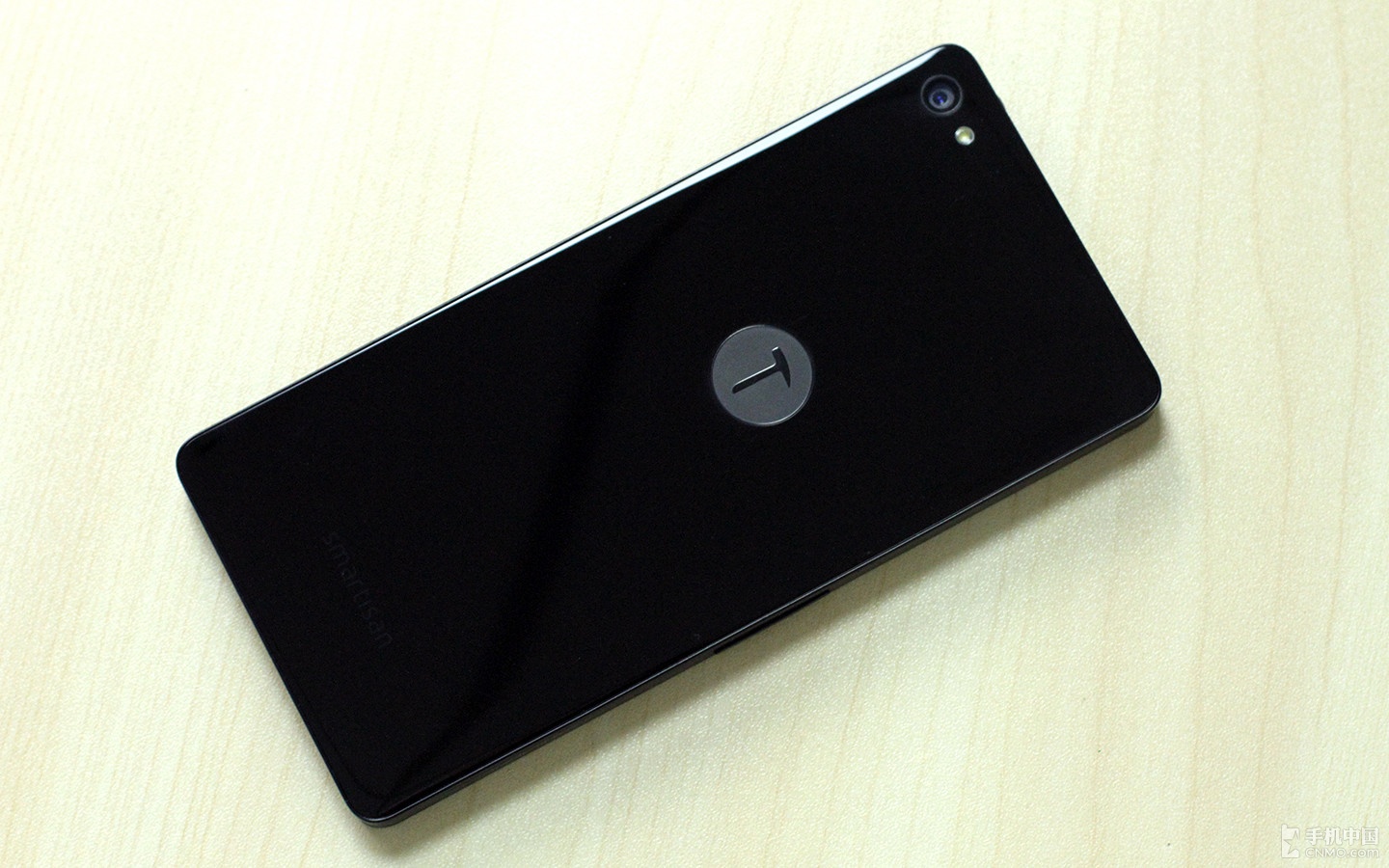 3D polished back panel
Smartisan T1 use Corning Gorilla aluminum silicon stalinite design, 83.8% of whole body covered by class, this is the reason it feels so good. Secondly, the back panel is arc-design, which is more comfortable some simple rude cube corner process.
Front design: Pros and Cons are coexist
It can see Elder Luo's insist from the phone's details, Smartisan T1 creatively put ray sensor into a track shaped volume hole, which can avoid too much holes on the body, which may reduce the aesthetic view of the phone. White edition may expose this more.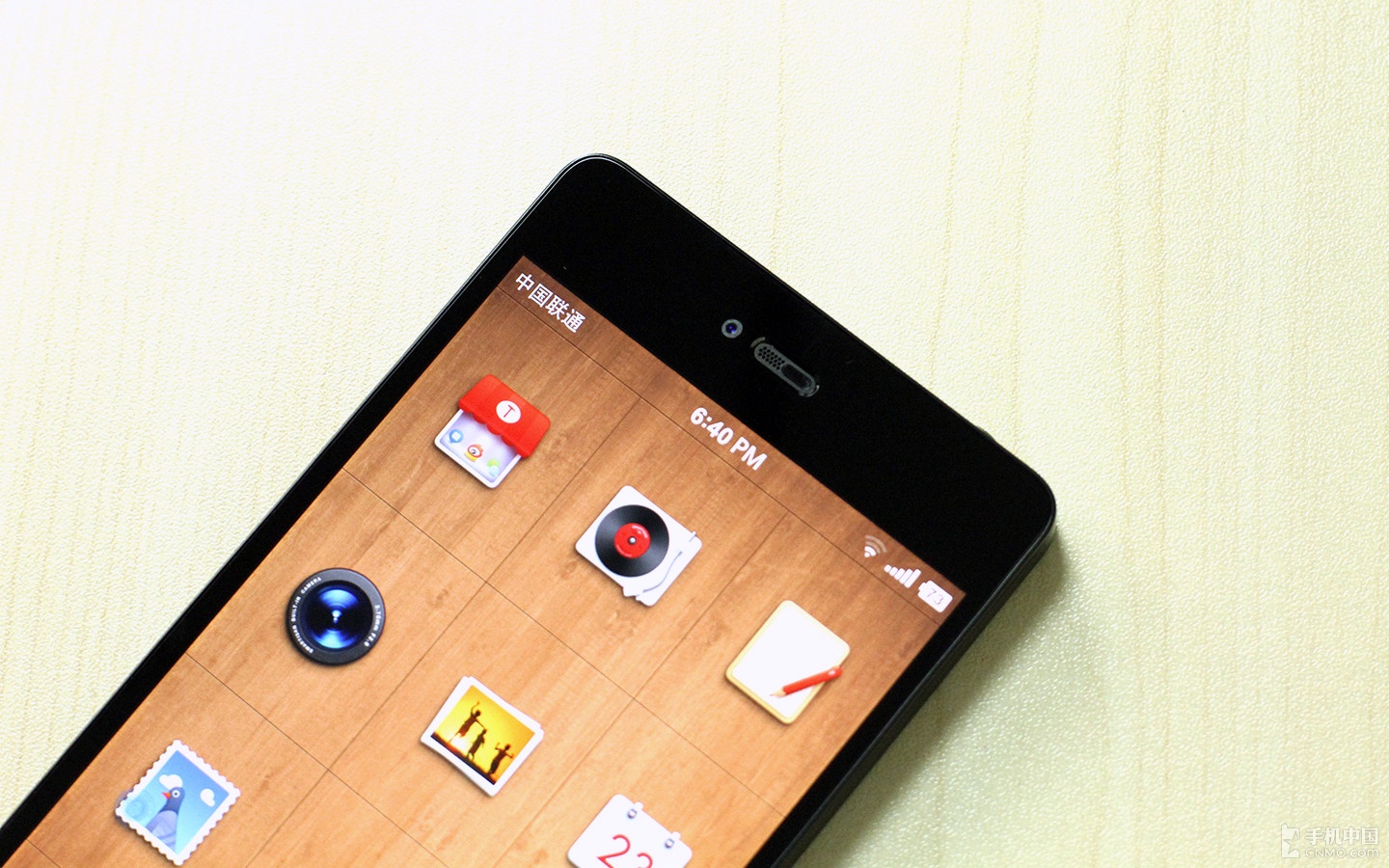 Embedded sensor hole
To the body, most attractive thing is the 3 solid button, which looks like old Nokia style by a glance. This is obvious anti-fashion nowadays.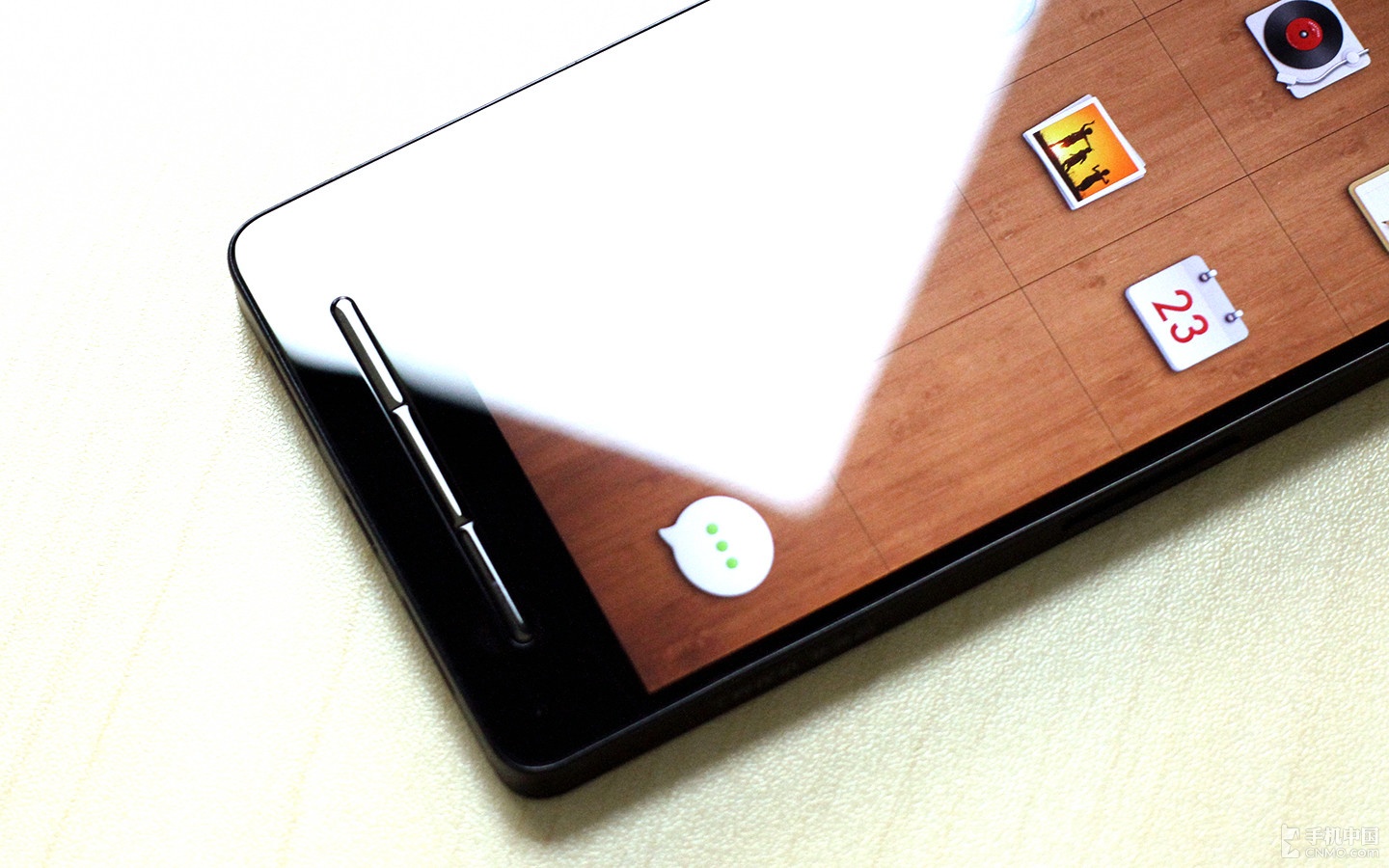 3 Solid buttons in the bottom
There is not much advantage for the solid button through days of try, The touch feeling is not so good as virtual one, although that may remarkably reduce touch mistake.This may take time to accustom if you are going to use it.
Elder Luo and his symmetric aesthetic
"Right is right, left is also right." This is to claim you will not be justice by your decision, which can also be describe of the Smartisan T1's design theory.
Recalling Smartisan T1's id photo just exposed, I once doubt if it's done deliberately, for the solid volume looks like in same side no matter which side you are putting the phone. This can be unreasonable at that time .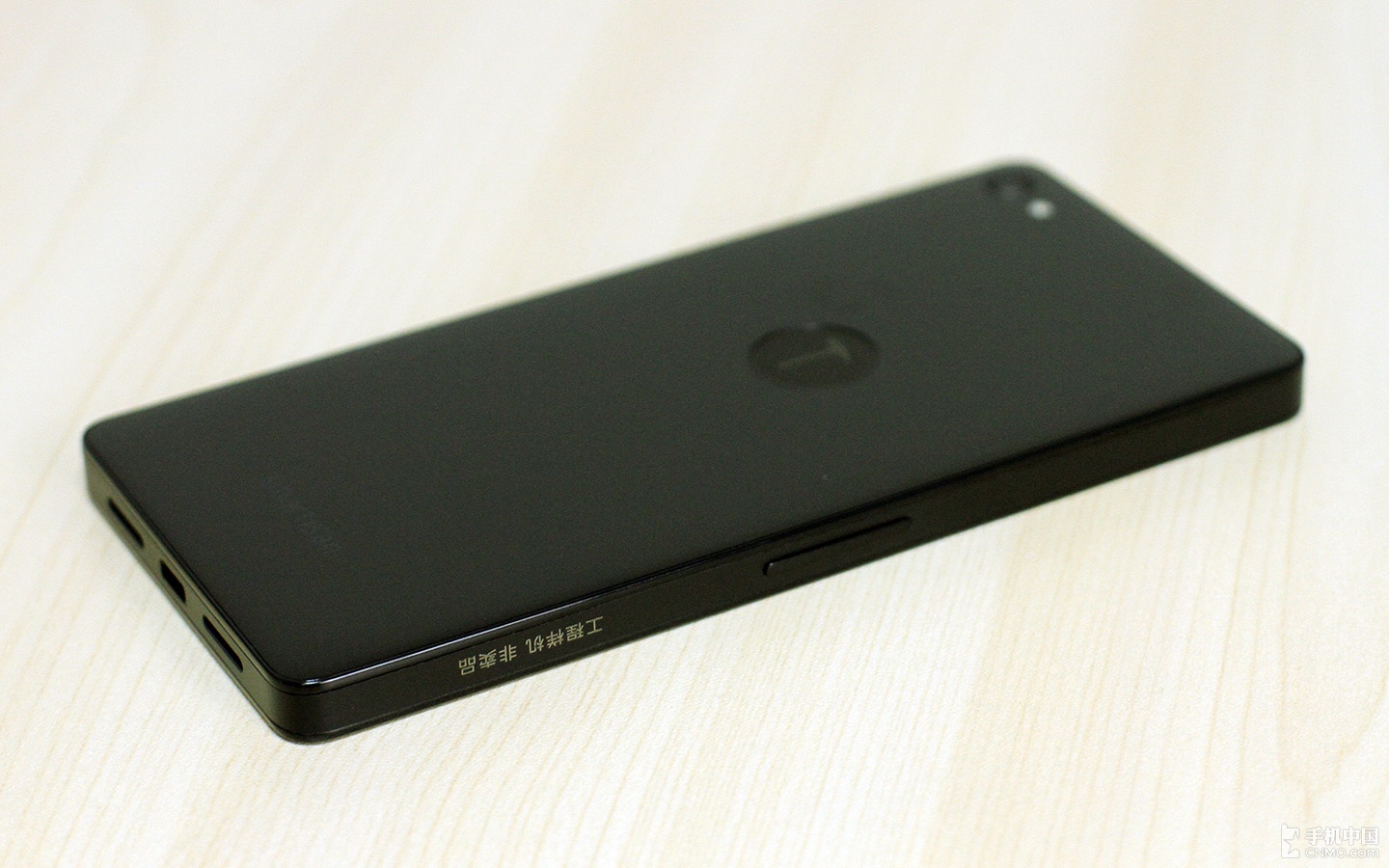 The body is symmetric designed.
Elder Luo can be paranoid when he design the product, how compulsive disorder can he be to make a completely symmetric phone? But the users seem not complaining too much about it, especially Virgo.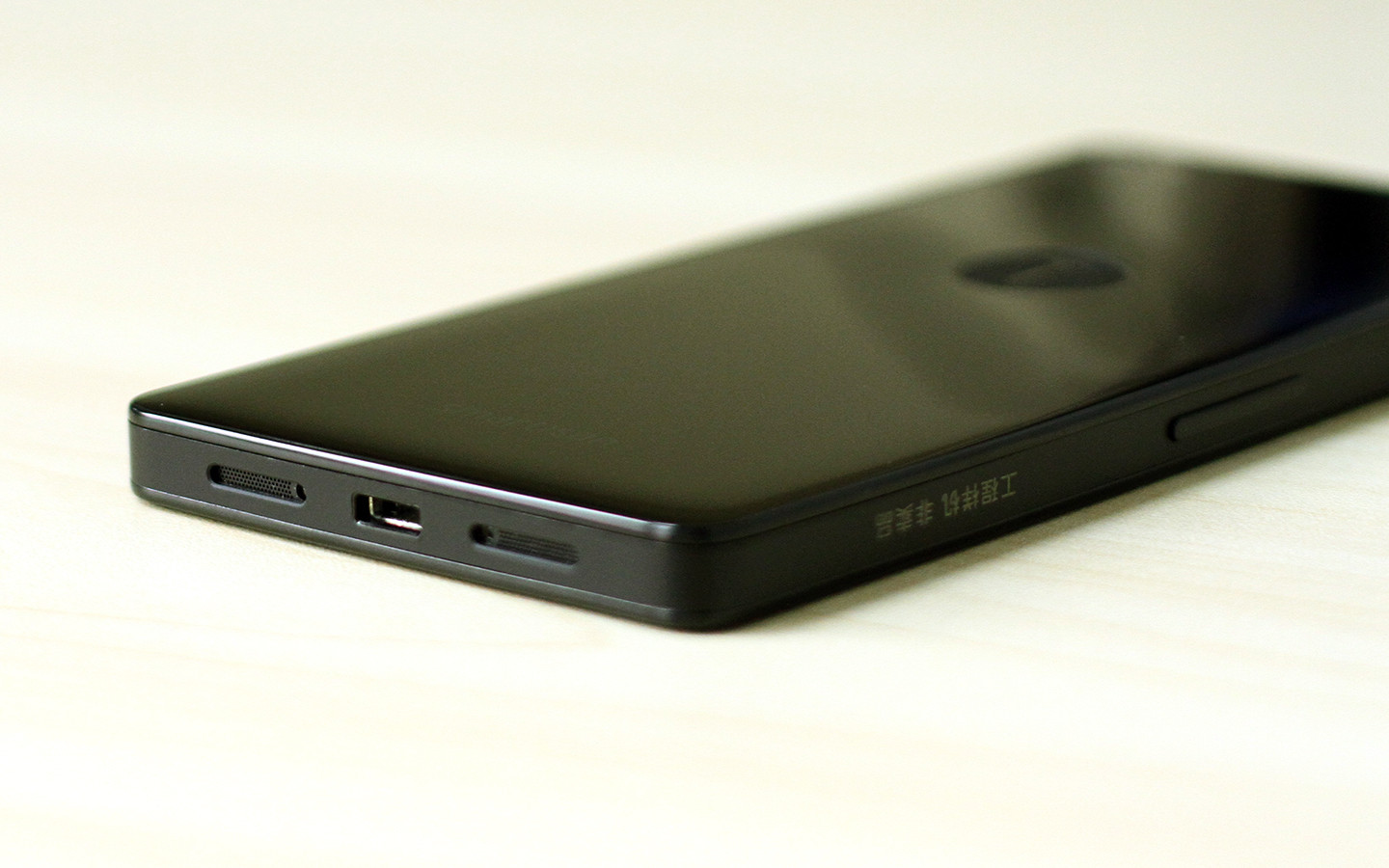 Bottom screws are built in symmetric design
On the bottom they followed the laconically design, screwing as less hole as then could, placing screw hole inside the track shaped speaker hole. When the phone leave the factory, the screw is not in the body but put together with accessories. We reckon it may be difficult to change SIM card, however, just gently twist and lift up the back shell so you can change it.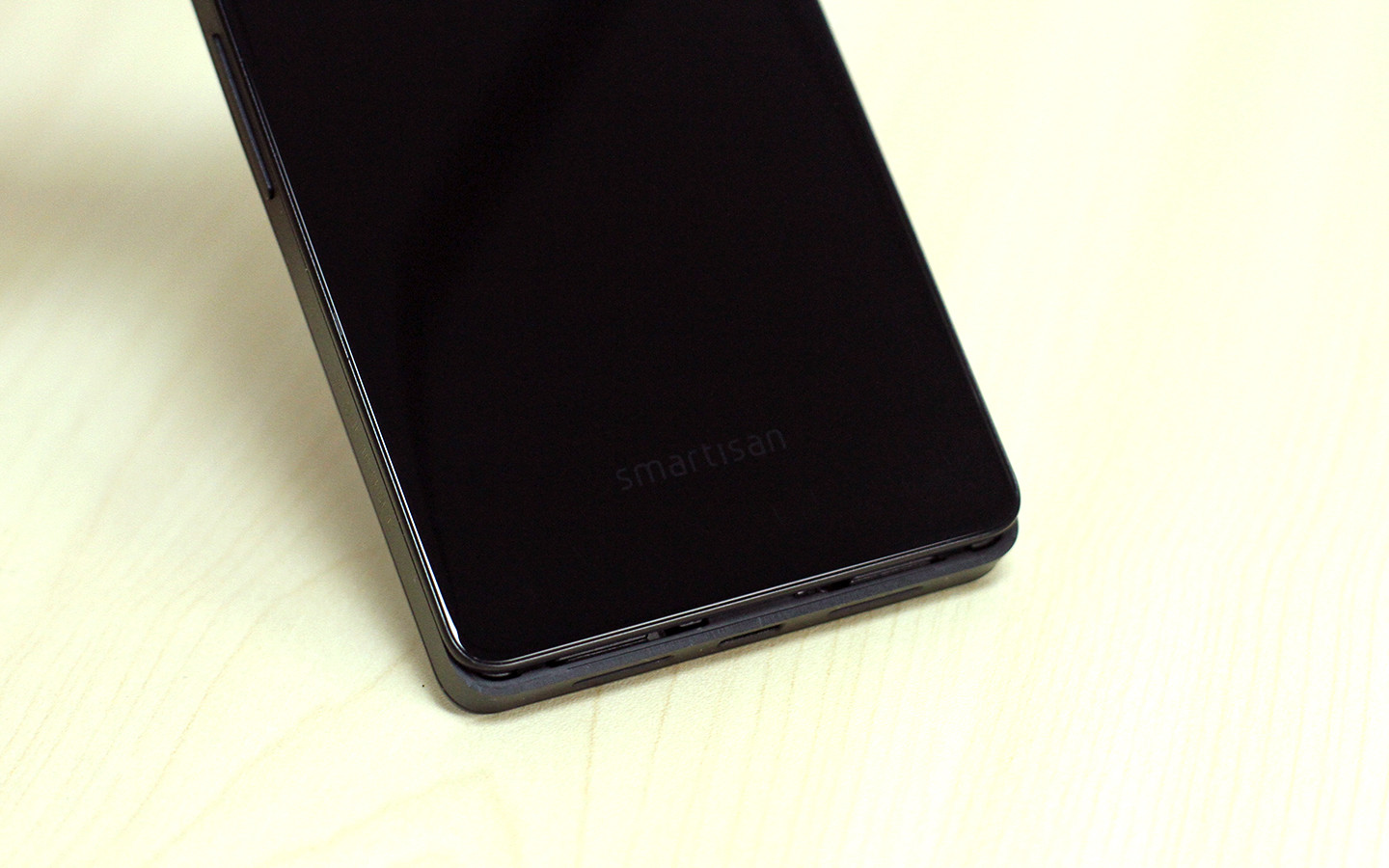 Slightly twist to lift back shell
Smartisan T1's middle frame is glass fibre reinforcement resin together with stainless steel frame together design, we can find even the "not for sale" sign on the body is also designed symmetrically.
"not for sale" is still symmetric designed
Symmetric design make the body looks pretty artistic, but that requires concession on operation convenience.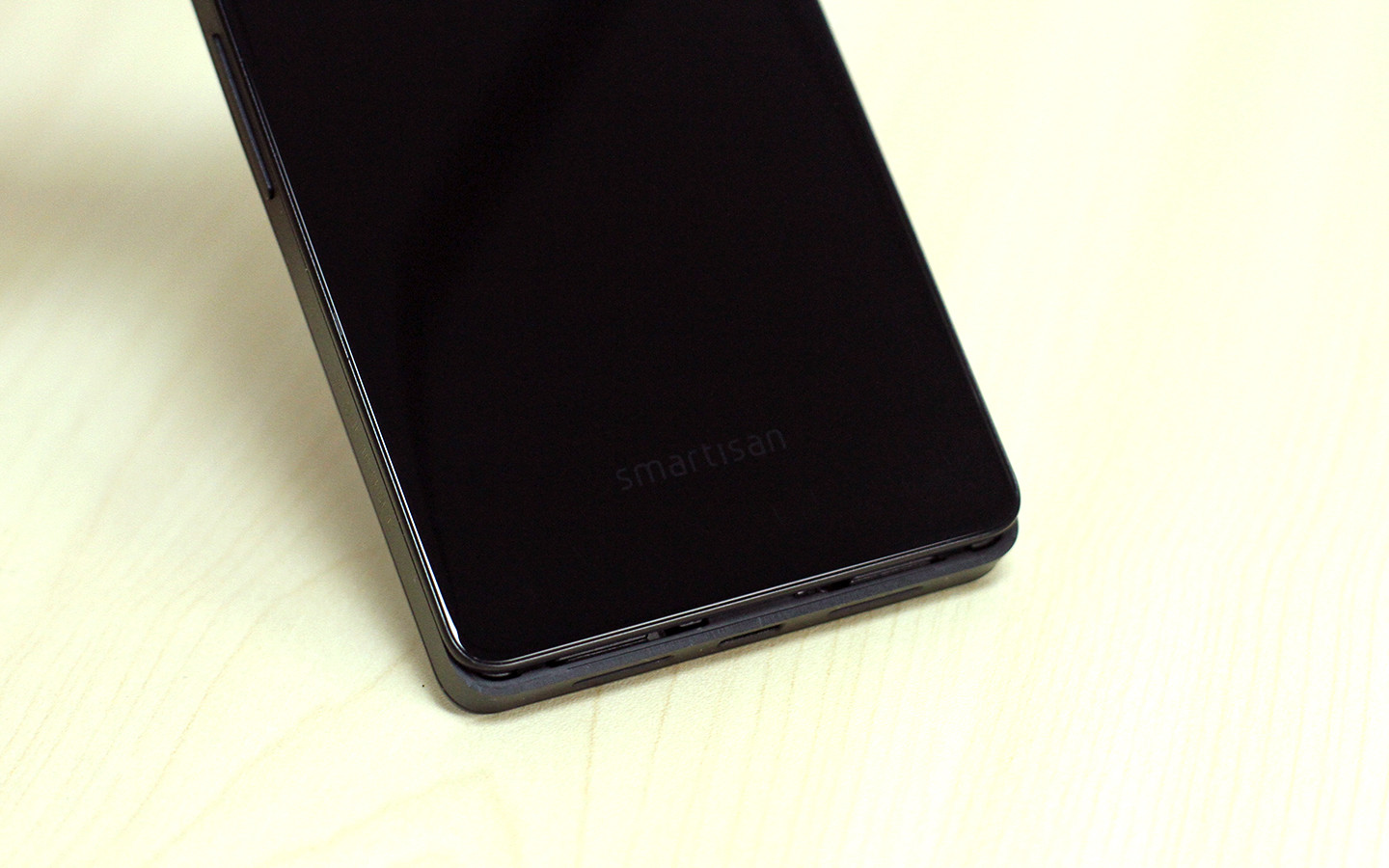 Earphone hole and awaking button locates on the top of body
Smartisan T1 's awaking button locates on top of the body, been perfectly symmetric with earphone hole, but the body size can not be operated by one hand , you have to change handling gesture to reach the button.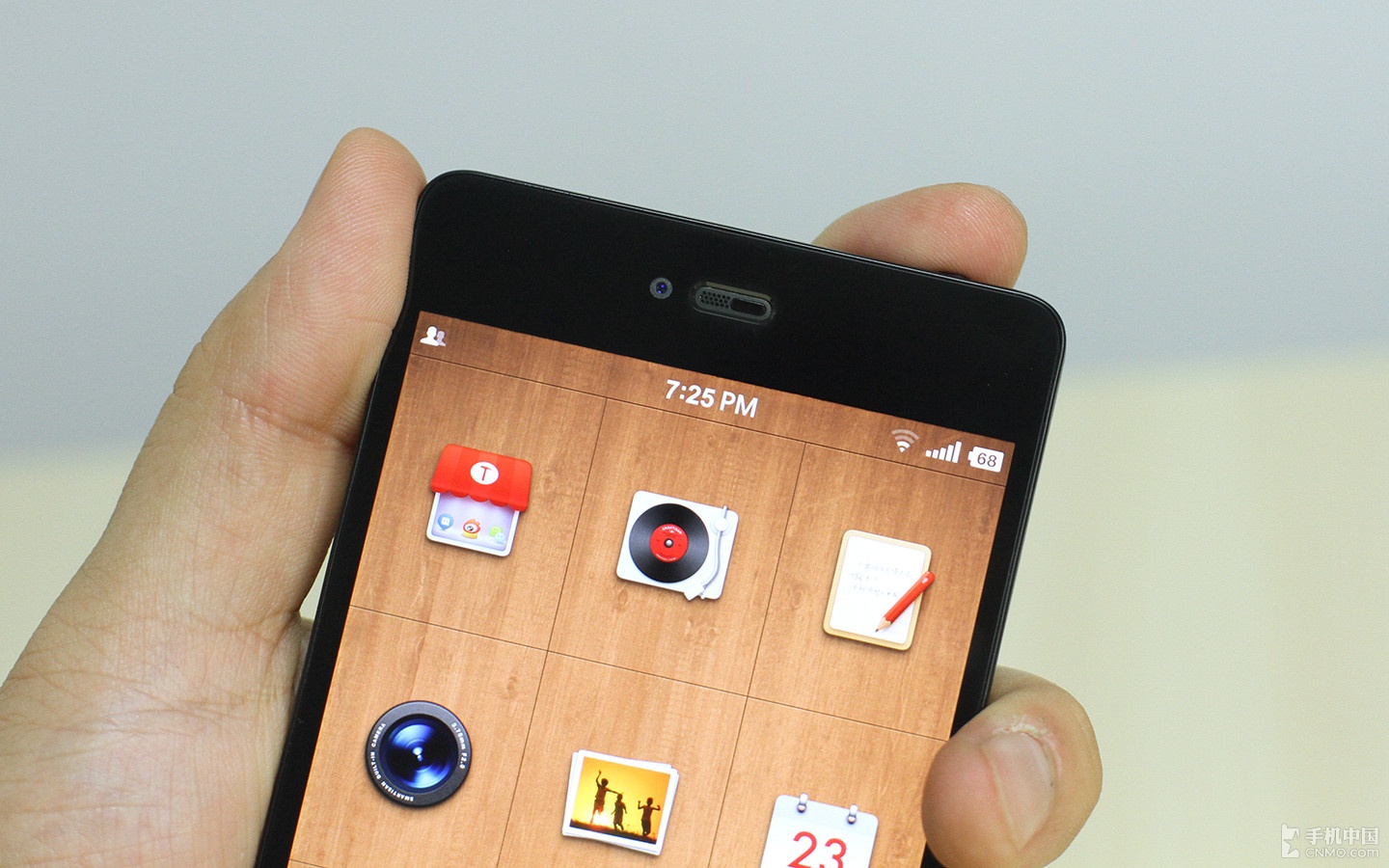 Change gesture to press the awaking button
2 buttons in the middle of the body is not as easy to operate, official added some custom function on it to fulfill different user demand, we find it difficult to press both of them at the same time.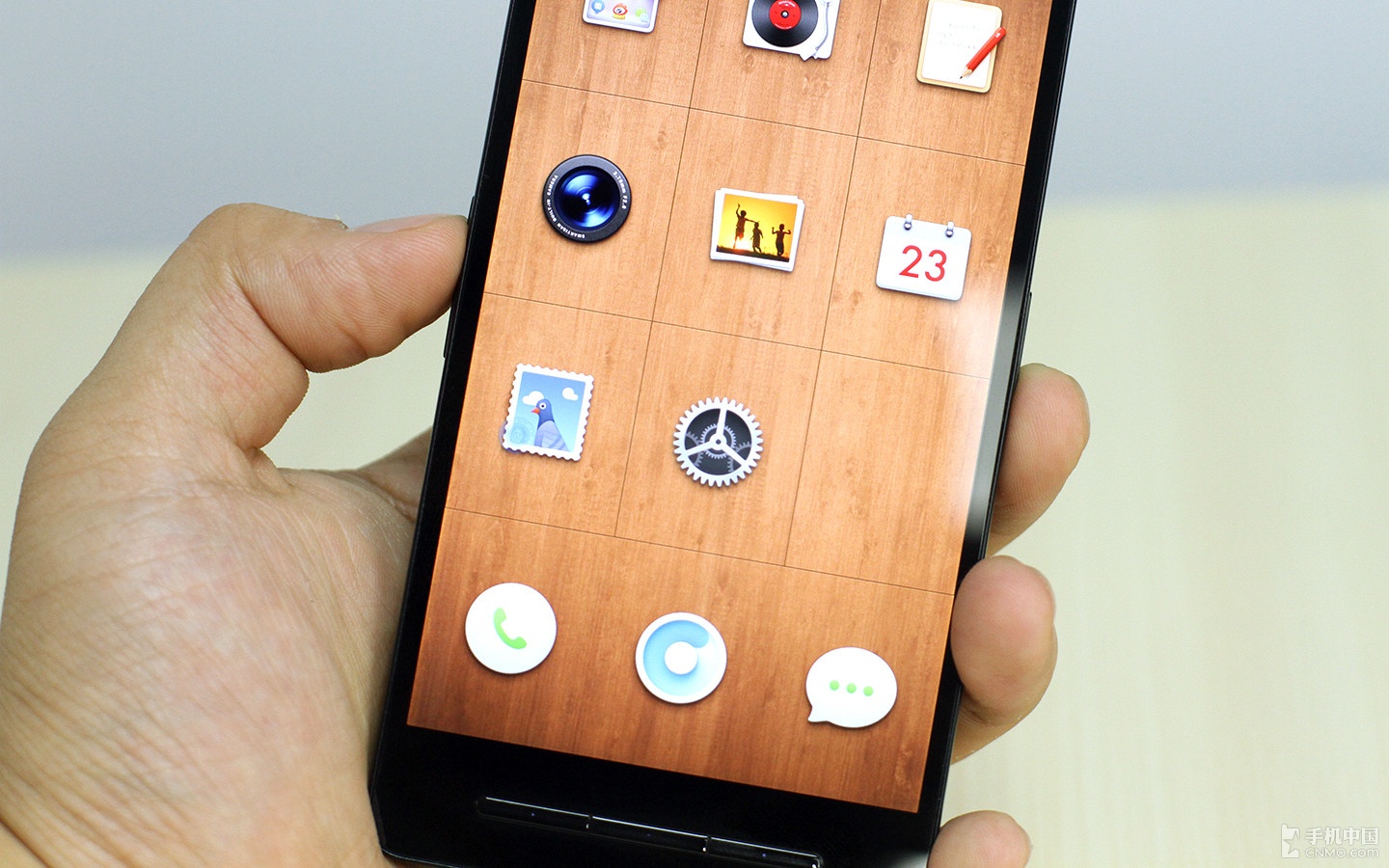 Low rate to press both button to boost related function.
Even Elder Luo emphasis user experience, he has to do some compromise on usability, good news is the well designed operation system can help, let's have a look at it.
Compared to the phone, Elder Luo's Smartisan OS is well known more earlier. Although it is merely do some modification on Android to add usability, some functional integrate and details makes great improvement on operation experience. This is not comparable by many modification ROMs.
Elder Luo emphasis that Smartisan OS does not allow user to change their own wallpaper, since the system's default theme is well look, he did leave opportunity to user to allow they change it, who can change back to original Android desktop to fulfill the demand.
If you do not like the Soduku you can change back to original Android wallpaper.
We have different habit while operating our phone, Smartisan OS support user to custom different button's function by our habits. In the first time we use it we will be asked to set left hand user or right hand user, and we can change randomly in the settings.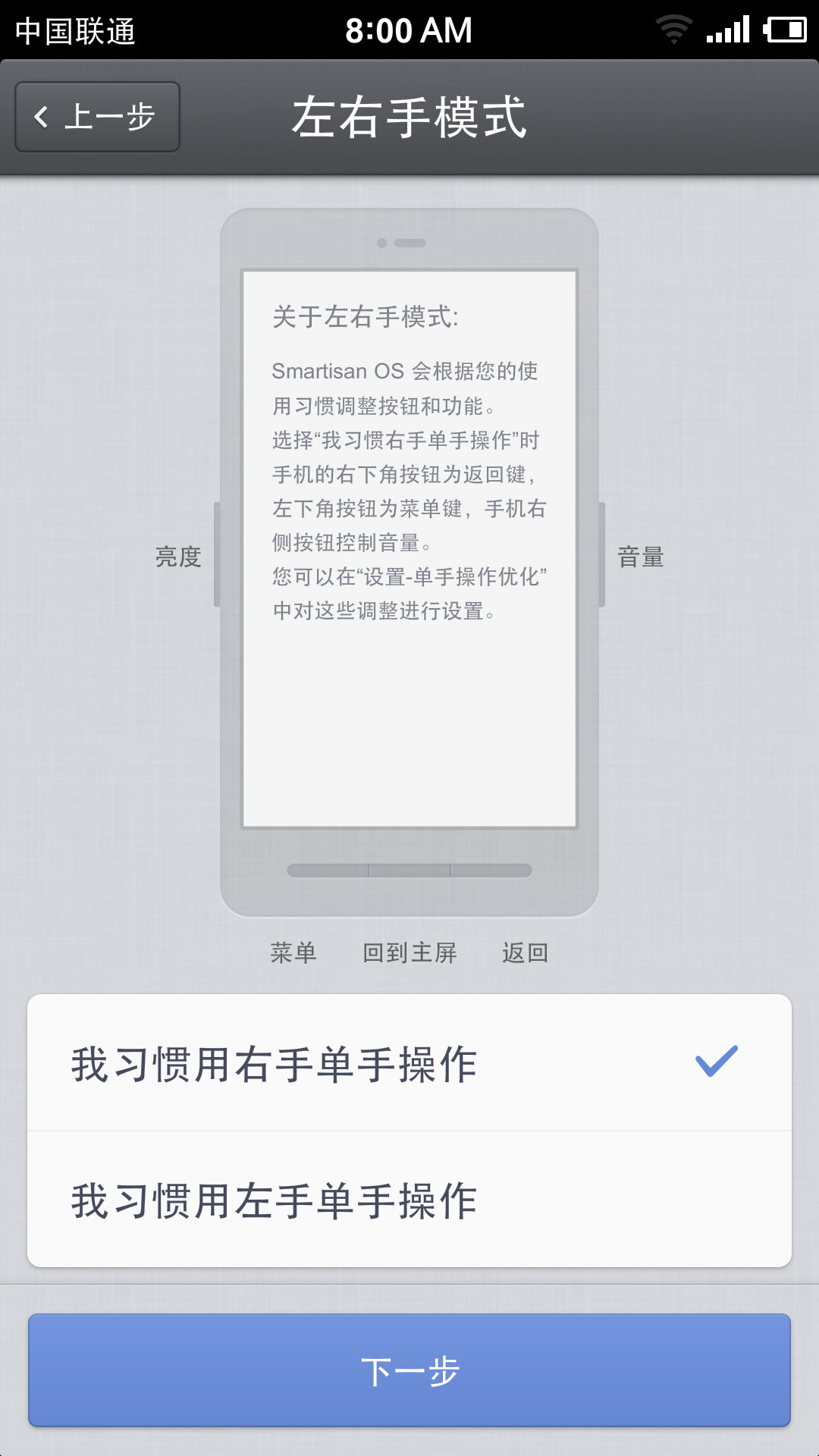 Lot of solid button custom function
Some featured function of the SMS is shown by Elder Luo on the conference,we find some additional small function improved the experience. The SMS supports timing sending function, you may use the function by long pressing the send button after edited the SMS.
SMS send by time
Meanwhile , if SMS received, there will be prompted notice on locked screen, you can drop the window down to choose quick reply, direct delete, voice reading or recall functions, which is rather convenience. Another humanized function is we can add the SMS content directly to the calendar, although these are the details, however we can feel Elder Luo's attitude from those details .
SMS content quickly add to calender content
Humanized Smartisan OS (2)
Smartisan OS 's multi block view function is a good idea that may change our paging up habit, you can overview all APPs directly by pressing menu button, supporting as much APP display as 81 blocks, and you can directly launch the APP you want in the overview. This can be realistic for many user especially who runs APP frequently. But an issue may be where is the rest of 81 blocks of APPs go? The answer may be turn back to original Android view.
81 block overview and multi-task interface
Smartisan memo can integrate long webblogs, which is a sales point of Smartisan OS, for the limit of microweb , many user use some tool to publish long webblogs, the Smartisan memo can help user to automatic generate a well composed pictured micro blog.
Smartisan memo and Smartisan clock
Last we will add is the drop and stop function, which we may experienced in Meizu's products. Smartisan integrated the function globally in the system, you can drop in any interface , this is benefit for single hand user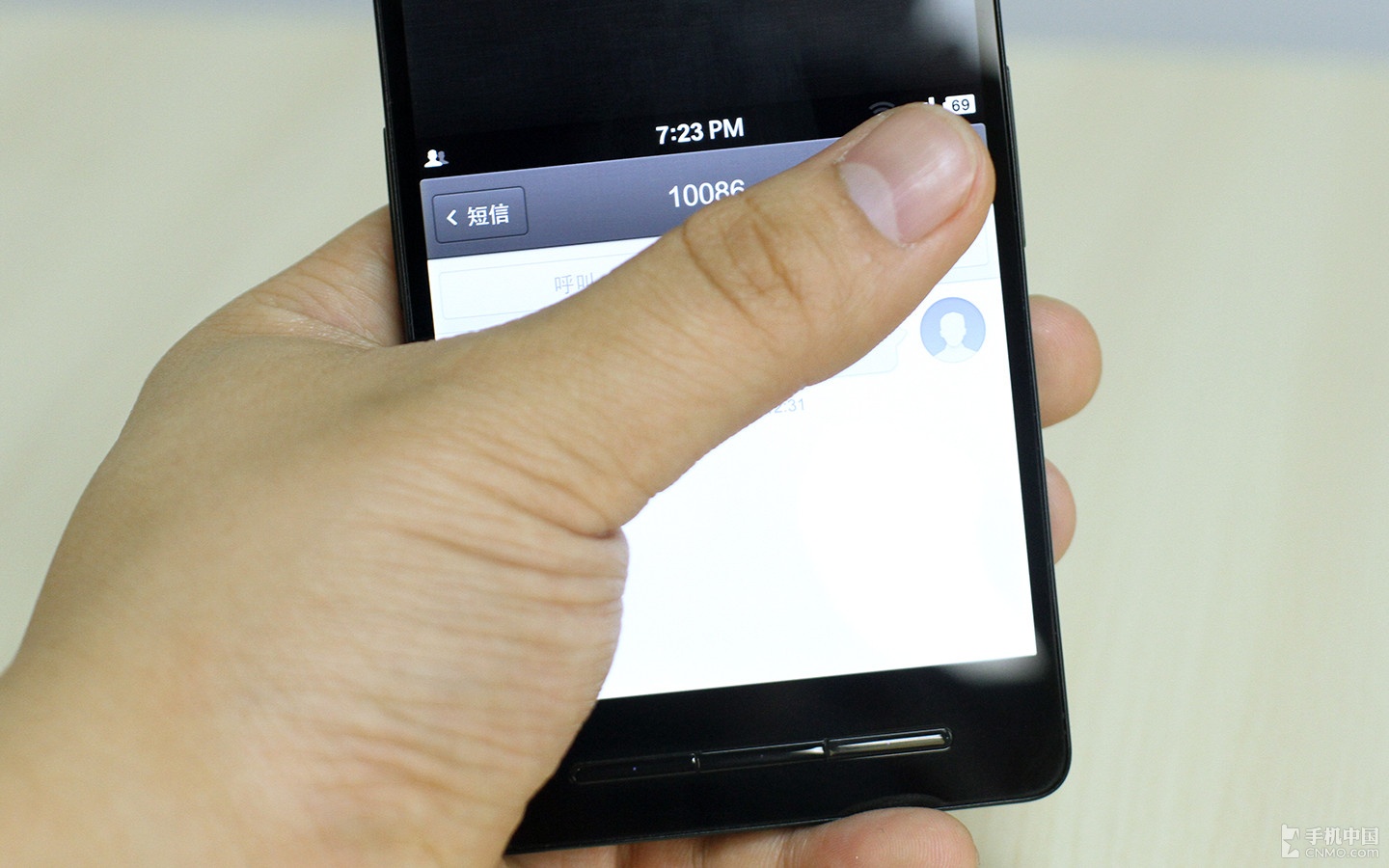 Supporting drag down and stop globally
So is the software evaluation, like what Elder Luo said on the conference, Smartisan OS 's advantages is not only these, we just picked up some represent ones and introduce, others may be experienced by users after then get the real product.
Photo Quality good but snapshot not easy
As to the cameras, Smartisan T1's camera specs is mentioned before, regarding to the image quality, we think the color rendition is not accurate, and the shutter speed , focus speed is slow, sometimes the phone can not focus at all, it still not known whether it is because the phone is a engineering model.
Interface is still concise, some icon represents their functions, HDR function is still not usable in the engineer model, we can adjust the exposure compensation by pressing solid button on the left of the body.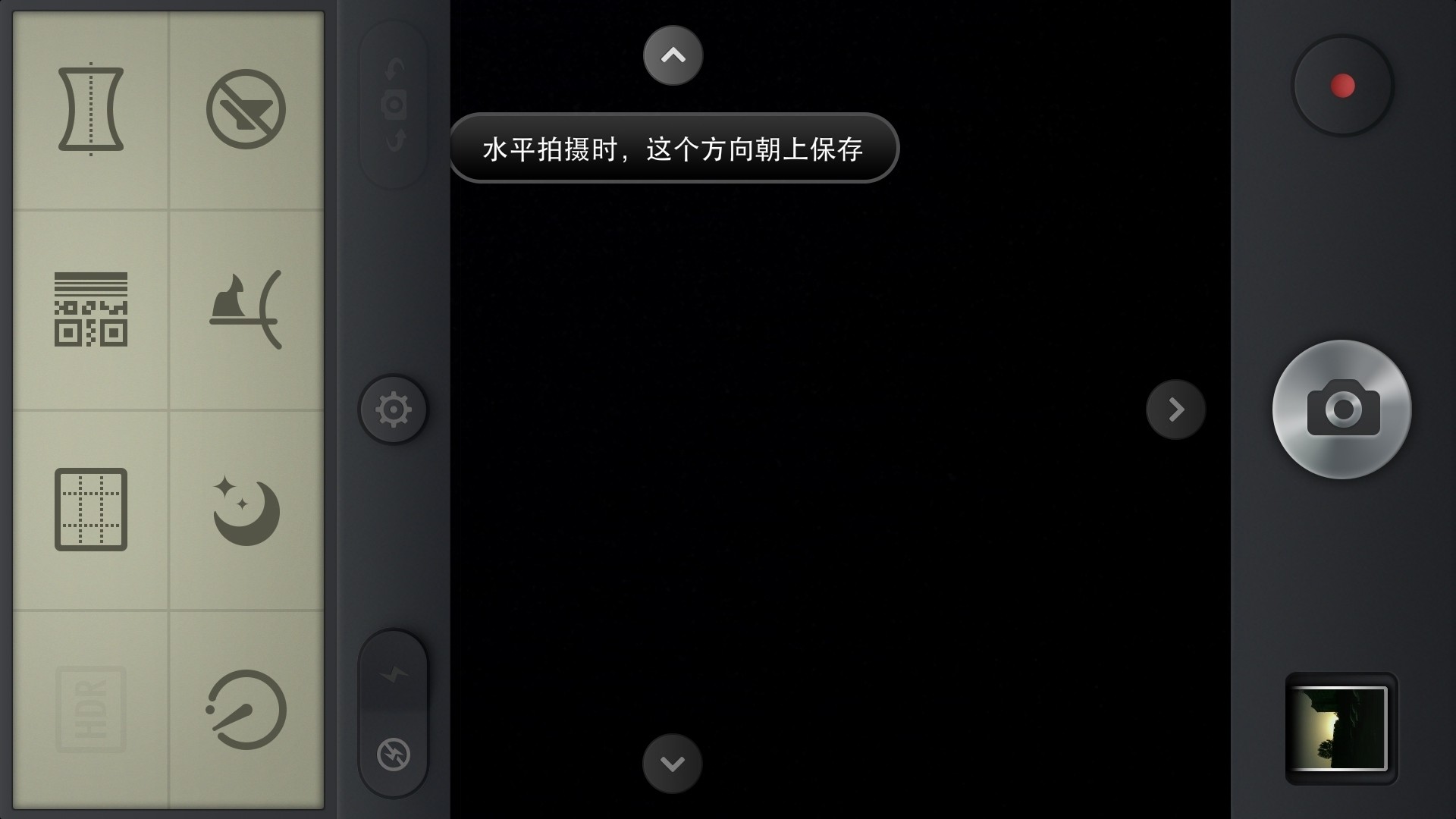 Camera interface
We now explain Smartisan T1's snapshot function, the writer want to describe this function as not usable. Not only the low rate we press both of solid button , which mentioned before in this review, but you still get blurred pics even you pressed down successfully and the pics is still not clear even you hold your hand steady.
Although snapshot function is unsatisfied, the total image quality from main camera is OK.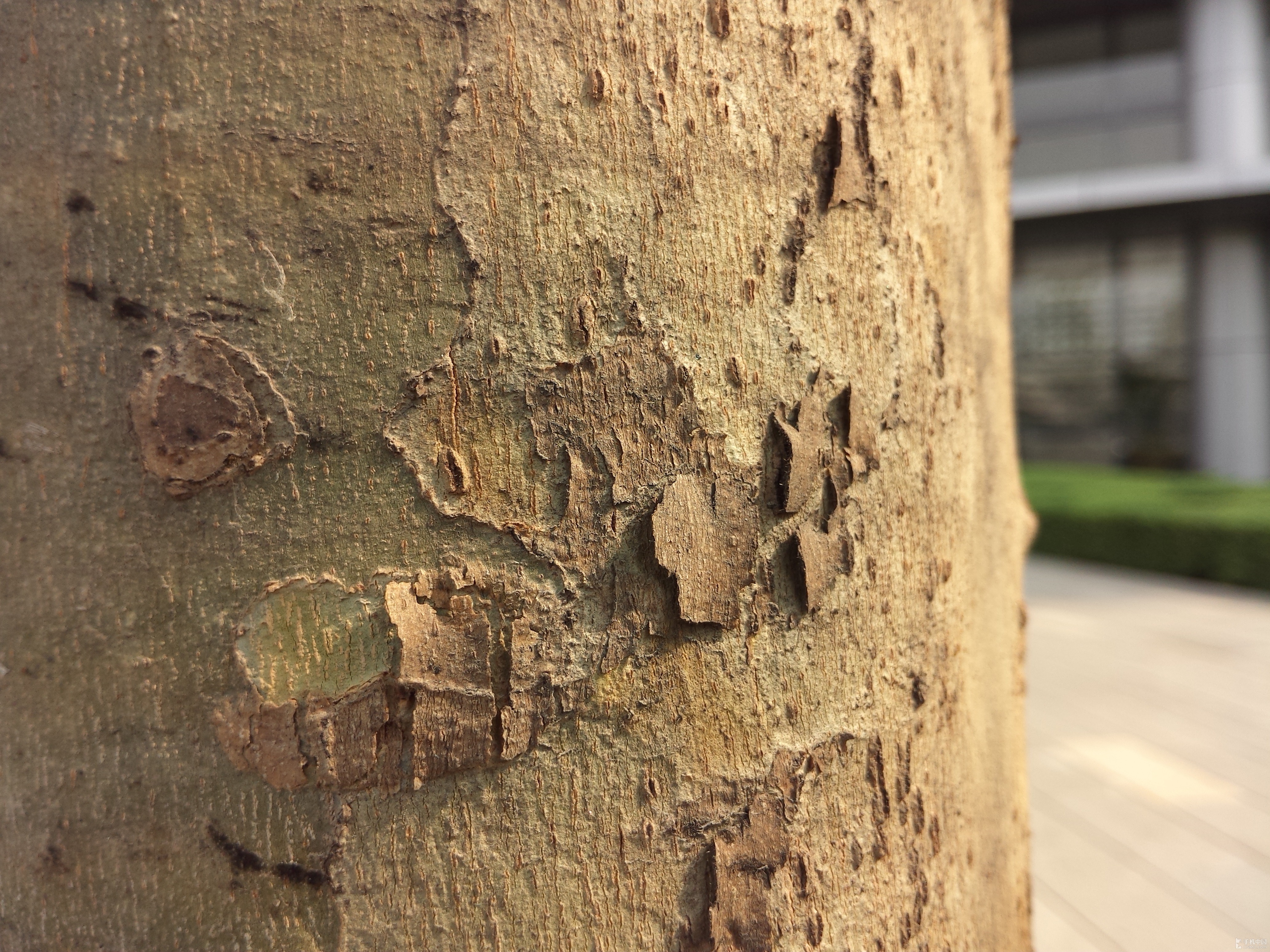 Microspur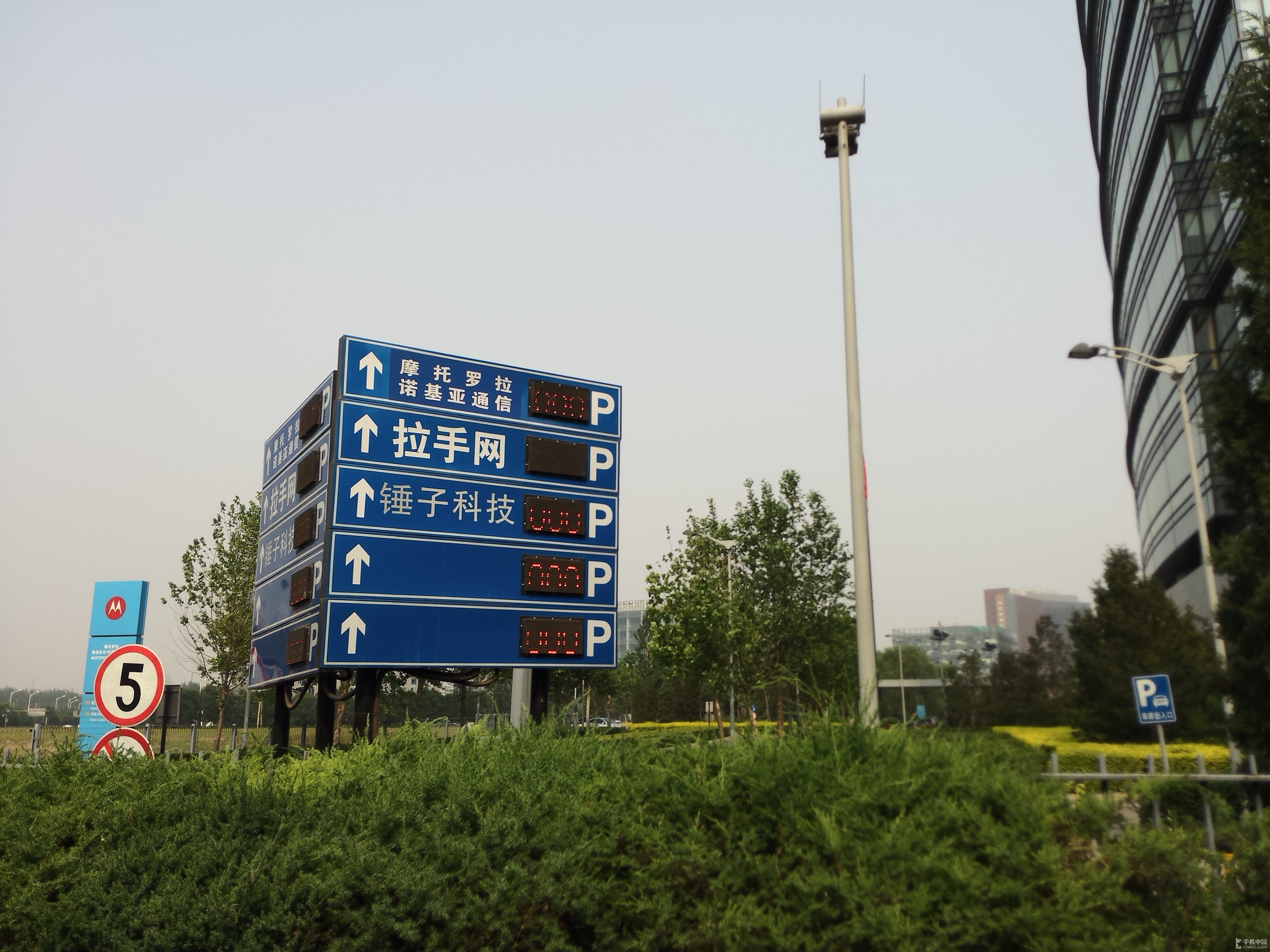 Mid shot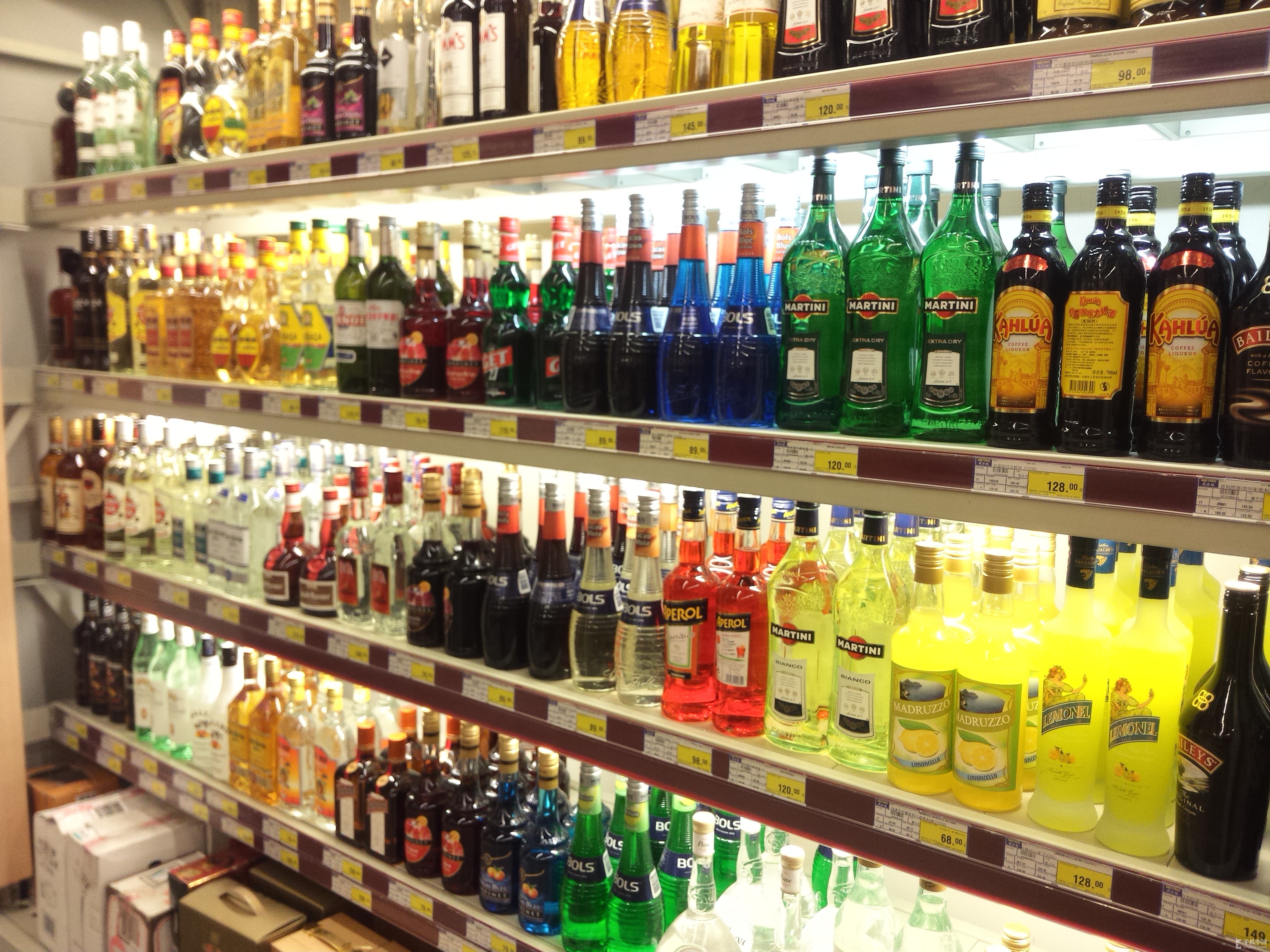 Indoor mid shot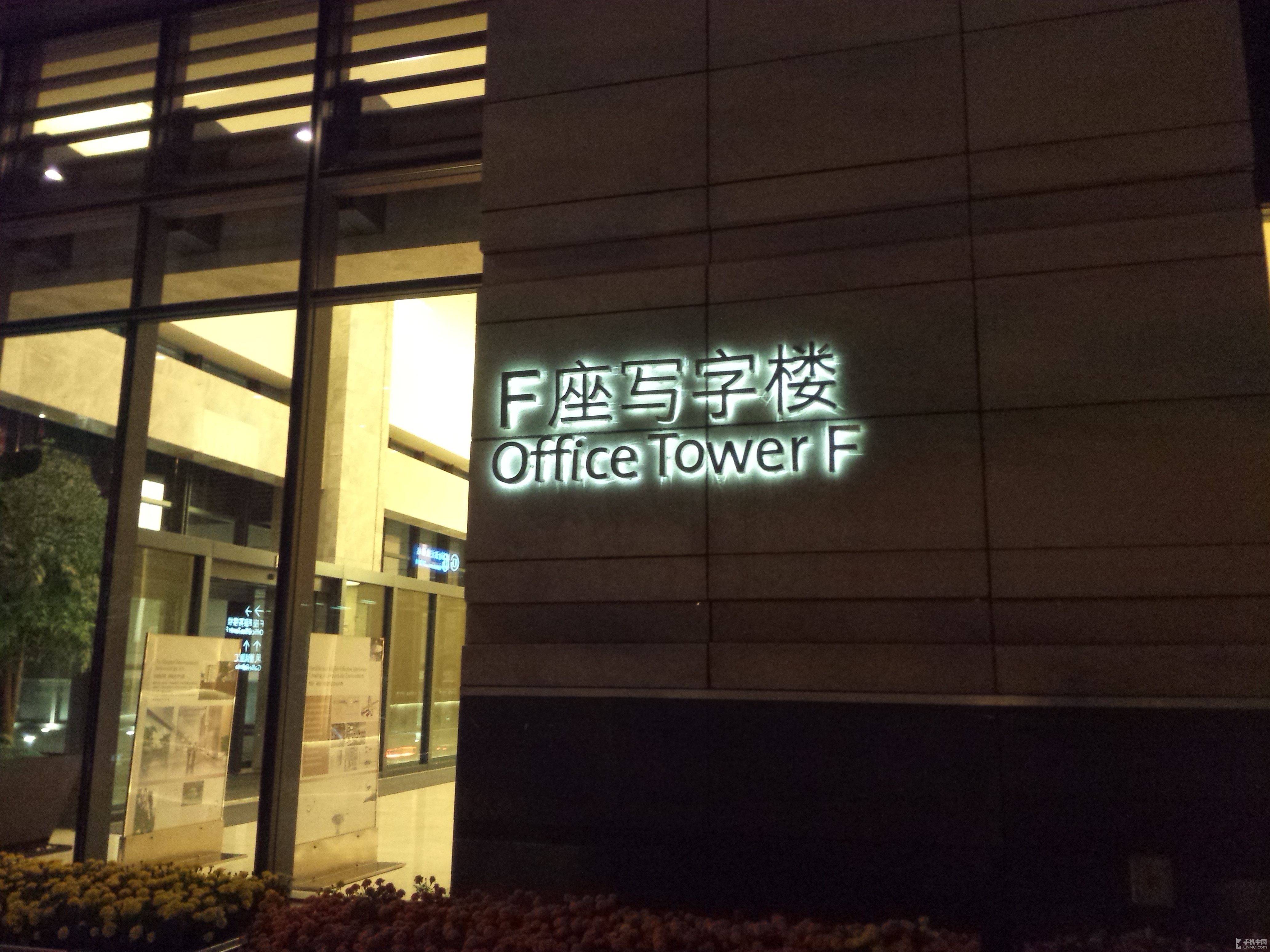 Night shot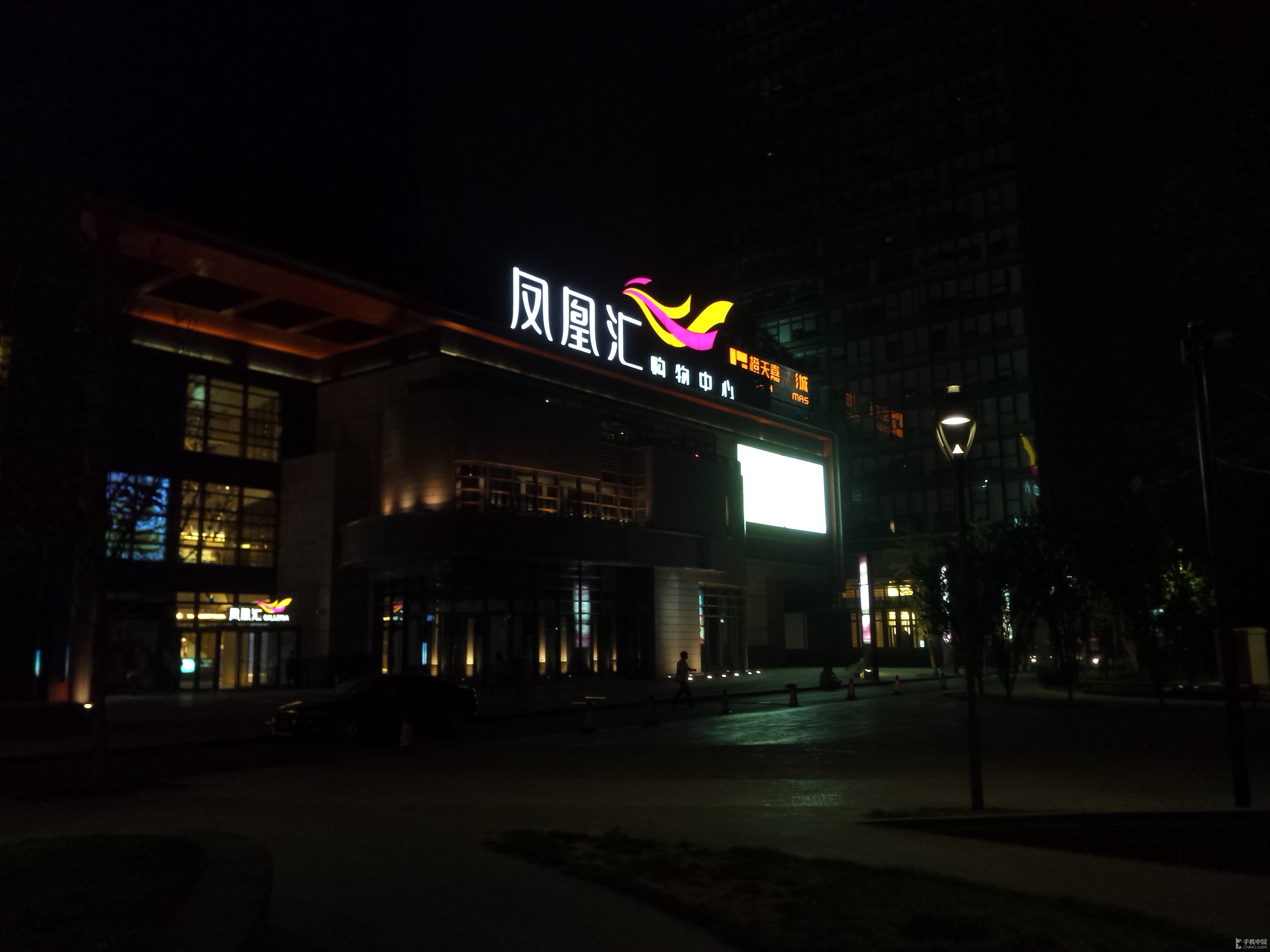 Night shot
In the real camera test, beside the mentioned lot noise in high ISO, some photo is blurred in the edge, more clearly when you zoom in the picture, let's check whether the final sale edition phone will fix these problems.
Entertainment experience and battery life
After discussing its hardware, out look and software, let's talk another hot topic, the entertainment experience and battery endurance. Smartisan T1's powerful hardware guaranteed fluency in running large software, needless to say the games.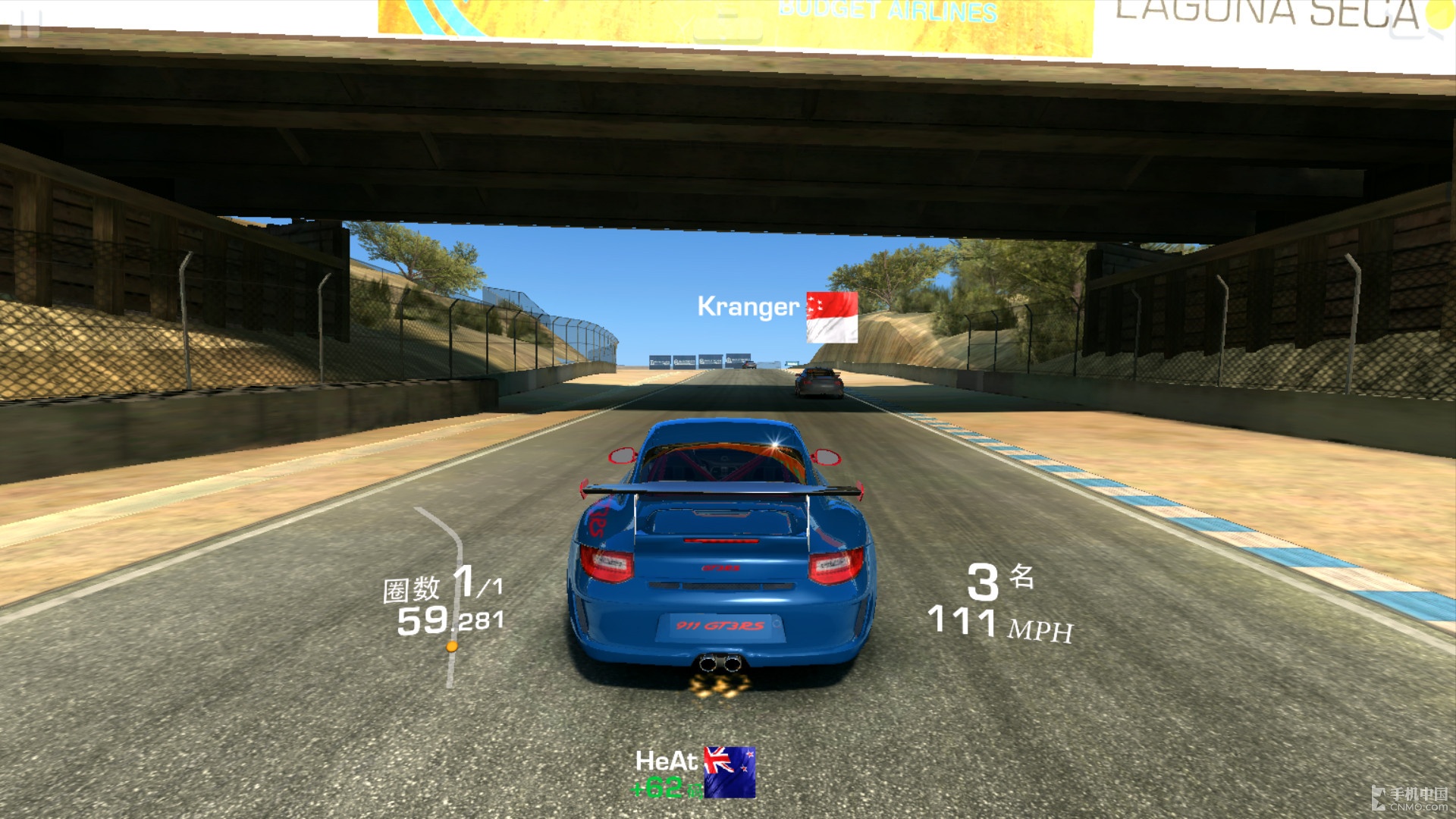 Real Race 3 Screen shot
In the concerned endurance topic, after 24 hours light use, the screen and volume is on the middle class, the battery is 16% left. Mainly use the Wechat, Weibo, game and calling is only half an hour totally, the battery life is in middle class among 2500 mAH battery phones. It may last 12 hours under heavy use.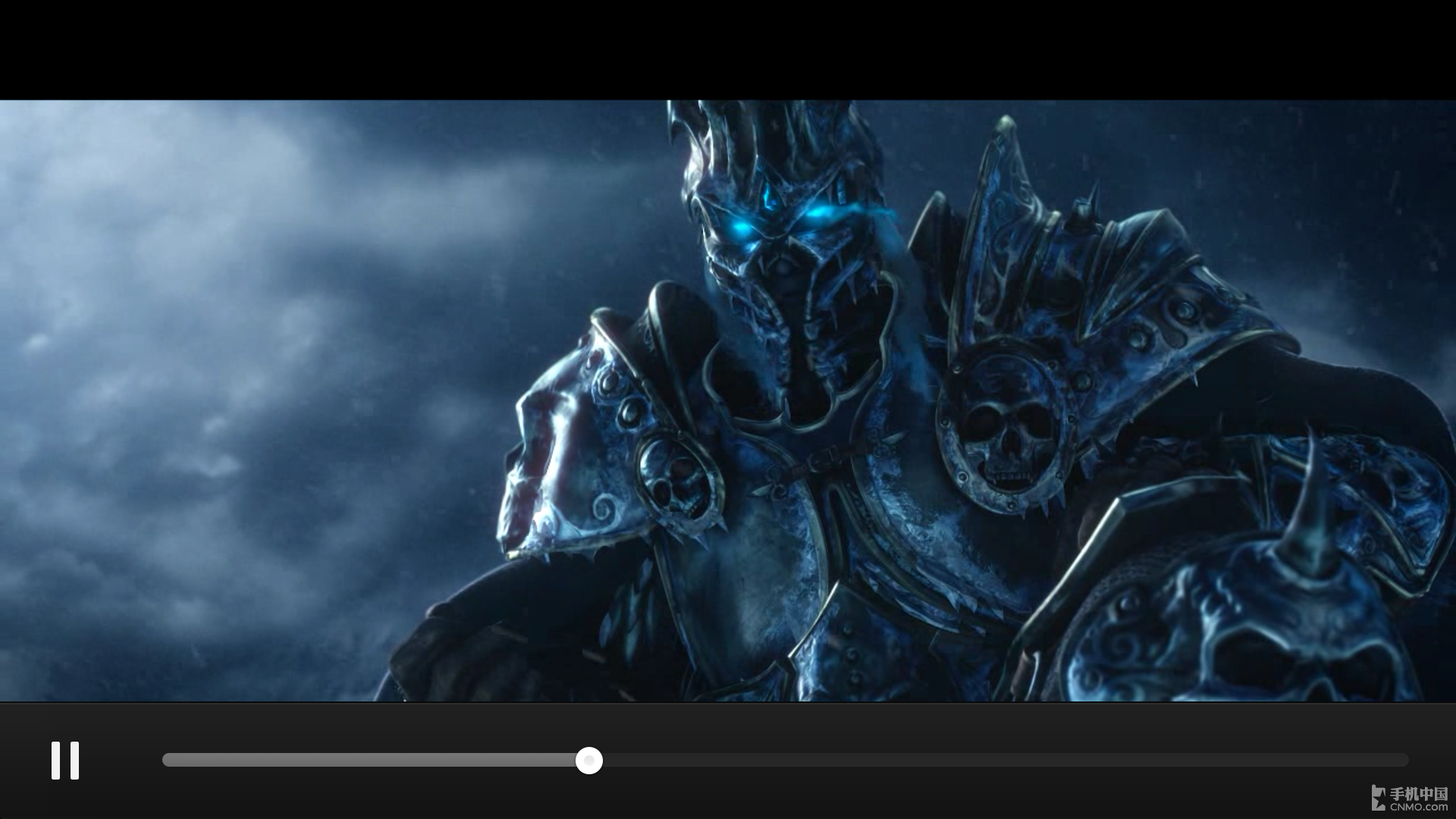 100% hardware encoding 1080P movie playing
Mean time, Smartisan T1 is not well controlled its body heat, right middle on the back is feeling hot, we still do not know the final edition's performance.
Final conclusion
The evaluation stops here, the evaluation for Elder Luo's first phone is as the title, pros and cons all exists.
Pros:
1 Hardware specs is brilliant, processor and camera is mainstream level.
2 Body is designed symmetric , good feeling and looking
3 Humanize function designed Smartisan OS
4 Good image quality and color rendition
Cons:
1 Body felt hot for the result of the good hardware configuration
2 A little bulky body, compromise of single handle design because of symmetric aesthetic.
3 Snapshot is not usable, the edge of some pics are blurred.
4 3000Yuan is comparing high in domestic phone market.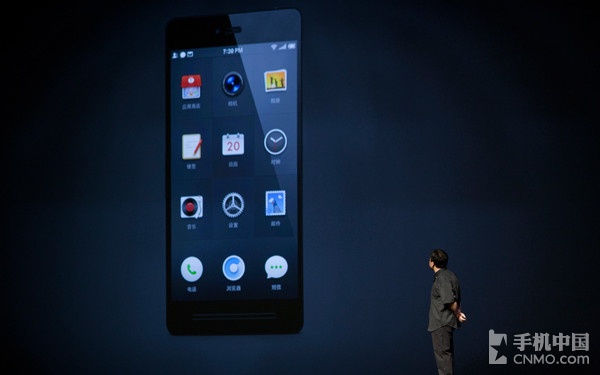 Will Smartisan Phone be regarded as Apple?
Totally, Elder Luo's first device is satisfied and well crafted, it can be mentioned in the same breathe with Apple at some point. The Smartisan OS is well made and humanized.
As some doubt whether it worth 3000 Yuan, for Elder Luo's bravery to overturn existing mode in the market and his serious attitude to design the phone, it may not be too high for 3000 Yuan. We can see many brands are going to redesign their flagship phones and push them in the market to bring more benefit to the company, it may not be blameable for them to raise the price, but the customers' attitude to design need to be widen.