ECS Elite Live Kit PC, the smallest Windows desktop PC on the market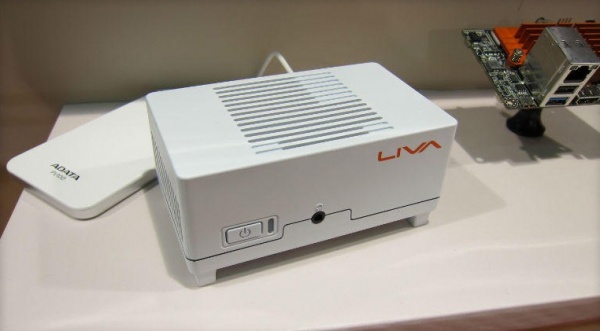 On Comptex 2014 Computex Taipei, ECS Elite has released the world's smallest Windows PC, the device is called as ECS Elite Live Kit PC.

The new Live Kit PC has only 190 grams (less than 7 ounces) of weight, and has 118x70x56 mm (4.6 x2.8×2.2 inches) body dimension, this desktop PC which can be easily placed in the palm.
Live Kit PC needs to be simple to install, the official said after the user out of the box, there is only six steps to complete the installation, takes only less than 40 seconds.
Live Kit PC is powered by Intel BayTrail-M processor, sports with 2GB of DDR3L RAM, 32GB eMMC storage, Gigabit Ethernet, USB 3.0 and 2.0 ports, HDMI and VGA output, support for Bluetooth 4.0 and 802.11n Wi-Fi connectivity.
It is worth mentioning that the memory is not upgradeable and fix with that current size. But the two display ports can be connected to two separate display monitor.
ECS Elite Live Kit PC has low power consumption, and compare to the power of the bulb lamp, this PC is not more than a light bulb power consumption. Currently, Live Kit PC only runs on Windows 8.1 operating system, but does not rule out future support for Ubuntu and Windows 7, its price is said to be less than $ 200 USD.