Xiaomi Leo/W benchmark result is leaked, it's could be Mi3S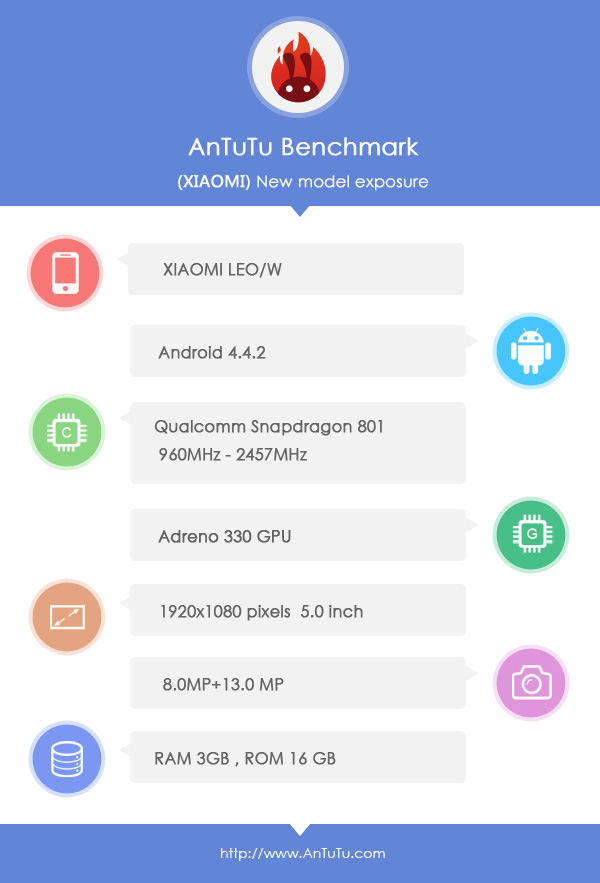 We have just found the new benchmark result and the device is known as Xiaomi Leo, this phone has similar specs with the previous rumor thta's could be the Xiaomi Mi3S.

Xiaomi Leo is packs with 5-inch screen with 1080p reolustion, according to benchmark test result, the phone is powered by Qualcomm Snapdragon 801 that running on 2,5GHz clock-speed and support for 330 GPU.
The phone is also coupled with 8 megapixel front facing camera and 13 megapixel rear camera, and sports with 3GB of RAM and 16GB of ROM. Accotrding to the result, the phone has 31,432 points in benchmark test.
The phone is also running with Android 4.4.2 KitKat operating system and MIUI interface. Whether or not it's the Mi3S, the Leo looks like a great device.