iOS 7 lock screen security flaw allows user to bypass in seconds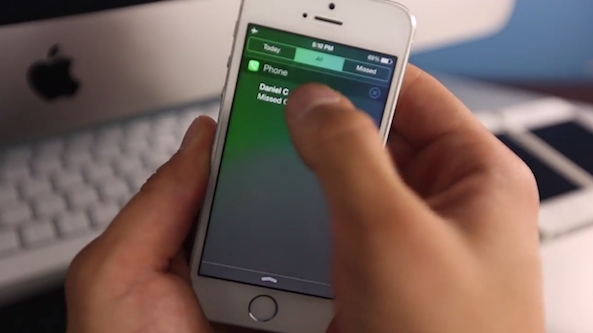 The new bug is found on the iOS 7 lock screen, the phone has security flaws and the user of iDevice that running iOS 7.1.1 can bypass the device in just in seconds.

According to some information, the bugs is found on any phone that running with iOS 7.0 to iOS 7.1.1, some user is also founded that the vurberability is also found on iPad.
Here are the detailed steps:
Swipe up from the bottom to open Control Center.
Tap on the Airplane Mode toggle switch.
Swipe down from the top to open Notification Center.
Tap on a missed call notification.
While this exploit does not provide full access to an iPhone or iPad, it could allow for someone to read your emails, send messages, fiddle with your settings or other harmful actions depending on the app that you last left opened. A number of users that commented on the video noted that it does not work on iOS 8 beta, however, so it appears that Apple has patched the problem.
Here is the video presentation. Want to avoid the vulnerability simply close the lock screen to access the control center. iOS 8 of the vulnerability is not available, it is unclear whether Apple will release a patch, fix the security vulnerabilities.