Apple Hong Kong confirms that Jimmy Lin has use the real iPhone 6 device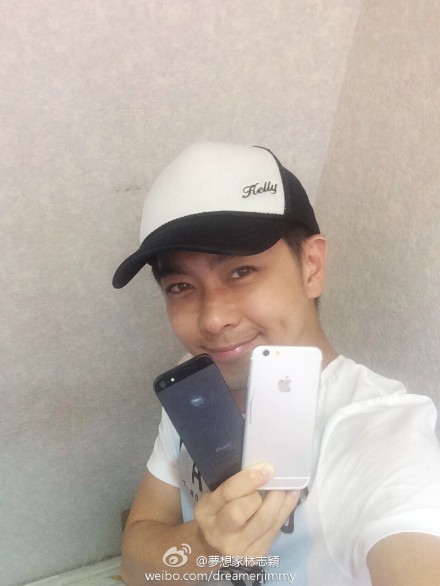 We have covering the news about the Taiwanese artists Jimmy Lin who showing the new Apple iPhone 6 device, but  we writing those news that the device is dummy phone. But now, the Apple Hong Kong is confirms that those phone is real device.

The Apple iPhone 6 device which holds by Jimmy Lin is the real iPhone 6, that's the upcoming iPhone 6 device and some people is trying and testing the phone before the phone is officially release to the market and Jimmy Lin is the one of the user that test that phone.
Apple Hong Kong exec has leaked the specs of upcoming iPhone 6 smartphone, the phone will has 2K QHD resolution display, which the 4,7 inch  screen will packs with 960 x 1704 pixel, this pixel is similar with the iPhone 5S. But we have to wait untill Apple is officially release the phone.
A video posted on YouTube has revealed the specs are rumored to be offered by the iPhone 6. According to the video, the iPhone 6 will be available in two screen sizes: 4.7 inch and 5.5 inch, both of which will offer a screen resolution of 960 x 1704piksel. What about the frequency being offered? 4.7 inch screen has 416ppi while the frequency phablet version offers 356ppi.
Next generation iPhone still offers TouchID at his home button, also A8 chip with 64–bit architecture, a 10MP rear camera with f/2.0 iSight, FaceTime front camera is 2.1MP. iPhone will offer a dimension of 138mm x 67mm x 7mm and weighs 121gram, if heavier than the iPhone 5S and weighs just 112gram with dimensions of 123.8mm x 58.6mm x 7.6 mm.
To note, this new generation will be priced at $ 199.99 for the 32GB, $ 299.99 for 64GB and $ 399.99 for 128GB (of course, already including subsidies). Teknokerz interested?