The reasons why Xiaomi lowered the price of the Mi 3 from 1699 RMB (273 USD) to 1499 RMB (240.78 USD)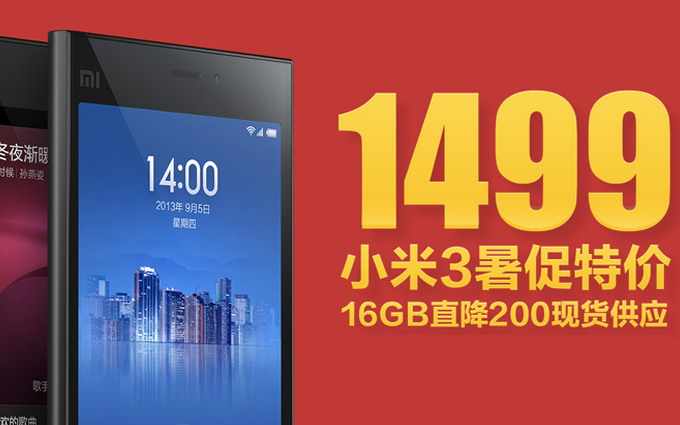 This week, everyone is at home watching the World Cup Series. Weibo is filled with World Cup tags. But Xiaomi has been unwilling to stay out of the limelight. They lowered the price of the Mi 3 from 1699 RMB (273 USD) by two 200 RMB (32.14 USD) in a promotional sale and there's no need for anyone to rush into stores.
Why would Xiaomi avoid the attention given to the World Cup and choose this moment for their sale? Here is our analysis.
I.                   Behind Xiaomi's price drop
Xiaomi usually releases a new device about every August, but the device they're releasing this time is just the beginning. For some devices being developed, we can only wait for about a month before they can start small-scale tests, and wait until the end of the year for large-scale ones. The reason for the delay of the Mi 3 China Unicom version is because of Qualcomm's supply of goods.
Around every April is Xiaomi's golden week. There are no problems with supply and production at this time. Costs for hardware are relatively much lower than the rest of the year. Sales are high and so is the profit made.
It was usually at this time when the competition heated up. Back then, the Mi 1 was challenged by 360 warships. Timid and nervous, the Mi 1 did everything it could to fight.
Xiaomi also lowered the price of the Mi 2, releasing the Mi 2A and Mi 2S.
In June, just two months before they release their new devices, Xiaomi lowered the price of all their devices in stock. So, it should not be surprising that they lowered the price of the Mi 3 from 1699 RMB to 1499 RMB (240.78 USD) at this time.
II.                The competition behind Xiaomi's promotional sale
It should be said that unlike before, the 1499 RMB price is the Mi 3's price in Xiaomi's official online store which has an unlimited number of them. Before, whether they cost 1799 RMB or 1299 RMB, people had to rush to buy them.
Not letting customers fight each other for Mi's phones meant that competition was fierce and that they had a lot in stock. Xiaomi can no longer practice double pricing to make a bigger profit.
Actually, ever since the Mi 1, there has always been competition. First, there was the arrival of Zhong Hongyi. When Xiaomi released the Mi 2, they had to compete with Huawei's Honor 2 and Lenovo's K860.
Xiaomi's true challenge came when they released the Mi 3. The Nubia z5s beat Xiaomi by installing the Qualcomm 800. More rivals have appeared non-stop. The seriousness of the problem is due to the fact that their rivals studied Xiaomi's policies in double pricing and letting buyers compete with each other.
The ZTE Grand S II costs 1699 RMB (272.64 USD) while the Oneplus costs 1999 RMB (321.21 USD). The Xiaomi's so-called advantage in price advantage is no longer obvious.
Actually, the Mi 1 was really powerful. It had great hardware and UI. Other than the way it looked and the camera, there was no competition.
By the time the Mi 3 came out, its rivals were already very powerful. For example, there was no way Xiaomi could compete with the Snapdragon 800 and Snapdragon 801, their 2 GB or 3 GB memory, 16 GB to 64 GB flash memory, 13mP IMX214, and 1080P display screens.
At the same time, Gionee, Vivo, and Oppo's had customized cameras, HiFi, and HTC, which Xiaomi did not have.
As for software, the miui is still in progress but its rivals are already being developed at a faster rate. OPPO's Color OS and its features are amazing. I won't review ZTE's Shenmei but ZTE has very careful with its performance. Vivo, Gionee, Huawei, and Coolpad all have perfect UIs.
When it comes appearance and workmanship, Xiaomi always believed that the best way to design is to have no design. Later, it will be changed to "the best designs are other people's designs." This is will happen when their weaknesses appear in their hardware and software.
III.             Xiaomi's future
The number of phones created by Xiaomi has grown rapidly over the last several years. It has become a king in the smart phone industry. However, the smart phone industry is starting to come of age.
It's the beginning of homogenization for smart phones. Other than its first two years, Xiaomi has not had great competitive strength.
Xiaomi will probably make cell phones at a slower rate. If they don't release a winner into the market, then they will have to find another way to grow. They could try selling their products in the international market.