150,000 units of Huawei Honor 6 Sold Out In 6 minutes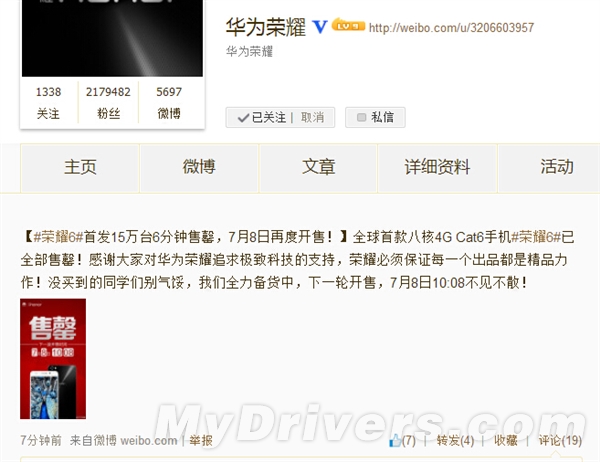 Today, at 10:08, Huawei has open for sale of Huawei Honor 6 smartphone in Jingdong Mall, Mall Sync.  The pre-order is open and the phone is sold out very fast.

The official said that the first batch of Huawei Honor 6 is preparing for 150,000 units, but all those smartphone is sold out for only six minutes, the second batch will be open on July 8th, while for now Huawei may need more stock for the Huawei Honor 6 smartphone.
As we mentioned on our recent article, the Huawei Honor 6 is packs with 5 inch screen size eith fully support 1080p resolution display, the phone is also powered by Kirin 920 processor this is the new octa core processor that come from Huawei that consist four 1.7GHz of the A7 chipset and four  1.3GHz A15 chipset, support for heterogeneous multi-processing technology / LTE Cat6 standard. The phone is also sports with 3GB of RAM, powereing up by 3100mAh battery capacity, coupled with 5 megapixel front facing camera and 13 megapixel main camera.
It should be noted that there are four versions of the Honor 6 smartphone, including H60-L01 4G mobile single-card version, and H60-L11 is also a single card version. 4G Unicom customized version has H60-L02 model number and H60-L12  which are dual-card version.
In addition, China Unicom 4G dual sim card version only supports GSM, while FDD-LTE is off by default.
Equipped with low and high Honor 6 What is the difference? Simply put, the difference is that the storage space is low version with 16GB (not supported NFC), which is high version with 32GB (supports NFC), priced at 1,999 yuan and 2,299 yuan or about $322 USD and $370 USD price tag