LG G3 mini (a.k.a. the LG G3 Beat) to have a 5-inch display screen and 2GB RAM
Recently, the mini version of the LG G3was revealed along. This new version will be called the LG G3 Beat. It was previously said at Samsung's user agent profile that the LG G3 mini sported a 4.5-inch display screen and would be sold by the American phone company, AT&T. But for the Chinese market, it will be sold by China Mobile and was also given the name "LG G3 Beat." (Model no.: LG-D729) Unlike had been stated in previous reports, this version would have a 5-inch 720 x 1280 display screen.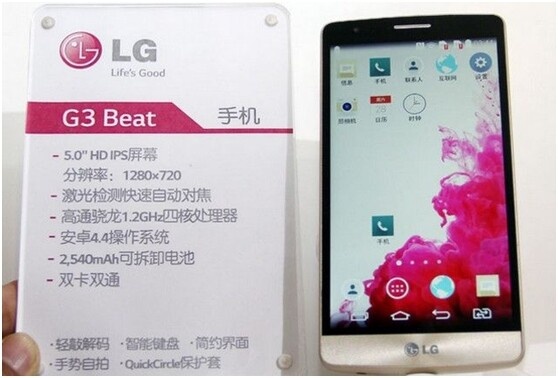 Other hardware information: The LG G3 Beat will use Qualcomm's 1.2GHz quad-core Snapdragon 400 and has 2GB RAM, 16GB internal memory storage, and 8mp camera. It is also powered by a 2300 mah battery.
Will the LG G3 Beat come out exclusively in China Mobile's official stores will it be sold throughout the world as the standard version? We'll just have to wait and see.