How to Install CWM to you MTK Device
CWM is a crucial part of the life of a developer. Many beginners have a problem flashing it to a MTK device, but there is a way to do it without having to extract or edit any files. Carliv Touch Recovery is an excellent app that makes flashing CWM a very simple process thanks to the great options available and by following these simple instructions even a beginner should have no trouble getting the job done.
Carliv Touch Recovery is compatible with devices using the following chipsets: MTK6575, MTK6577, MTK6517, MTK6589, MTK6582 and MTK6592. Also, apart from of course your (rooted!) Android smartphone, you need a USB cable, ADB drivers for your smartphone and CWM magic create program
The first step is to install ADB drivers for your phone.
Then run the CWM Magic Create application, remembering to paste the extracted files of the CWM Magic Create to the Desktop itself. Open the CTRv2.2

3. Select 'yes' at this point because the antivirus software can cause issues by blocking the program.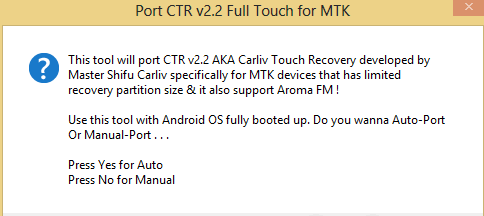 4. Again select 'yes' to use the 'Auto-Port' option.

5. Now plugin your MTK Android Phone (with USB debugging enabled) and then press 'Ok'. You might get a security screen asking you for permissions, if you do grant the permissions.
When installation is complete, your phone will restart, and in case of a problem your original backup is stored in the CWM magic recovery program folder. You are now finished, you have installed CWM.