ZTE Nubia Z7 Review: A Top-range Phone With Dual SIM 4G LTE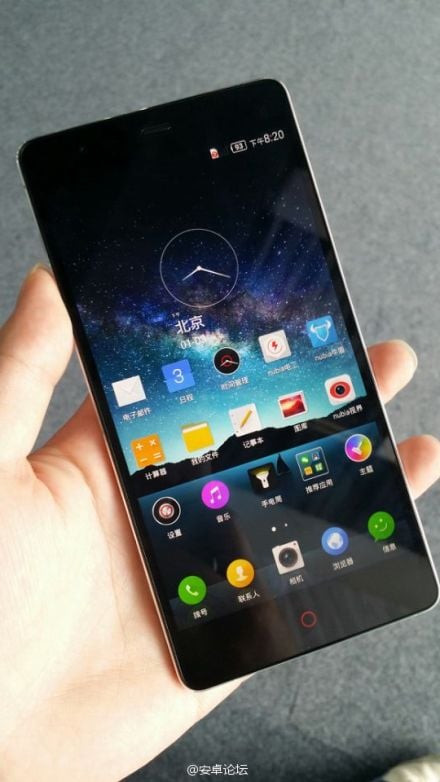 Nubia Z7 is another flasghip from Nubia after the Nubia X6 this year, there are some serious improvements and the new Z7 is a serious smartphone that should serve to cement ZTE's reputation as a world-leader in high-end smartphone design. It has been worth the hype and the wait and what follows is why.
1 The Build-Up
The Nubia Z7 is the new, long-awaited flagship from ZTE, following on from the competetive Nubia X6 . Since the announcement of the Z7 there have been teasing photographs released and even an online questionnaire trying to get people to guess the specs of the Nubia Z7, generating a buzz without giving much away. The teasing can stop now though, because it is finally available and with all the hints and obscure photographs forgotten, what do we actually have left? Is there anything special underneath all the intriguing marketing ploys? Well it turns out there are a series of phones, not just the one. The Nubia Z7 Max and Z7 Mini have been released simultaneously. For this review though, we'll focus on the Nubia Z7 flagship only, and yes, it is actually pretty special.
2 Appearance
Firstly the Nubia Z7 a well-designed smartphone, with the teaser pictures being an accurate portrayal of the square shape and metallic sides, it looks a bit like an iPhone or an Ascend P6/P7. The black front and black back cover give the phone a very stylish look.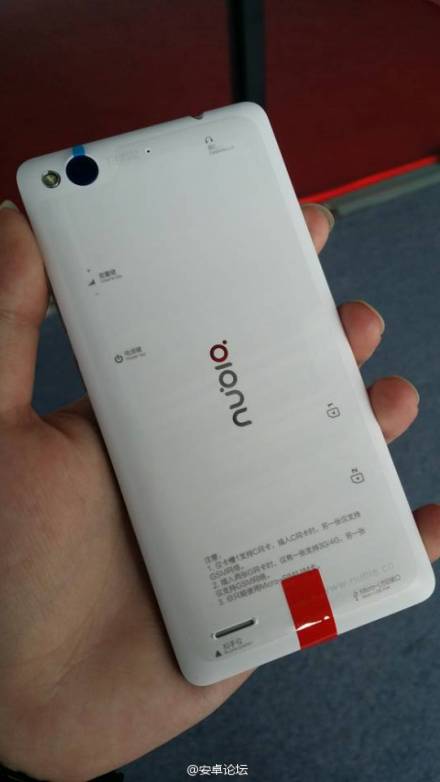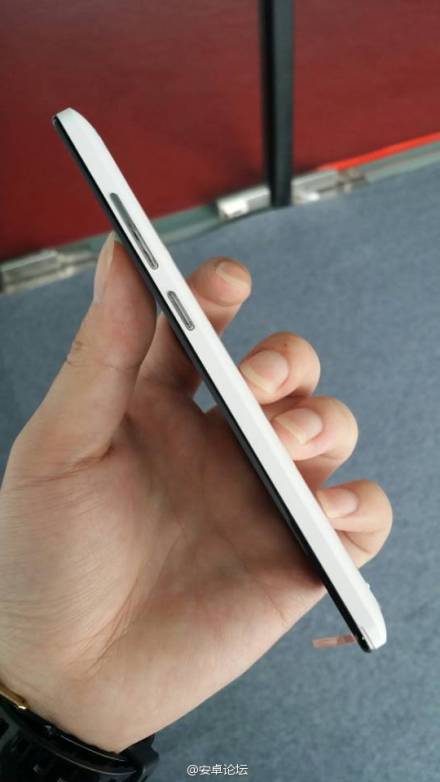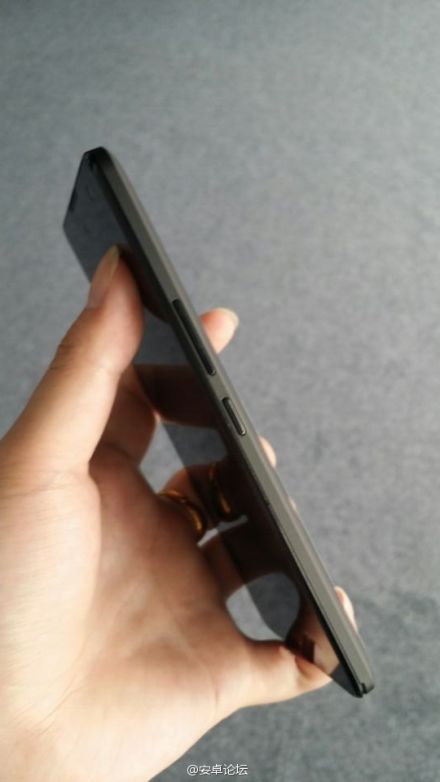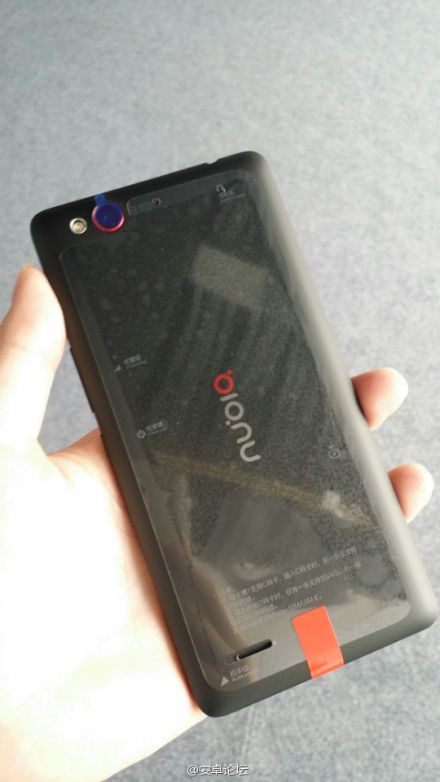 There's the (now customary) red ring around the camera and enter button we've come to expect from ZTE too. The camera is set deep into the phone, with no protrusions, making the viewpoint better and giving the smartphone a better look and feel. Overall the appearance manages to be uncluttered, sleek and distinctive at the same time, quite an achievement and making a very attractive smartphone. It's quite slim too, only 8.5mm thick, making it light for it's size and easily carried around, the cover has a good feel too and it doesn't get marked by fingerprints easily and not too slippery in the hand.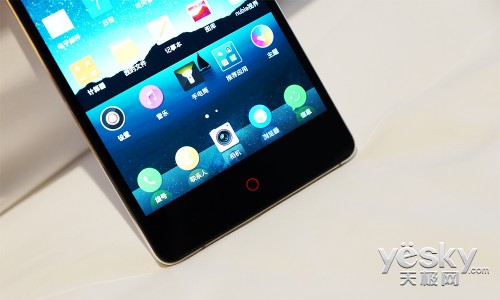 The red home button has been inherited from the first generation of Nubia.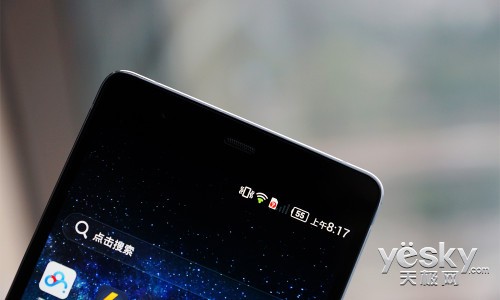 There are receiver, front camera and light sensor at it's front.
CPU/Memory
 Nubia Z7's Antutu benchmark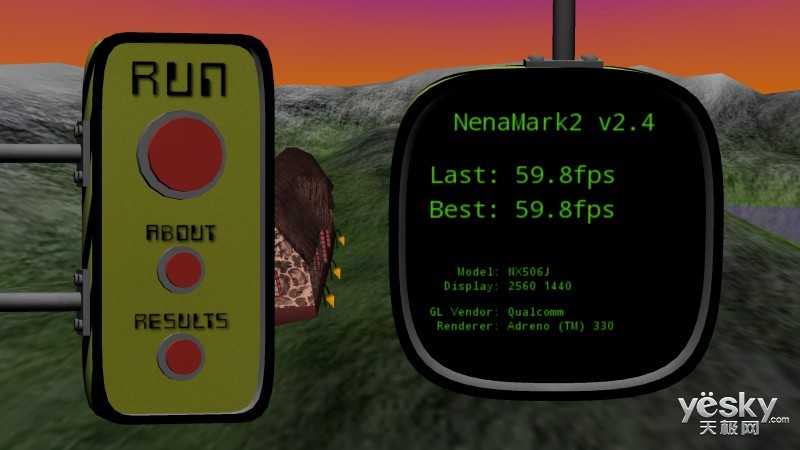 Nubia Z7's Nenamark benchmark
The Nubia Z7 has a Qualcomm Snapdragon 801 quad-core processor, which while acceptable, is a bit of a let-down. Most of us already have a quad-core smartphone, and people are now expecting octa-core from new flagships. There are already many octa-core flagships on the way that the Z7 will have to compete with so this may well be an issue. Why not wait a few more months and take your pick from the range of octa-core devices available instead? The processor isn't terrible, just nothing new, and performance shouldn't suffer too much; it is a pretty capable piece of kit and there's plenty of RAM for it to play with (3GB). The GPU is a Adreno 420, and there's 32GB ROM too, which is expandable through MicroSD so there's no problem storing a lot of your games or other large files. If you're intending to download a television series, go right ahead.
Display/Interface
The display is a lovely 2560 x 1440 resolution 5.5 inch screen, given it a truly impressive pixel count (445 PPI) and making gameplay and video playback HD quality. It is the first phone to have a RAM-supported auto-refresh function for its 2K screen. All this is protected by Corning Gorilla Glass, which keeps the screen safe from scratches and cracks, which is great, it would be a tragedy to have all this capability and ruin it with screen damage. There aren't any better display packages on the market at the moment and if this feature is something you look for then you won't go far wrong here.
There is also a developed User Interface, with the Android 4.4 Kitkat overlayed with the Nubia UI, which has been upgraded to Nubia 2.0. Without using the phone it is hard to tell whether this makes a massive difference but it will be interesting to see what the new features and tweaks are in this newer interface.
3 Camera
One major bonus of the Nubia Z7 is the 13MP OSI optical Vibration Reduction rear camera, purported to have taken this picture of the Milky Way with the help of a star tracker. It supports a f/2.0-f/22 aperture and its photo software is the new Neo Vision 4.0.  This is a great camera, which also benefits from OIS optical stability function and LED flash, so for people who take a lot of photos, this would be a huge advantage. The front camera is 5 MP, which is perfectly fine for a front shooter.

5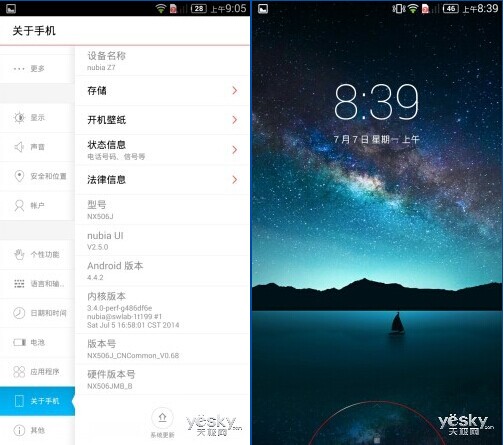 Nubia UI 2.5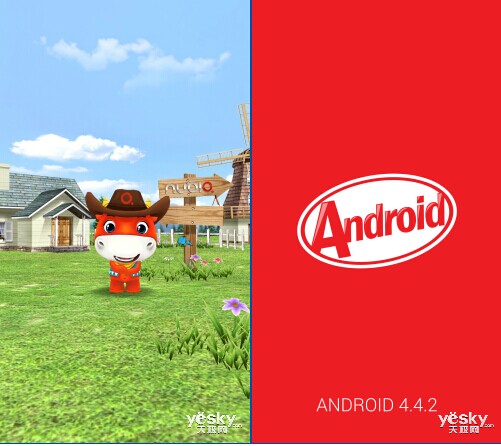 4 Connectivity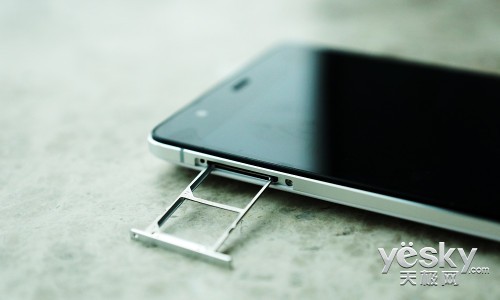 Dule-SIM card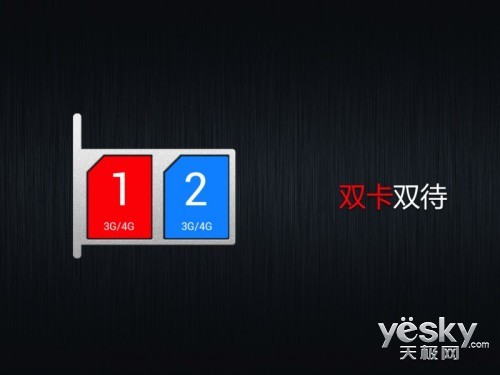 Both of the SIM card supports 3G and 4G
The Nubia Z7  supports internet networks provided by China Mobile, China Unicom, and China Telecom. They also support TD-LTE, FDD-LTE, TD-SCDMA, WCDMA, EVDO, and GSM internet as well as dual-SIM 4G internet. This is excellent coverage and connection problems shouldn't be an issue with such a range and the dual-SIM capacity.
5 Extra features/Accessories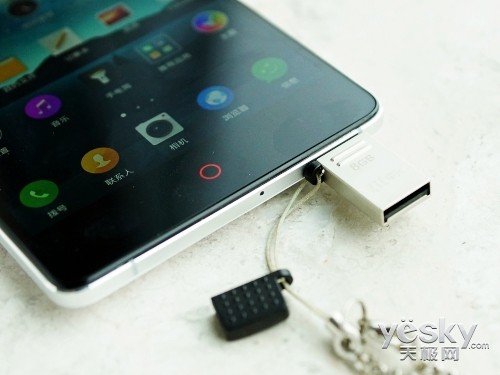 Nubia Z7 support OTG
There is GPS, A-GPS, OTG and the latest in smartphone must-haves, the fingerprint scanner; it's a good security feature and something of a novelty for gadget lovers. It comes boxed with the usual accessories, battery, USB cable, charger and user manual. The battery is a decent size, and features quick recharging. Another handy feature is the addition of MHL 3.0.
6 Verdict 
The Nubia Z7 is a good phone with some great features making some great progress from its predecessor the X6. For those who require a good camera and excellent display, you won't find much better available on the market. With the only let-down being the quad-core processor, and this not being poor, just not brilliant, the phone itself is definitely a triumph. For the price tag you're getting a very well-designed and powerful device that really is a flagship to take notice of, especially if camera and display are your thing. It is these areas where the Z7 excels, and there really isn't anything available at the moment that can beat it.