Austenitic Stainless Steel 304 — Spy Shot And Body Material Of Mi 4 Were Exposed On Weibo By Lei Jun
Shortly after Lei Jun claimed that the Xiaomi Mi4 press conference  invitation letter is made by metal , and the material of the next generation of Mi4's body is Austenitic stainless steel 304. Which is allegedly can provide strong rust and corrosion resistance. It is easy to be stamping form by its excellent plasticity and toughness. Stainless steel 304 is one of the most common stainless steel with the density of 7.93 g/cm3 , Which is also called as stainless steel 18/8 in the industry. It can resistant high temperature, have good processing performance, thus it is widely used in medical industry and furniture decoration industry and food industry.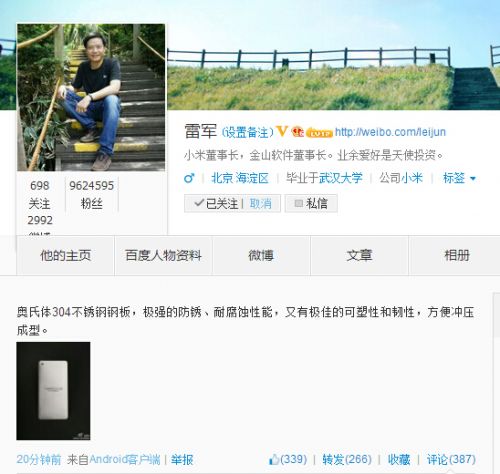 Although this kind of stainless steel is very common in China, the name "stainless steel 304 "comes from the United States. Many people thought that stainless steel 304 is one of the Japanese models, but strictly speaking, a Japanese official called for stainless steel 304 is the "SUS304". There are three kinds of common Marking methods on the market, they are 06 cr19ni10, S30408 and SUS304, of which 6 cr19ni10 is generally signified ISO production, S30408 is generally signified ASTM standard production, SUS 304 is signified Japanese standard production.
As a kind of common stainless steel, stainless steel 304 is widely used to make equipment and parts which required a good comprehensive performance (corrosion resistance and formability). In order to keep its inherent corrosion resistance, the component of chromium in stainless steel must more than 17% , and the component of nickel must more than 8% . Stainless steel 304 is a brand that produced according to the United States ASTM standards.