Intki cuts price of E80 to 599 RMB (97.02 USD), has 4.7-inch screen and 1GB RAM
Back in April, Intki made a low-key release for their octa-core phone, the E80, at the price of 999 RMB (161.80 USD). They later lowered it to 799 RMB (129.41 USD), and now, Intki is at it again. This time they lowered the E80's price to 599 RMB.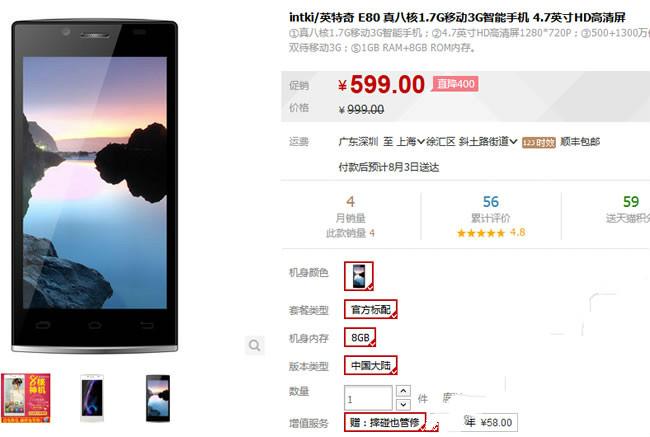 Overall, the specifications of the Intki E80 are very average. This phone runs on the 1.7 GHz MT6592 octa-core chipset. It has 1GB RAM and 8GB ROM and is expansion card-supported.  It has a pretty small screen measuring only 4.7 inches with a resolution of 1280 x 720. It also sports a front-facing 5 mp camera and a rear-facing 13 mp camera but according to customer comments, not everyone seems to like them. The E80 is powered by a 1800 ma battery and uses the Android 4.2 OS. It also supports TD-SCDMA and GSM dual-SIM.