GIVEAWAY TIME – Atongm Bluetooth Laser Projection Virtual Keyboard
Attention! This article contains a giveaway. Bluetooth Keyboard is an innovative data input device which uses intelligent 3D electronic recognition technology, it's recommended by Androidheadlines. The great advantage of this Bluetooth Keyboard is the Pocket sized design concept, which enables this unique gadget to be a solution for a portable keyboard without taking up much space.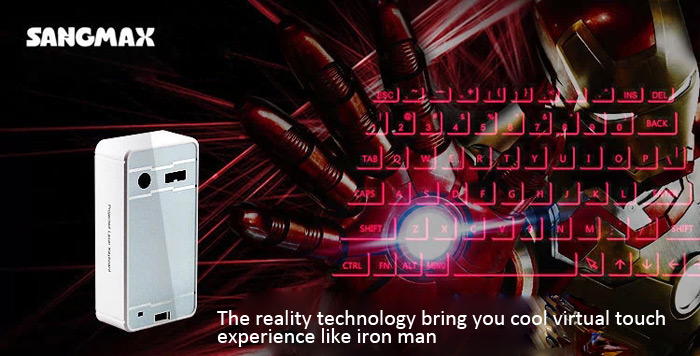 This Laser Projection Bluetooth Keyboard will project a full sized keyboard on any flat surface and use laser tracking technology to follow the location of the operator, you can type up a storm at anytime or anywhere you want. In addition, the keystrokes could be detected up to 400 characters per minute, which letting you type your words smoothly as flowing water at ease. Inside advanced optics are hard at work tracking your fingers like magic.
Meanwhile, it compatible with Android, iOS, Windows and Mac all kinds of operation systems that can be used with any phone, tablet, PC and laptop for a smooth and fast way of text input. On top of that, built-in bluetooth provides the convenience for connecting to other devices without complex wired troubles. All you have to do is pair both devices and a wireless connection will be set up in no time for extra flexibility. Combining portability with functionality, there is no doubt that it is a creative technology from future! All in all, this Wireless Laser Projection Bluetooth Keyboard deserves to own its favor and value for its powerful amazing features and affordable price.
The laser projection keyboard is a new data input device using 3D electronic recognition technology (also known as laser keyboard, virtual keyboard, light keyboard), this device directly projects keyboard pattern on most flat, opaque surface by using a laser beam with the same as general keyboard operation environment. It is perfect combination product using the image projection template, sensor and infrared light source template. The laser keyboard projection size is 241 x 106mm. When the user presses a key on the projected keyboard, the infrared layer is interrupted. This produces IR reflections that are recognized by the senor in three dimensions, allowing the system to assign a coordinate.
Traditional Bluetooth keyboards still play an important role till today, even though they are designed to be somewhat compact. A Bluetooth keyboard that could fit in your pocket though, now that would be something you want. That's exactly what the Atongm Bluetooth Laser Virtual Keyboard provides, a pocket sized device that can connect to your phone or tablet through bluetooth and display a virtual laser keyboard onto any flat surface, which allowing you to type like you would with a normal physical keyboard.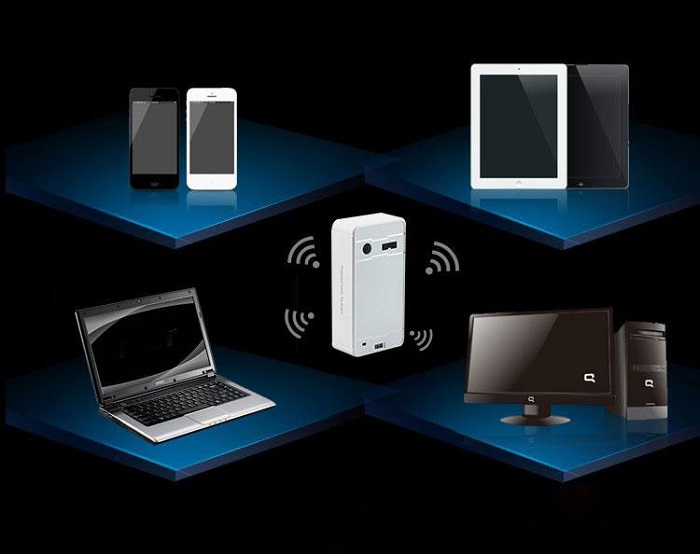 The tiny device projects a laser keyboard onto whatever surface you have on front of you, and using 3D electronic recognition technology which can track where the user/operator is, which is how it tracks where your fingers are placed and how it knows what keys you're hitting. The keyboard ensures fast and accurate data input by using an English QWERTY layout. The detection rate for this device is over 400 words per minute, so typing will be more smoothly and faster. The keyboard also uses low power consumption, in this case, you don't have to worry about it draining your battery from using it too often.
It's not only compatible with smartphones and tablets though, but also compatible with anything which can accept devices with a Bluetooth connection. It supports Mac, Windows, and Linux PCs, as well as Android smartphones and tablets that are running Android 2.2 or later, which at this point is pretty match every single Android device. As we can see, it's very small and portable, which also has built in 700mAh battery, you can simply recharge it by using the mini USB connection port on the back when it's losing most of its charge. It will take 120 minutes to fully charge the battery, and use time is rated at about 200 minutes total before it needs another charge. While the keyboard will project a decent distance in front of the device at 100mm in front of where the keyboard device is sitting, it will require a non-reflective, opaque surface for it to work properly. Do you want to have a fast, accurate and portable Bluetooth keyboard to type for your smartphone or tablet? If the answer is "YES", just pick the Atongm Bluetooth Laser Virtual Keyboard up
Regular Price: $67.11
Coupon code: GBLKCN
Coupon Price: $49.99
Good Luck!!!
UPDATE: You can also say "I WANT IT" under the facebook status.
Winner is Joel – [email protected]      RS147391443NL  It can be tracked at http://www.17track.net/cn/result/post.shtml?nums=RS147391443NL