Meizu's smartwatch seems to be on its way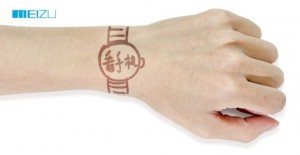 "Look at your watch. Do you have this type of habit?" this is the meaning of the Chinese message conveyed by the image which has gone viral on the internet. The image has been released by Meizu's domestic advertising team on Weibo. There is a hand with a wrist watch design on it. Release of such an ad added a flavour to the rumours that Meizu, a leading electronic company of China is a new player in the smartwatch market. The company has established its name in the global market because of its uniqueness. But the image also has some traces of a Meizu Mx3 smartphone. In this way, this ad could be interpreted as sarcasm from Meizu to the current smartwatch revolution. The message could be that you don't need a smartwatch, you just need a real smartphone like Meizu Mx3.
Some reports suggest that Meizu will follow the footsteps of Google and will announce its own OS for the smartwatch.  The keyplayers which are already there in the market of smartwatch are LG, Motorola, Samsung, etc. Google released a list of companies at the time of the announcement of Android Wear, which can make use of the software. The list included HTC, Asus and many more. But Meizu could be a new entrant in the list.
But nothing could be stated clearly until the higher officials of this Chinese giant, Meizu, are ready to comment about the advertisement.  People are curious to know about the original story and concept behind the ad.