Xiaomi Power Bank hit the 10,000 mark of pre-orders in India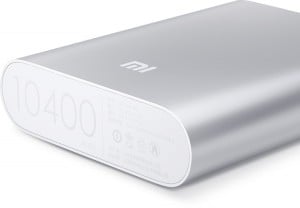 After making the consumers of India wait for so long, Xiaomi has finally launched Power Banks in India with their sales partner Flipkart.com. The high acceptance of this product can be easily estimated by looking at the number of pre-orders that have been made in just 24 hours. The pre-orders were opened on shopping portal Flipkart.com for Xiaomi Mi Power Banks on Friday. Xiaomi has released two variants of Power Banks, 10400mAh and 5200mAh, at the price of 999 INR ($16.5) and 799 INR ($13) respectively. The more popular version, 10400mAh is out of stock but 5200mAh is still available on Flipkart.com for pre-orders.
Any device like digital camera, smartphone, tablet and phablet can be recharged using Xiaomi Power Banks. According to Xiaomi, the 10,400mAh Mi Power Bank has a power to charge the Mi 3 phone 2.5 times, an Apple iPhone 5S 4.5 times and an iPad mini 1.5 times on a single charge. The Xioami Power Bank gets fully charged in around 5.5 hours. The device is 90.5x77x21.6mm in dimensions and 250 grams in weight. Alternatively the portable 5,200mAh Mi Power Bank can charge the Mi 3 once and an Apple iPhone 5S twice just on a single charge. This Power Bank has been compared with "business card" having a width of 5.5 cm and this makes this device highly portable. Both the variants of Power Banks are water and corrosion resistant and have an end-to-end covering of anodized aluminium.
The success of Xiaomi Power Banks can be easily anticipated from the number 10,000. It will not be surprising, if the Xiaomi Power Banks touch the milestone of 1,00,000 soon.