123inkcartridges.ca/ review— BEWARE OF THIS SITE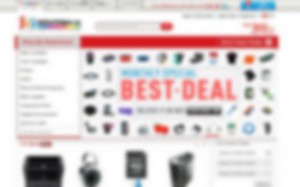 I usually do reviews as a blogger. This involves doing product reviews, websites and reward programs. I write because I think most of my readers should be informed about what I write. Sometimes in rare occasions companies do call me to write for them reviews of what they are selling. When I find what they want me to review is related to this company I usually write. For example I have received a request by a special company promotion and a cell phone company which I have said yes. In my work I will try to do my best by being very fair and accurate in what I am reviewing.
I cannot lie to my readers because of the product or gift card I received from the company. To be honest with you my readers, I sincerely like you. I appreciate the fact you take your time to read what I write which is awesome.  Because of this, the only favor I can do you is to give you 100% of my opinion. If this will mean I expose a lie, I will freely do so.
An example is that I received an email from a lady named Tina who is a manager at 123inkcartridges.ca/. She wanted me to write a 123inkcartridges review to review their site in exchange I was to receive a donation. In my response, I told her that their site looked relevant to gizmochina but I was not to review something I have not tried before. I went on to tell her that I need a credit to the website so that I could use the site after which I would write from my experience.
She replied to me telling me that at the moment they were not providing any credit or product. She asked me if I can post an article after they send me the article. She went on to tell me that they have a group of copywriters who have specialized in writing articles on different topics and they were going to write the articles that I was to post on my website. She even assured me that the articles were not going to be used on anywhere else on the internet. After giving all these she asked what my opinion was.
At this point the question I asked was whether the company was hiding something. Why would they not allow me to experience after which I would review the site just like any normal advertiser/blogger?  I now know if you google 123inkcartridges scam, some hits will come up. Another thing I know is that I cannot trust any of their reviews that I find in the internet that is positive because most likely it was submitted by their own writers. This is the obvious I won't do, endorsing a website that chooses such dishonest ways of promoting themselves. I advise anyone to keep off from such companies that cannot be trusted.
Many people usually ask me whether I make money on my blog. I usually tell them I don't make money. I even give the gifts to my readers in the giveaway articles. I have only received very small monetary payments from google ad words that usually pay pennies on the post. My payment is in terms of happiness, when there is someone commenting on what I had written. When someone offers a gift card or a free product I like to take the project and my reward is the kickback. But honestly I am not a sellout.
I don't like to be dishonest and I will never be dishonest. I won't say something that my conscience tells me is untrue. I will not post an article that has been written by a company whose intention is to make more from it. This remains my commitment to you and another commitment is to brainwash you to sending me all the money that you save out of my helpful tips. I am simply being honest.