Xiaomi Mi4 or OnePlus One – Which is better?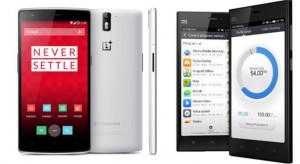 No doubt that these two great phones are making history in the world of mobile industry. Somehow their influence becomes wider and bigger since they represents the greatness between modernization and technology. But among the two, which of this really matters to you? Let's check the quick comparison below.
First of all lets see the similarities of both phones and then we'll move to the points where one scores over the other.
–          Both Xiaomi Mi4 and OnePlus One have 3GB Ram.
–          Both have a screen resolution of 1920 x 1080.
–          Both run on Snapdragon 801 processor.
–          Both have the same internal memory.
–          Both Xiaomi Mi4 and OnePlus One have a 13 Megapixel rear camera.
OnePlus One has a screen size of 5.5 inch as compared to 5 inch of Xiaomi Mi4.
OnePlus One has a better battery of 3100mAh as compared to 3080mAh of Xiaomi.
However, Xiaomi Mi4 scores good on the front camera as it has got a 8 megapixel camera in comparison to OnePlus One's 5 megapixel.
Universally the Xiaomi Mi 4 allows you to have a universal remote through an IR blaster. It doesn't have an NFC, but it has more interesting qualities that will surely suit your taste. It might have a smaller screen size and a smaller battery capacity, but somehow Xiaomi seems to be selling more. The Xiaomi Mi 4 is now considered as one of the highest standard android phone of this generation.
The 5.5 inch screen size of OnePlus One grabs an edge towards this race. It is because the larger the screens are, the more application you can surf. Smaller screens can also do so, but it will require too much load to the battery. Other interesting things about the OnePlus one is that they prioritize their client's choices including their warranty system. To conclude, majority of the results clearly state that the Xiaomi Mi 4 would be a great choice against the OnePlus One.
 Not just because of some special differences, but because the quality of Xiaomi Mi4 will eventually overlap the OnePlus One. Overall they don't differ too much in price but somehow the quality will always matter. OnePlus One is good but the Xiaomi Mi4 is better.