6th flash sale of Xiaomi Mi 3 in India : 20,000 phones sold in 2.4 seconds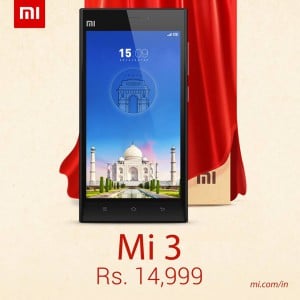 Xiaomi also known as China's Apple has shown its immense potential outside China, i.e., in the Indian market. Hugo Barra, Vice President of Xiaomi, revealed on a famous social networking site, Twitter that in Flipkart's sixth flash sale, 20,000 Xiaomi Mi 3 smartphones sold out precisely in 2.4 seconds. The sale started on 26August at 2 PM and it was just a matter of 2.4 seconds that Xiaomi Mi 3 sale took a flight.
Xiaomi has repeated the history, as the company has also done the same 2.4 seconds magic during the fourth and the fifth flash sale of Xiaomi.
According to the sources of company, the first batch of Xiaomi Mi 3 sold out in 40 minutes and second batch was sold in just 5 seconds. During the third flash sale, Xiaomi experienced the fastest sold out notification; it was just in 2 seconds that this smartphone was out of stock. This is a big hit not only for Xiaomi but also for the Flipkart.com, which is the sale partner of Xiaomi.
The sale strategy laid down by Flipkart for ordering Xiaomi Mi 3 is a very simplified procedure. You just need to click on the icon of add to cart after the selection of Xiaomi Mi 3 and it is classified as sold. The rest of the formalities are done thereafter in the additional time.
The Indian smartphone market is very much favouring this China based company and its favour can be judged from the numbers of Xioami Mi 3 sale in 3 seconds.