Meizu: MX4 is the one and only at the announcement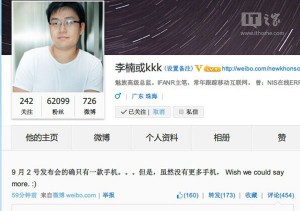 Earlier today Li nan, the vice CEO of Meizu, confirmed on Weibo that there will only be one phone announced on September, 2nd. He also denied the existence of a Meizu tablet during the Q&A with his followers. He also said their developers are still working on the fingerprint recognition function on the MX4 Pro, so we won't see the Pro edition at the announcement conference.
So without MX4 Pro, then the only phone that'll be released that day certainly is MX4, the so called standard edition. There are a lot of rumors going on right now. To name a few: the display will be 2K, namely a resolution of 2560 x 1536. and a MTK octa-core CPU (MT6595) on the MX4 standard edition. MX Pro is said run on a Samsung Exynos octa-core CPU. But is the 2K display available for all regular editions? Will all these be true? Guess we'll have to wait and see what the announcement conference brings us.