Forget calling IT customer service! When something's wrong with your OnePlus One, try using OnePlus Doctor!
Ever since its release, the OnePlus One has enjoyed critical acclaim for its powerful specs and excellent design. On September, OnePlus released the only App in China that grants phone owners to access OnePlus IT services whenever their phone has any problems, the OnePlus Doctor.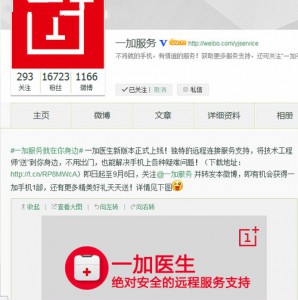 A lot of phone users have a hard time explaining what is wrong with their phone when they call customer service. They usually wish that they send a technician over to check it out. The OnePlus Doctor solves this problem by allowing OnePlus' technicians to diagnose any problems with Phone's settings or features even at a long distance. It is the only App of its kind in China right now.
Using the OnePlus Doctor is quite simple. Users just need to download it from Aijikong, install it, and set up long-distance features. For example, Technicians can see the phone's screen to check for any problems with the software. Addressing stability and security concerns, OnePlus has stated that the OnePlus Doctor is absolutely safe. Their technicians will only be able to see the phone's specs and other technical information. They cannot see private information and photos.