Meizu MX3 starts selling in Czech Republic (Europe)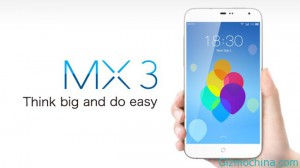 The fan following of the China's smartphone manufacturer, Meizu is no more limited to China. The China based company is now spreading its wing across the world with its amazing smartphone series. This time the Meizu has launched its smartphone MX3 in Czech Republic. This step of Meizu in Europe has been facilitated by one of the top mobile network provider of Europe, O2. The partnership has helped Meizu in a significant manner as O2 is a leading service provider in China. With this joint venture, Meizu is anticipating to establish its feet in the European market. If the company will keep on doing such great efforts at the same pace, the day is not far when Meizu will be amongst the global smartphone leaders.
In web stores of O2 in Czech Republic, Meizu MX3 has been added. People of Czech Republic can get the new Meizu MX3 just at a total cost of $378 i.e., 7,995 CZK or €285. Sources have revealed that soon the successors of the MX3 will be launched in market as MX4. Meizu MX3 exhibits some extraordinary and premium features. Some of the important ones are mentioned below.
Key features:
OS: Flyme OS 3.0
Screen: 5.1" with 1800 × 1080 resolution
Camera: 8MP rear camera and 2 MP front camera.
Battery: 2400 mAh Li-Poly battery
With all these premium features and pocket friendly price, Meizu MX3 is certainly going to play a good innings in the Europe. The overwhelming response of the fans from Czech Republic is an optimistic and encouraging indication for Meizu.