Xiaomi sells 40,000 Redmi 1S smartphones in 4.2 seconds on Flipkart

This time again, it was just a game of few seconds for Xiaomi. Xiaomi Redmi 1S was released for Flash sale in India today i.e. 2nd September 2014 in India on Flipkart.com. It is not surprising at all that the Xiaomi Redmi 1S sale ended in seconds. The Flash sale of this android smartphone started exactly at 2:00 pm and it was no wonder that the sale closed at 2:01 pm. The Xiaomi has launched this smartphone as a tough competitor to the Motorola's Moto E. But the Redmi 1s has all the features of much loved smartphone Moto G. The strategy of Xiaomi of lowering the price of Redmi 1S from Rs 6,999 to Rs 5,999 has been proved favourable. The Flipkart.com has started the registration of Redmi 1S in India on 26 August 2014. The registration was open for 5 days and according to Flipkart 250,000 people registered for this flash sale.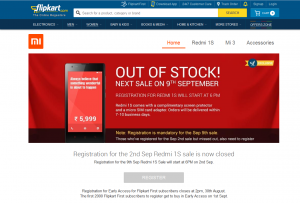 The Redmi 1S is fully loaded with exceptional features and specs. Some of them are listed below.
1.6 GHz quad-core Qualcomm Snapdragon 400 processor.
8GB memory.
4.7 inch screen display with 1280 x 720 resolution.
8MP rear camera and 1.6MP front camera.
Flipkart will deliver the Redmi 1S in 7-8 working days. The delivery package along with the smartphone and its accessories will also have a screen protector and a micro SIM adaptor as a complimentary gift. The second flash sale of the Xiaomi Redmi 1S will be starting on 9 September 2014. The registration for this flash sale has already started at 6 Pm on 2 September 2014.
It will not be astonishing if the next sale ends in microseconds.