Xiaomi's 5th flash sale on Indian e-commerce Flipkart a thunder success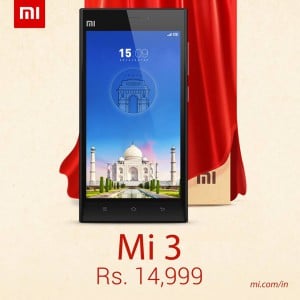 India has been emerging as the most important market to Xiaomi just after China since their launch. Xiaomi has partnered with one of the biggest e-commerce website in India to sell their smart phone Mi 3. This Indian website named Flipkart has done wonders for Xiaomi as the fifth flash sale of Mi 3 also ended in few seconds just like the previous 4 flash sales. This time the stock was 20,000 phones.
The fifth flash sale which was held at 2:00 PM on 19th August (Indian Time) was again a thunder storming success. More than 75,000 willing buyers had registered for this sale. It may be noted that 150,000 people had registered for the fourth sale which was held on 12th August out of which only 20,000 got their Xiaomi Mi 3.
Compared to last time, Flipkart had increased their server capability to accommodate large number of users on their website for this big event. It seems like Indians have become a big fans of Xiaomi. These flash sales leave a lot of disappointed fans due to limited stocks, but Xiaomi said that they'll be increasing the stocks soon.
Xiaomi has seen such a tremendous market of their smartphones in India from these 5 flash sales that it has decided to continue online sales of its smartphones in India through flash sales only. Next Xiaomi Mi 3 flash sale on Indian e-commerce Flipkart has been scheduled for 26th August 2014.  It has been said that for 26th August flash sale also, 20,000 units will be available. Xiaomi Mi 3 is available at a cost of Rs. 13,999 in India which is approximately US $230.