One Plus One hints entering Indian Market
One Plus One the phone which created waves in released market's by it's features, aggressive pricing, and invite system is entering  Indian market soon. According to some sources the phone will enter retail market only in 2015(not to be confused, it is without invite system). Due to this system it's demand in black market is also high.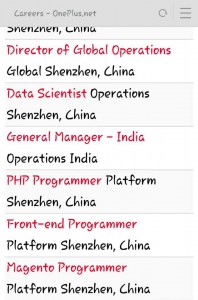 OnePlus has a new job listing on its official website: General Manager, India. Which hints that it enters Indian market in some time.
After success of Chinese OEM's in India more and more Chinese manufacturers are trying to enter sub-continent market. This is turning Indian market upside down as they are offering high-end devices for affordable price which is a clean strategy to improve it's expansion.
Coming to it's spec it features a 5.5inch FHD display, a 13MP rear camera and 5MP front. It boasts a Qualcomm Snapdragon 801 SOC coupled with 3GB RAm and 16/64Gb ROM option. It supports all standard connectivity with a 4G LTE. The most eye catching feature is it comes with CM11s right out of box.