Asus launches 64-bit Quad-core MeMO Pad 7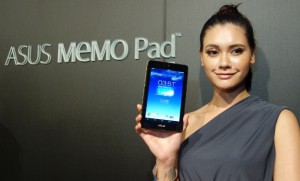 Asus is launching new devices at a drastic speed. Asus has just now announced its new MeMo Pad 7. Asus MeMo Pad 7 is fully loaded with some latest technologies. MeMo Pad 7 is a stylish device, which will be a status symbol amongst the youth. The MeMo Pad 7 from Asus has all premium features like CPU of Intel, a 64-bit quad-core Z3560 (1.83 GHz),   high definition screen display with an increased resolution of 1920 x 1080. The forerunner of this device was having the screen resolution of 1280 x 800. The MeMo Pad 7 resembles with "wallets and clutch bags" because of its artistic and highly visual design. The frame of memo Pad 7 is made up duralumin.
The MeMo Pad 7 has some elite and finest features which are listed below:
RAM- 2 GB
Internal storage- 16 GB, this can be expanded up to 64 GB with microSD card
Camera- 5 mega pixel primary camera and 2 mega pixel secondary camera for the smart selfies.
Asus has also revealed about the user friendly and economical price of this new and innovative device. The price has been set at $ 260 or €199. The MeMo Pad 7 is available in stylish color range including – black, red and golden. We have rumours that soon the company will also launch the LTE version of this device. The smartwatch by Asus has already grasped so much of attention by the fans from all around the world. Let's see how much does this device rule the electronics market.