IFA 2014 : Lenovo launches 64-bit Android smartphone – Vibe Z2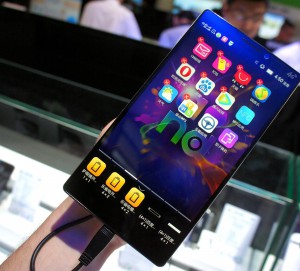 Lenovo jumped on the 64-bit smartphone bandwagon with the Vibe Z2 which will be launched in October. Other companies have also lined up 64-bit handsets like HTC's Desire 510 which was announced last week. The Vibe Z2 and Vibe X2 were launched by Lenovo at the IFA trade show. The current phone has a large 5.5-inch screen and is 7 mm thick. The Vibe Z2 is thus Lenovo's thinnest phone. It is powered by a quad core 64-bit Snapdragon processor and 2 GB RAM. It also has 32 GB of internal memory. These features are topped up with a 13 mega pixel rear camera and an 8 mega pixel front camera which is specialised to click selfies. The front camera is programmed to click selfies and also has smile detection and auto timer among other features.
Vibe Z2 would be priced around $429 and will be first ship to China in September and to the rest of the world in October. Whether or not they will sell this phone in the USA is still to be disclosed.
Lenovo has also announced another new smartphone, the Vibe X2. This phone has a 5 inch screen and a 32 bit processor. It is 7.27 mm thick and has a 13 mega pixel rear camera and an 8 mega pixel front camera like the Vibe Z2. This handset too is LTE compatible and comes at a price lower than that of the Vibe Z2 ($399).
Lenovo is currently world's fourth largest smartphone manufacturer and will soon complete its acquisition of Motorola Mobility, thus making it the world's third largest manufacturer. Though Lenovo does not do business in the USA but has good market in other countries.