KitKat now on almost 25 percent of all Android devices
Google is ruling the mobile OS category and it was able to pull of the strong contenders and was the reason for their downfall with edge of being an open source OS and letting developers to take full control on it. Now it has grown so big and their OS is being updated on regular basis. Let us have a look at the percentage shares of different versions currently.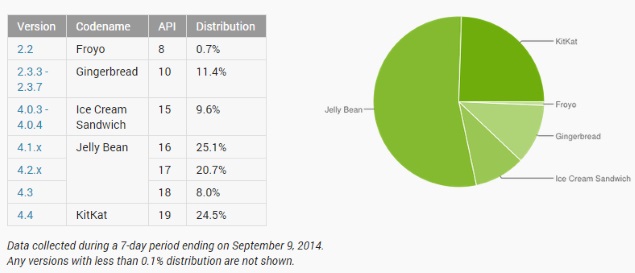 Revealing the latest statistics for its mobile OS on its Android Developers Dash board page on Wednesday, Google claimed that about 24.5 percent of Android smatphones/tablets runs on KitKat version. This data is of all devices recorded at the Google Play store over the seven-day period that ended September 9.
The latest pie-chart shows the rise for KitKat. But still Jelly bean is the King. Most of the OEMs have been working to roll out v4.4 but it is still lagging behind.
Android Jelly Bean has a collective share of 53.8 percent with all its versions. Second position is in the name of KitKat with a share of  24.5 percent as told earlier. Gingerbread is holding 11.4 collective percent and is in third spot. ICS is in 4th place with 10.6 percent  and Froyo ends with 0.7 percent share.