Android One Phones vs Xiaomi Redmi 1S – Which one to buy?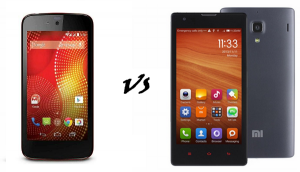 Google has recently made an announcement about its new Android One smartphone. The devices which are the competitors of this new device from Google are, Spice Dream UNO, Micromax Canvas A1and Karbonn Sparkle V. All these devices are in the price range of Rs 6,000 to Rs 6,500. But the real rival of Android One smartphone is  Xiaomi Redmi 1S. This device from Xiaomi is doing extraordinarily great in flash sale. So we are comparing the specs and details of both the devices so that it will be convenient for users to choose their smartphone.
Display and Processor
The Android One has a screen of 4.5 inch with a 480×854 pixels screen resolution. Android One is loaded with quad-core processor, MediaTek MT6582 (1.3 GHz), 1 GB RAM. The Xiaomi Redmi 1S has a bit larger screen of 4.7 inch with1280×720 pixel screen resolution. Redmi 1S also possess the protection of Dragon Trail Glass. It integrates a quad-core Snapdragon 400 chipset based Cortex A7 processor (1.6 GHz), and 1 GB of RAM.
Camera and Internal Storage
Android One has a 5 MP camera o the back and 2 MP front camera. Whereas, Xiaomi Redmi 1S phone has an 8 MP primary camera and a 1.6 MP front camera.  Redmi 1S has an internal storage of 8 GB expandable up to 64 GB, while the Android One only has 4 GB of internal storage support only up to 32 GB.
Battery and Features
The main drawback of Android One is its 1,700 mAh battery. On the other side, Redmi 1S has 2,000 mAh battery for the longer usage.
Android One smartphones runs on latest Android 4.4.4. But the Redmi 1S is using on the old version of Android- 4.3 Jelly Bean.
Conclusion
As far as price is concerned, both the devices are same and reasonable. The only pitfall of Android One is its weak battery and of Xiaomi Redmi 1S is the old version of Android.