Comparison – Gionee Elife S5.5 wins over iPhone6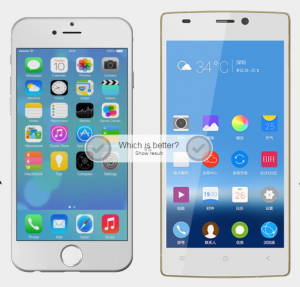 Gionee has launched the slimmest smartphone in the world. It is Gionee Elife S5.5.  On the other hand, Apple has also launched their iPhone 6 with a slimmer body. It is quite difficult to decide that which one is the best. Apple is one of the leading smartphone makers in the world. Gionee is one of the growing companies and has gathered praise from the people across the world because of its innovative products.
The Gionee Elife S5.5 has got killer looks. It is an extra slim phone made up of glass and metal sides. The Elife S5.5 is 145x70x5.6 with a 5 inches screen and SUPER AMOLED display, screen resolution is 1080 ×1920. The display is very clear and sharp. The Elife S5.5 has an octa core processor (1.7GHz), 2GB of RAM, 16 GB of internal memory space, no microSD card slot, Android 4.2 Jelly Bean, 5 mega pixel front camera and 13 mega pixel rear camera.
Apple's iPhone 6 is very classy. The iPhone 6 is 138x67x6.9 with 4.7 inches screen and 750×1334 pixels resolution. iPhone 6 has a 64 bit dual core processor (1.4GHz). But it just has 1 GB of RAM and there is no microSD slot. Internal storage of 128 GB is a good option, it has latest iOS 8, HealthKit apps, 8-MP rear camera, and 1.2-MP front camera.
At last we can compare the price of these two phones. Gionee Elife S5.5 has a very user friendly price tag of just $400 and iPhone 6 is priced at $650 for the off contract version. But the contract version of iPhone 6 starts at $199.
If thinking to buy an iPhone 6 without contract, you should consider your choice one again.