HiSilicon Kirin 920 tear-down
The Kirin 920 is HiSilicon's newest smartphone SOC and has scored 38000 in the Antutu benchmark test.
Here is our tear-down HiSilicon's latest chipset.
The chip is enclosed in a glass case, so I decided to just use a saw to get it out.
The CPU is made of quad-core Cortex A15 and uses a 2M L2 cache. It is 20mm2. The green parts are four A15 cores. The yellow one is the L1 cache. The purple part is the 2MB L2 cache. (Of course, these are not their real colors)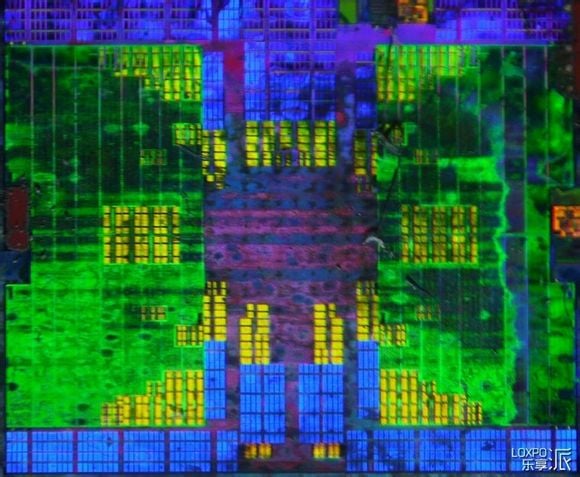 The section with the quad-core Cortex-A7. The yellow part is the L1 cache while the purple part is the 512KB L2 cache.
Its GPU is the Mali T628 (624) MP4. You can see four cores there. The orange parts are the register set and cache.
Its baseband is an LTE modem from Balong.
Overall, the Kirin 920 is a 28nm processor. The size of this processor is roughly the same the S800. Its CPU's size is also close to the 4A15. The Mali GPU, though, is larger than the Adreno and PVR 5 series, and is smaller than Apple's PVR GR6430.
Of course, just because there's a direct relationship between the size of the chipset and capital does not mean that the smaller it is, the weaker the performance is.