DOOV T20 supports dual-SIM, has 5mp camera, and 1G RAM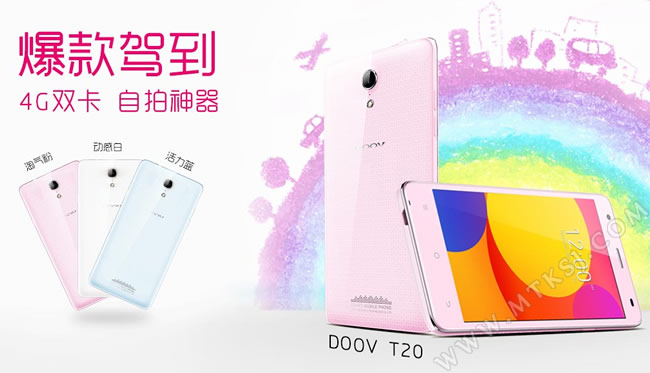 Recently, DOOV released a 4G dual-SIM phone called the DOOV T20. Its core selling points are the fact that it has support for dual-SIM and its selfie specs.
The DOOV T20 has support for TD-LTE, TD-SCDMA, GSM, and dual-SIM cards. One card is big while the other is small. Its processor is a 1.5GHz quad-core chipset which insiders confirm to be from MTK.
Female users may also buy this phone because of its fashionable design and selfie specs. It is available in pink, blue and white and sports golden bars at the sides. Regarding the camera, it has a dual-5mp camera with the CAM2.0 software.
Besides these, the DOOV T20 also has a 5-inch qHD OGS display screen as well as 1G RAM, 8G ROM, and a 1900mAh battery. Its OS is the Android 4.4. The price has not yet been revealed but this phone will go on sale this November.