The first HUAWEI Kirin 620 device started to presale in China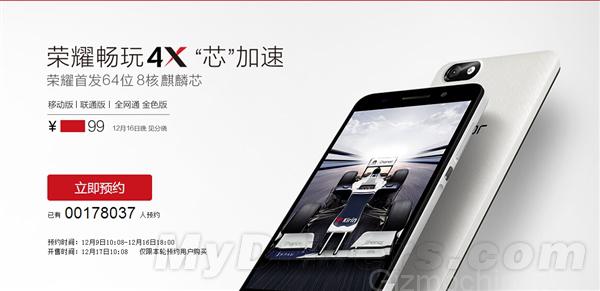 Huawei is ready to take their cellphones to the 64-bit 4G era with its newest device. Although they will not hold a launch event for its new products until December 16, they have already started pre-sales for one of their newest products, the Huawei Honor Play 4X which is the first device to use the Kirin 620. It is said to cost X99 RMB.
The Kirin 620 is a high-speed 64-bit octa-core processor from HiSilicon, a Shenzhen-based company that produces CPU processors. It is completely owned by Huawei. The Kirin 620 processor uses 8 A53 cores and offers powerful performance. Its graphics processing unit (GPU) is the Mali 450. With this processor, the GPU performance for the device that uses it increases by 20%.
The new Huawei Honor Play 4X's overall specifications are basically the same as the original except for the processor. It sports a 5.5-inch 720p display screen, has a 5mp front-facing camera and 13mp rear-facing camera, and runs the Android 4.4 operating system. It is powered by a 3000mAh battery. The low-end version will have 1GB RAM while the high-end version will have 2GB RAM. Users can buy gold versions of this phone.
In addition, regarding the price, some reports say that the low-end edition will cost 799 RMB ($128.83) while the high-end edition will cost 999 RMB ($161.08). Of course we cannot rule out the possibility that it will be cheaper.
Anyway, as said earlier, this is just one of Huawei's new devices that will be launched on December 16. You cannot help but wonder what else the company has in store for us. Could it be another cell phone or a tablet? Maybe a power bank? We have no choice but to wait until then.
[socialpoll id="2236250″]