The MT6595 smartphone installed with Lollipop 5.0 is unleashed by the new brand Zeaplus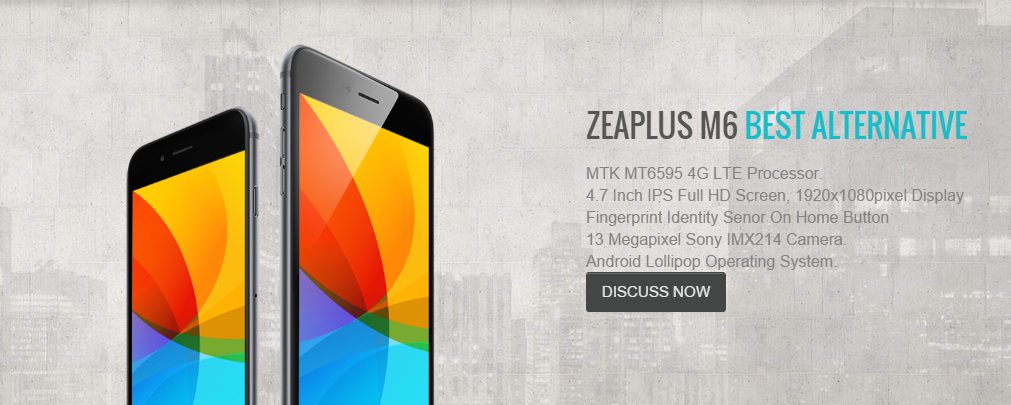 The fresh Chinese smartphone maker Zeaplus has opened the accesses leading towards their afresh launched website, which describes in detail about their first product in the mob-tech market, the Zeaplus M6 integrated with MT6595. Zeaplus is a novel Android phone enterprise from China which is devoting all of its technical expertise in producing much-affordable Android smartphones that will appeal the entry-level to mid-range bazaars out there in an effort to lower the expenses for the global consumers along with their warehouse located in Portugal.
The inauguration of Zeaplus's official web-portal today is all but right now representing only first-hand forum with a little bit of the know-how about the corporation itself. Although, we were succeeded in locating a transitory narrative of their newly released smartphone on the website. Known as the Zeaplus M6, the phone resembles a look much like the iPhone 6, however, it is being run by the powerful octacore MT6595 processor that is also chipped in such smartphones as Zopo ZP999 and Meizu Mx4 respectively.
The other notable feature defined is that this processor will also bring the power of LTE to the device as well. Cost has not yet been disclosed by the company but no matter if they decide to introduce the phone with a considerable value, it would be worth an expenditure since the phone will come along with a sound 13 mega-pixel Sony IMX214 camera located in the beck, a latest Android 5.0 Lollipop, and a fingerprint scanning option within the home button. Surely, we will be routing the all-new Zeaplus as the company comes up with an assortment of new products in the market.