Lenovo Lemon K3 (Snapdragon 410) launched, to cost 599 RMB (97.35 USD) in China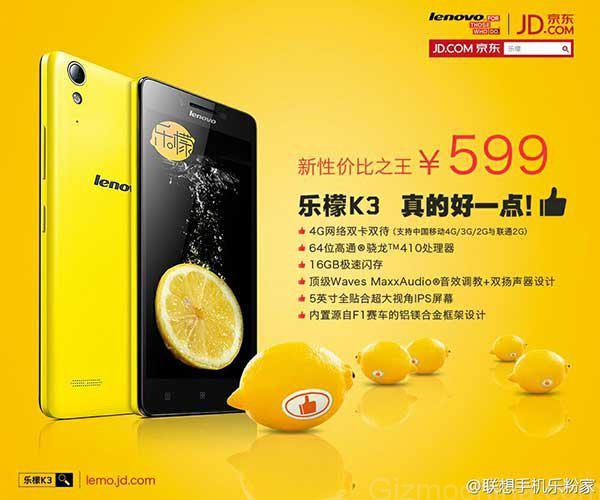 Today, Lenovo launched the Lenovo Lemon K3 cell phone for the low-end market. This phone costs only 599 RMB.
From the pictures, we can see that this phone sports a bright yellow rear cover, which explains how this phone got its name. Its front side, on the other hand, is black. The following images below show the phone's design as well as the user interface.
As for its specifications, let us take a look. First of all, its CPU is the Qualcomm Snapdragon 410 quadcore processor, which according to Qualcomm themselves, can be used for both 32-bit and 64-bit devices. It is mainly used for entry level 4G phones. As for memory, the Lenovo Lemon K3 has 1GB RAM and 16GB ROM. Its screen is a 5-inch 720p IPS display screen. Regarding connectivity, it supports 2G, 3G, and 4G, as well as dual SIM cards. It also uses Waves MaxxAudio and has dual speakers. As of now, it can be pre-ordered at the online Chinese store, JD.
Ever since the release of the Xiaomi RedMi, more famous Chinese electronics companies such as ZTE, Huawei, and Coolpad have expressed interest in conquering the market for 1000 RMB (162.52 USD) cell phones. Meizu, which has just launched the Meizu MX4 Pro has also laid its eyes on this market and wants to take over it as well. We can expect these big players to make more frequent appearances in the entry level market. The Lenovo Lemon K3's overall specifications are pretty close to the ZTE V5S, which had just been released some time ago, and the Huawei Honor Play 4 (China Mobile Edition), but its 16GB ROM and dual speakers design gives the Lenovo Lemon K3 a big edge over them. What do you think?