Coolpad Dazen F2 FHD edition priced at $161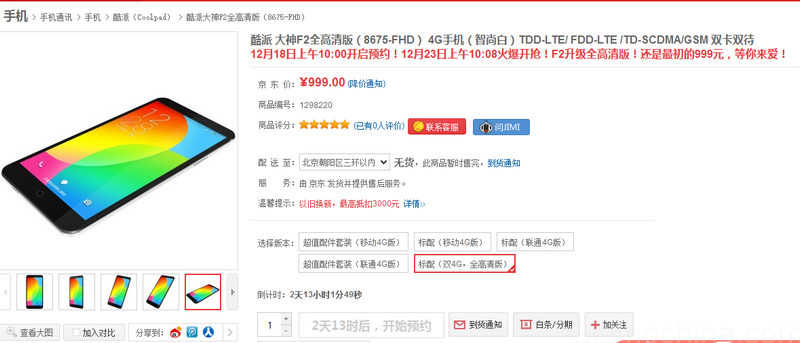 Coolpad Dazen F2 FHD edition was just spotted online at $161. The device was seen at jd.com (link is given below) for the said price earlier today. The only difference between this version and the earlier announced Dazen F2 is the screen resolution. Coolpad has bumped up the resolution from 720p to Full HD 1080p in this edition. Other than the resolution on this 5.5-inch display, everything else remains the same.
The device comes with top of the line specifications making it one of the best value for money devices currently available in the market. The Coolpad Dazen F2 FHD edition comes with the 64-bit 1.5GHz octa-core Snapdragon 615 (MSM8939)  processor along with 2GB RAM. You have 16GB internal storage, further expandable up to 32GB via MicroSD. The rear Sony camera measures 13MP and the front shooter measures 5MP. Like a true flagship,. the phone supports 4G LTE specifically TD-LTE and FDD-LTE networks. To power all these specs, you have a 2500 mAh battery. The overall dimensions measure 154.8 * 78 * 8.8mm and it weighs just 154 grams.
As you can see, the specs are exactly the same as the original Dazen F2 except for the 1080p display. The increased resolution on this IPS panel would definitely improve the overall display clarity of the screen. And given that the phone costs exactly the same as the 720p version, now you don't have a reason to opt for the lower resolution variant (right?). But there is a catch.
Unfortunately, only 1000 units of this special FHD edition will be available on sale on December 18th. So, once all the units get sold out, you'll have to be happy with the 720p edition.
Hence, we would suggest to all those who are interested in this device to hurry up. Head over to JD's website to take a look at the listed device.
So what do you think about the new Coolpad Dazen F2 FHD edition?