The Latest Poster by Nubia Suggests the New Product Launch Tomorrow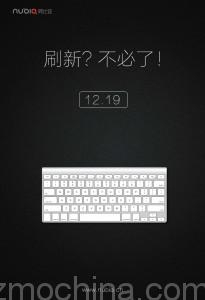 Nubia is ZTE's subsidiary company, which has a great reputation for making quality devices for a decent price. The latest series in their portfolio include Z7, Z7 Max and Z7 Mini. These devices packed great specs, beautiful design, great Nubia User Interface and they were quite popular both in China and internationally. They were all successful offerings by this manufacturer, but it has been quite a while since they were launched. It looks like that Nubia is ready to launch at least one more product before the end of 2014.
The latest teaser by NUBIA leaves some room for imagination. Firstly, there is not too much information about the possible product. Well, it is clear that it will be launched tomorrow, December 19th. What is more, there is a keyboard on the picture and the suggestion that "You do not need to refresh anymore". We just try to make a guess what it could be. Our imagination gives us an idea that it could be a accessory for a smartphone or a tablet. Less likely, it could be a smartphone itself, which includes a physical keyboard. However, we think that Blackberry days are over and people got used to digital keyboards on their smartphones. The last thing that comes to our mind is a laptop, but it is the least likely scenario as the company specialises in manufacturing smartphones.
Having said all that we just need to wait one more day to see what Nubia has to offer. Until tomorrow, we can just make some guesses. So what do you guys think this company will announce tomorrow? Let us know in the comment section beyond this article!