CUBOT S168 Review: An outstanding phone under $100
In the past few months, we have seen a number of new releases from the Chinese manufacturer Cubot. In fact, two of those devices, namely the Cubot S200 and the Cubot S168 made it to our best Chinese smartphones under $100 list recently.
Today, we are looking at the cheapest model from that list, i.e. the Cubot S168. The device is available for less than $80, which is a great price for the features that it offers. But with this cheap price tag, there are many people who doubt the build quality of the device. So, today, we decided to take a close look at the Cubot S168.
In this Cubot S168 Review, we will look at the phone's design, build quality, hardware as well as its software, thereby helping you make a purchase decision.
Unboxing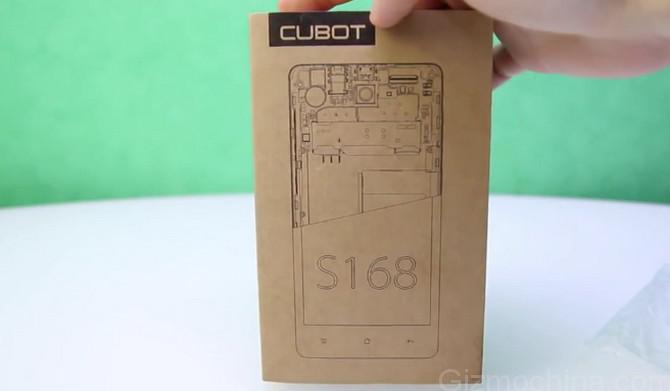 Before we talk about the design, lets look at what at items you get inside the package. The phone comes in a simple cardboard box with the Cubot logo on top and the phone's internal design below it. Even though the overall package was plain, we liked the black and white graphics on top.
Inside, you get a phone, a 1,900mAh battery, screen protector, MicroUSB cable with the charging connector, quick start guide and a transparent case. The phone looked quite solid and well built, but we'll talk about that in detail later.
The quick start guide has instructions in both English as well as Chinese, which is a plus considering many Chinese manufacturers don't even bother to include an English manual. Interestingly, you also get a free transparent case in the box (atleast we got one when we bought it from GearBest), which offers decent protection to your phone. Given that its quite hard to find a case for Chinese phones especially ones which are not so famous like this model, its good to see that you get a case right inside the box. So, no need to hunt for a case online. We also got a screen protector inside the box for no additional cost. In short, the box contains everything you need for your new smartphone.
DESIGN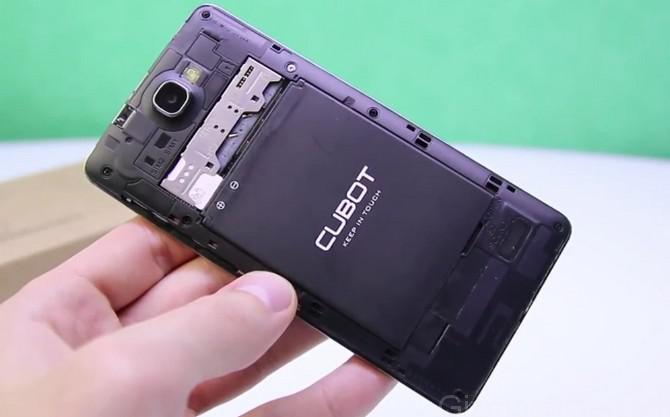 You can't expect much from a $80 phone, but to be honest, the Cubot S168 exceeds our expectation by all means. Although the design is pretty basic with only two color options – black and white, the overall build quality of the phone is impressive. Unlike other cheap Chinese phones that we have seen in the past, Cubot S168 looks like the device which is last. Everything feels sturdy and even the buttons feel responsive. You may have to take special care of the rear panel while removing it because its a bit flimsy and we were afraid that it may break with excessive force. But other than that, there were no loose parts or chipped sides.
The phone has a traditional design profile with smooth edges. Its made entirely of plastic, so don't be deceived by the silver frame which looks like metal, as even that is made of some kind of plastic. On the front you have a 5 inch display with a front facing camera, ambient light sensor and ear piece at the top. Below the display lies the three capacitive buttons, namely menu, home and back. Unfortunately, these buttons are not back lit, which may cause some trouble while operating the device at night. Also, you don't get an LED notification light on the device. While we would have loved an LED light on top, which comes standard on most phones today, we think that it is something that we can live without especially considering the price you pay.
The power and the volume keys are placed on the right side of the phone. The left side is completely clean. At the bottom you have a microphone and a slot for opening the rear panel. Finally, on top you have the microUSB port and a 3.5mm headphone jack. The back panel has a smooth finish, but its not slippery. So you don't have to worry about the phone slipping through your fingers. Moreover, its not a fingerprint magnet (atelast the black version wasn't) like other plastic phones that we have seen recently. On top of the panel, you'll find the 8MP camera along with a single LED flash besides it. The Cubot logo lies at the bottom alongside the speakers (which are really LOUD). One additional note –  the back panel is really tight, so you may want to remove it slowly to prevent it from breaking.Once the panel is removed, you'll see the two dual SIM card slots along with a MicroSD card slot.
DISPLAY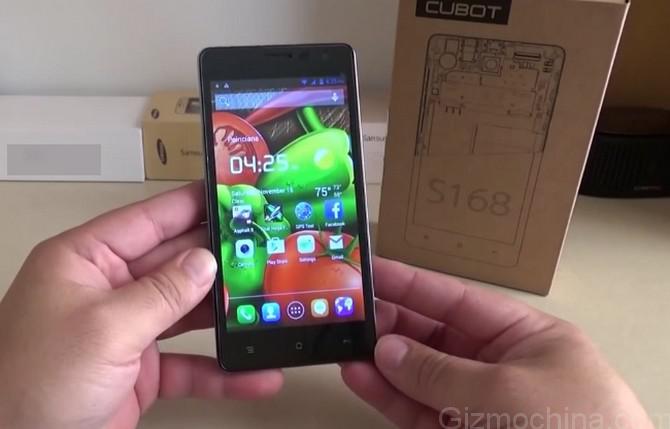 On paper, Cubot S168's display isn't the best in the market but for your everyday use, it should serve you well. The phone comes with a 5 inch qHD resolution IPS display. We know that nowadays most phones under $100 feature atleast 720p display, but from our experience even 960 x 540 pixel resolution looks good on a display under 5.0 inches. Given that its an IPS panel, the viewing angles are great and the colors looks rich and vibrant. In fact, we were quite happy with the images and videos displayed on this IPS panel. To conclude, we are sure you won't be disappointed with Cubot 168's 5.0 inch display.
Remember that there's no Gorilla Glass protection, so you may want to be careful with this display as it is prone to scratches.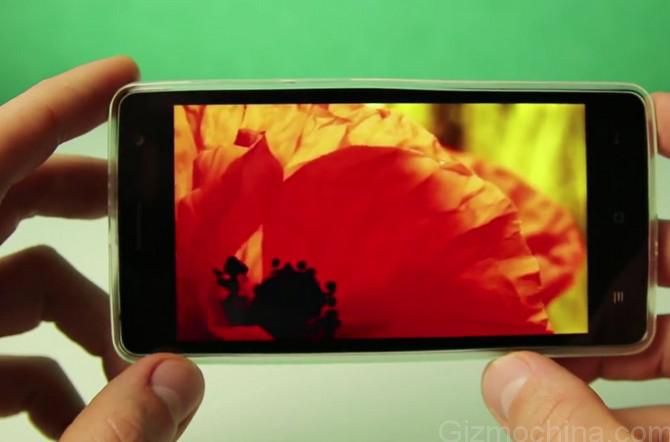 HARDWARE & PERFORMANCE
Even though the Cubot S168 is cheaper than most budget phones in the market, it comes with the same processor as its competitors. So you get the MTK6582 quad-core processor clocked at 1.3GHz, which is the same processor that we have seen in smartphones up to $150 in price. This coupled with the 1GB RAM onboard should be more than enough for responsive performance. Apps open up fast, and there is practically no lag. Only when you try to multi-task with more than 4-5 apps that you experience some lag. But that's mainly because of the limited 1GB memory. Gaming performance is smooth for most of the games and to be honest, we were impressed by the kind of fluid UI you get on such a cheap phone.
For storage, you have 8GB inbuilt. This should be enough for basic games and apps, and for your videos and images, you can use a MicroSD card up to 32GB.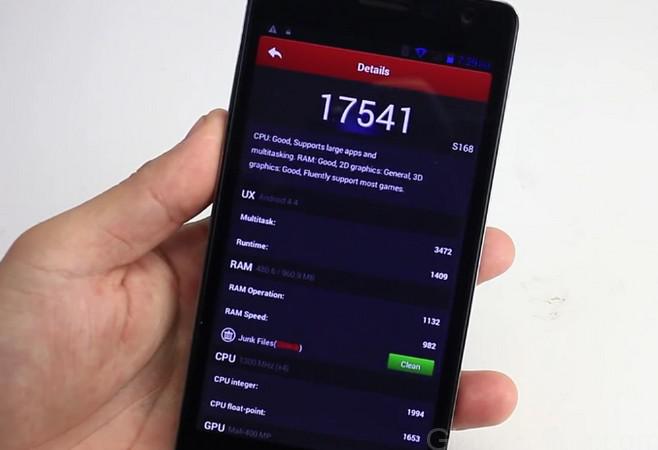 Our AnTuTu Benchmark results gave a score of 17,541 which is in line with phones with similar specs. Anything above 16,000 is good for smooth gaming performance and that's exactly what we experienced. We tried out several first person shooter as well as racing games like Asphalt 8, and all of them ran well on the phone. So, gaming performance won't be an issue especially when you stick with the traditional games with moderate graphics.
We liked almost everything about Cubot S168's hardware except for one thing, the battery. The phone comes with just 1,900mAh battery which you may find a bit small. Agreed that the qHD resolution and the power efficient quad-core processor should help increase the battery life, but according to me, Cubot should have gone with a slightly larger battery, something around 2,200 mAh to 2,500 mAh. That way, you don't have to worry about charging the device in between the day as there is a very good chance that it would last throughout the day.
Still, if you are using this as a secondary device or very lightly the phone won't need charging till the end of the day. However, if you are planning to use it roughly, then we'll advise you to carry a charger with you. Still, for moderate users, its a decent battery.
Full Tech Specifications
| | |
| --- | --- |
| Display | 5 inch 960 x540 qHD |
| Processor | MediaTek MT6582, 1.3GHz, Quad-core |
| Memory | 1GB RAM + 8GB ROM (MicroD card slot: YES) |
| Cameras | REAR: 8MP + LED flash FRONT: 5MP |
| Battery | 1,900 mAh |
| Size and Weight | 145 x 72 x 8.5 mm, 140 grams |
| OS | Android 4.4 |
| Price | $79.99 |
 CAMERA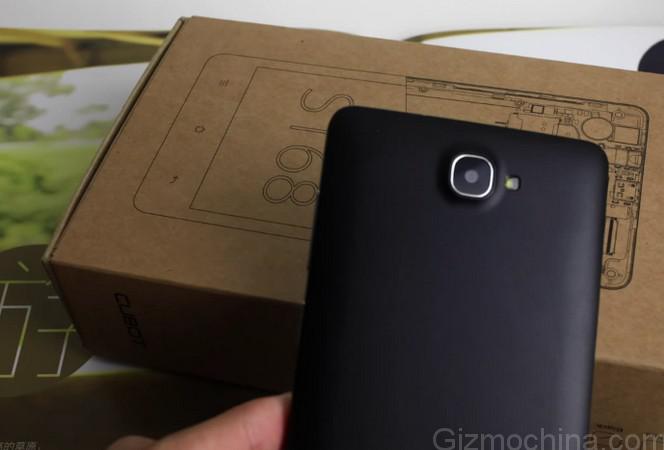 Chinese phones usually come with disappointing cameras. But the releases in the past few months have been somewhat better. Even though they don't offer extra-ordinary image quality, their inbuilt cameras are good enough for taking occasional photos. The same goes with the Cubot S168.
You have an 8MP camera at the back and a 5MP shooter up front, both capable of capturing decent pictures. For outdoor shots, the camera is good enough. Images turn out clear and bright and even the color reproduction is good to a certain extent. However, like most other budget Chinese devices, the real struggle begins in low light. Night pictures, especially where there is little light turned out to be bad. Noise is high and even the colors are not well produced. However, we are not complaining because, like we said earlier, you don't buy a Chinese device for its camera, atleast not the budget ones. So, make sure there's enough light when you click pictures with the Cubot S168. That way, you won't be disappointed with its camera performance.
CONNECTIVITY & SOFTWARE
Chinese phones these days don't sacrifice on connectivity features. The same goes with Cubot S168 which comes with Wi-Fi 802.11 b/g/n, GSM + WCDMA support (GSM 850/900/1800/1900MHz & WCDMA 850/2100MHz), 3G, GPS, Bluetooth and Gravity/ light/ proximity sensors.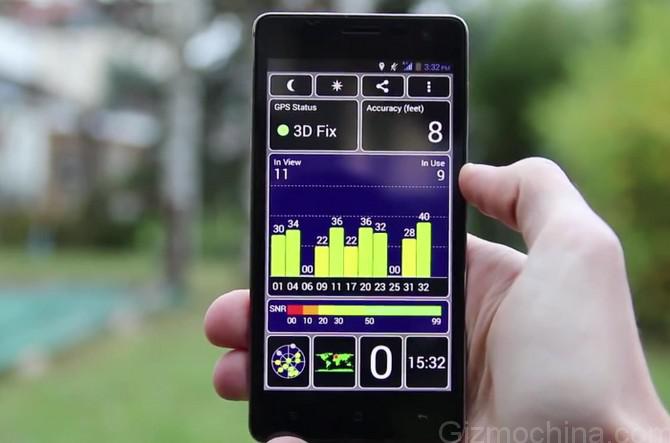 When we tested the GPS, the phone could locate over 10 satellites. Tracking down our location was quick and is at par with other mid range phones in the market. So, needless to say, you don't have to worry about GPS on this phone.
The phone comes with Android 4.4 KitKat which gives almost a stock android experience. It supports over 30 languages which include English, Deutsch, Espanol, Filipino, French, Italiano, Netherlands, Greek, Polish, Korean, Thai and even Chinese.
It supports a number of software gestures too. All you have to do is draw the letter assigned to an app on the screen and the phone will take you directly to the app. Although this is not a very unique feature since most Chinese phones come with gesture recognition,  it is still good to see a $79 phone having such practical features.
VERDICT
For a phone that just costs $79, the Cubot 168 looks and feels much more premium than it actually is. The build quality is good (strong and durable), the qHD screen is more than enough for your everyday entertainment needs, the hardware is powerful enough for lag free performance and the software is practical. All in all, the Cubot S168 looks like a great buy especially if you are short on cash.
You can purchase the Cubot S168 at just $79.99 with free Shipping from GearBest.
Buy Cubot S168 for $79.99