Antutu Website Discloses Amazing Specs of the HTC Hima(M9)
HTC has set a new bar in the Android world by introducing the devices like the One M7 and One M8, which both had stunning all metal body design, top-notch specs and great, yet simple user interface.
This time around, we are waiting for a new true flagship device from the company, because it has been a while since they released their last flagship One M8. It seems that the new top seller will be a heck of the device as the benchmarking system Antutu disclosed quite a lot of specs.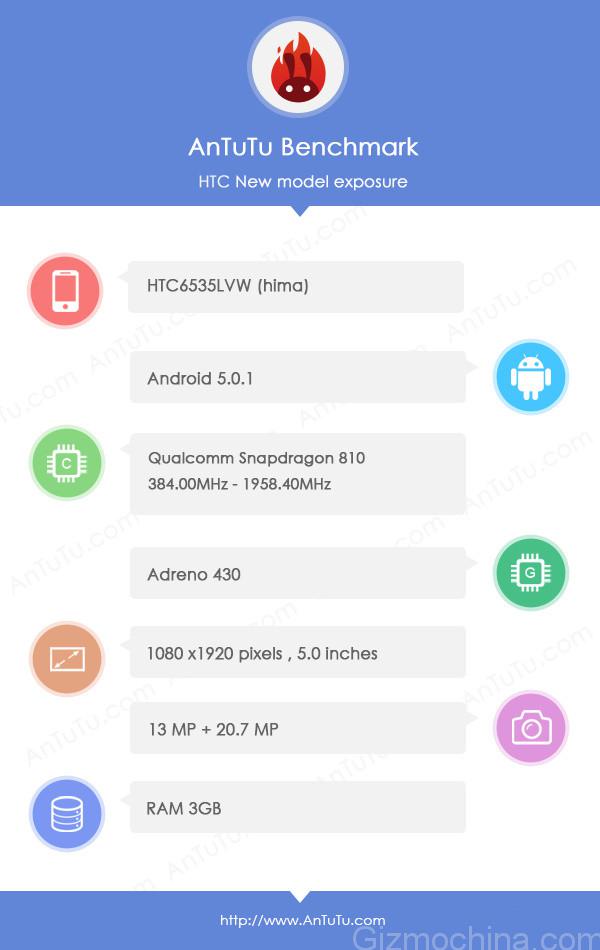 As we can see from the above mentioned specs, the new HTC, which has a codename HTC Hima(M9) will be a true powerhouse. It uses a top of the line Qualcomm Snapdragon 810 chip, clocked at up to 2.0GHz, Adreno 430 graphics processor, 3GB of Ram memory, 5 inches 1080P screen, 13mp front camera and 20.7 million-pixel rear camera (most likely Sony made), Android 5.0.1 with new HTC Sense skin on top of it.
We can say a few points about the upcoming device from the HTC. First, the good thing is that they are finally ditching the poorly received 4mp Ultra Pixel camera, which was a major drawback from the M8 device. We are happy to see a huge improvement in the camera department.
Secondly, staying with the 1080P screen may not sound a pretty good idea if the HTC want to have best of the best device in 2015. However, the necessity of Quad HD displays will always be a matter of discussion.