Xiaomi to unveil an extremely thin flagship on January 15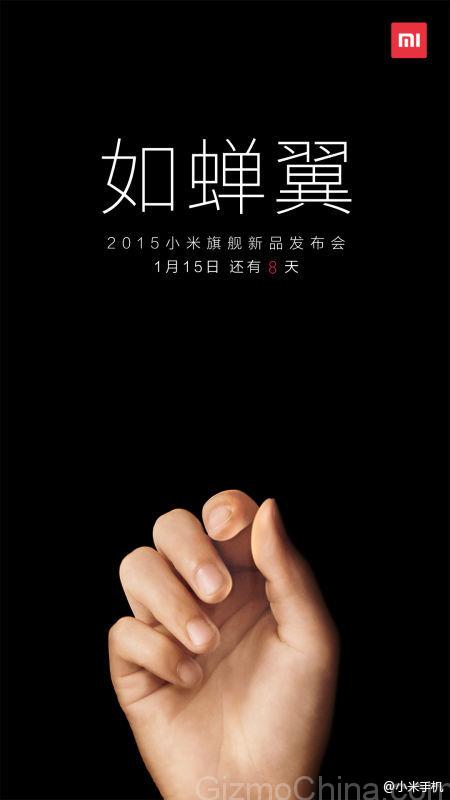 Xiaomi had a very productive 2014. The company sold over 61.2 million smartphones last year, which is a 227 percent increase in shipment sales as compared to the previous year. With such sales, the company managed to generate CNY74.3 billion in tax inclusive sales last year, which was again a 135 percent increase as compared to 2013. Now, the company is trying to continue its impressive sales with a series of product announcements this year.
Xiaomi had hinted that it would release a flagship device among other products in January. In fact, the company is keeping a press conference on 15 January 2015 to unveil this new flagship device. Lei Jun, the founder of Xiaomi took to Weibo to announce that there is no better way to start the year than to announce a flagship device.
"There's no better way to start 2015 than with our newest products" said Lei Jun via the official Xiaomi Weibo page (translated).
Xiaomi's official page announced the event and said that the press conference will be held at the Beijing National Convention Center on January 15 at 2 PM. The new flagship will focus on slimness as the poster released by the company says that the phone will be thinner than the cicada's wings (an insect). The company also said that 1000 press conference tickets will be available for sale via Xiaomi's Mall App. Each ticket will be priced at 99 Yuan (about $16) and will be sold from January 8 starting 12 PM.
People always love slim phones, but not at the cost of top end specifications. Most slim phones have to sacrifice on battery capacity which we feel is an unnecessary move. Lets hope that Xiaomi's new flagship (aka Xiaomi Mi5?) comes with a large battery to run atleast a day without having to connect to a charger.
We have already seen plenty of leaks of the upcoming Xiaomi Mi5 / Mi4S, and if the new flagship is anything like the leaked pictures and specs, then Xiaomi definitely has another best seller under its belt.
We expect more details in the coming days, so stay tuned to the website.
[socialpoll id="2244269″] [
Source (in Chinese)
]