New Xiaomi Mi4S Poster leaked! Too good to be true?
The past few months have been quite productive for the Chinese smartphone company, Xiaomi. Recently, we have come across plenty of posters, leaks as well as renders claiming/ hoping to be the next Xiaomi flagship and today, we have one more poster to add to the list, thanks to the leaks from Weibo.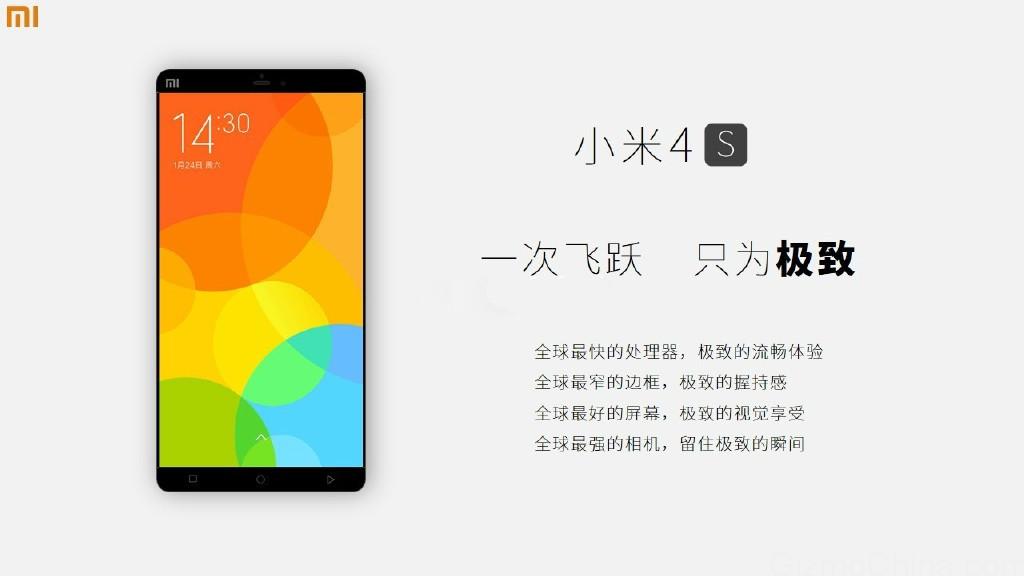 This time around its a bezel less (almost), large and a powerful smartphone that can be seen showing off the Xiaomi 'Mi' branding on top. Ofcouse, this is not a real picture, just a poster, but the render came out quite good, almost as good as what Xiaomi fans worldwide would like their next flagship to look like.
The smartphone in the picture claims to be the Xiaomi Mi4S, the successor to the current Xiaomi Mi4 flagship. While the picture does not give out any concrete details about the possible specs of the phone, what it says is that the new Mi4S is a beast of a smartphone. The poster says that the phone comes with the fastest processor, thinnest bezels, best display and the most powerful camera in the world. Of course, its hard to define what's the best in this varied and competitive market, so we can't really predict the specs with accuracy. Also, this could be a fan made poster too.
However, in case you have been following news about Xiaomi recently, there were two leaked phones which claimed to be the Xiaomi Mi5. The phone in the poster looks exactly like these two models. So, this could be the real deal, but it is too early to come to a conclusion. The earlier leaks said that the Mi5 would come with a Snapdragon 805 processor with 3GB RAM, 5.5-5.7 inch display and 4G LTE support. The poster says that it has the world's best camera but the leaked info said nothing about the rear and front camera sensors on the phone. So, even though some say there will be a 20.7MP sensor on board, we still aren't sure about what kind of camera tech would the new flagship feature.
Overall, the leaks have created a very nice picture of the Xiaomi Mi4s and hence, it would be interesting to see what exactly comes out true from these leaks when Xiaomi actually reveals the new phone.
Meanwhile,  a new Xiaomi Redmi 1S model is expected to be announced tomorrow with dual LTE support. The phone will reportedly feature a 4.7-inch 720p display with 4G LTE and an 8MP rear camera. You can check out more details here.
[socialpoll id="2243198″]