No.1 G2 smartwatch Review: Your search for a cheap smartwatch ends here! [Coupon Inside]
We recently reviewed the UWatch U8 Pro smartwatch which is one of the cheapest smartwatches currently available in the market. However, if you are looking for something more fancy, you might want to take a look at the all new No.1 G2.
No.1 has a lot of smartphones under its belt, most of which are clones of famous flagships. But given the recent surge in the demand for smartwatches, this Chinese manufacturer decided to try out its luck in the smartwatch category. Like its recent smartphone releases, this one too is a clone of a famous flagship smartwatch, the Samsung Gear watch. So, you get the same looks and design as the Gear smartwatch, which on the other hand makes it look a lot more posh and premium than other offerings in this range.
We have a lot to say about this new smartwatch, so, without wasting any more of your time, lets take a look at the No.1 G2 smartwatch review.
---
No.1 G2 UNBOXING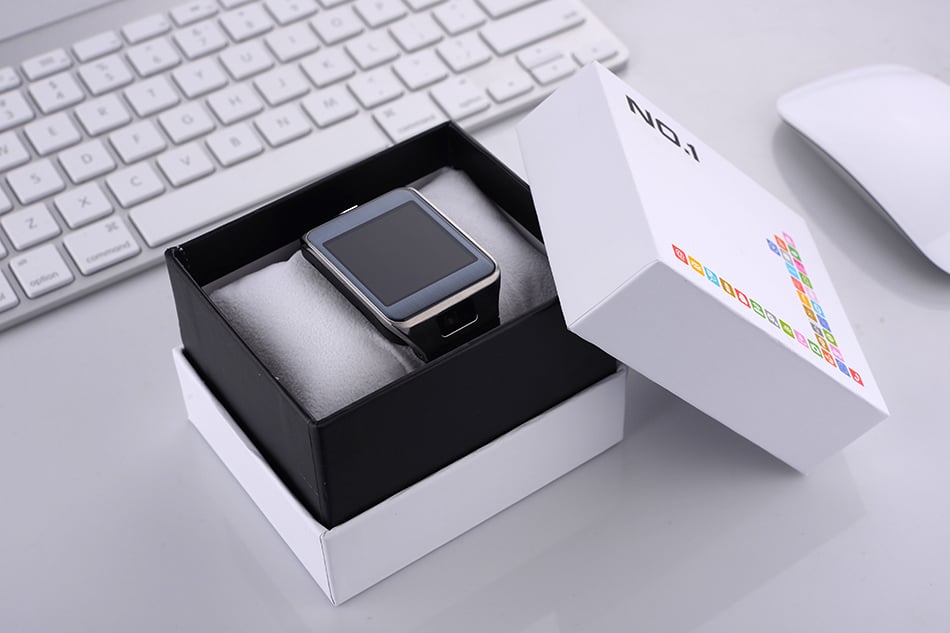 Even though you can purchase the No.1 G2 for less than $100, the overall package looked quite premium and well built. The smartwatch came in a white box with all the features listed on top of the box with colorful icons. As you can see in the pictures below, the box looked quite sturdy. So unlike many other Chinese companies, its good to see that the company has taken special care of the package.
The watch itself was placed in a white pillow like cushion to prevent any scratches while transportation. Given that its a smartwatch, you don't get many things inside the box. Inside it, we got the 350 mAh battery which came separate from the watch. It had some charge when we installed and tried to power on the device but you'll have to charge it for a few hours before you go ahead and test it.  There's also a microUSB cable inside for charging and transferring data to and from the device.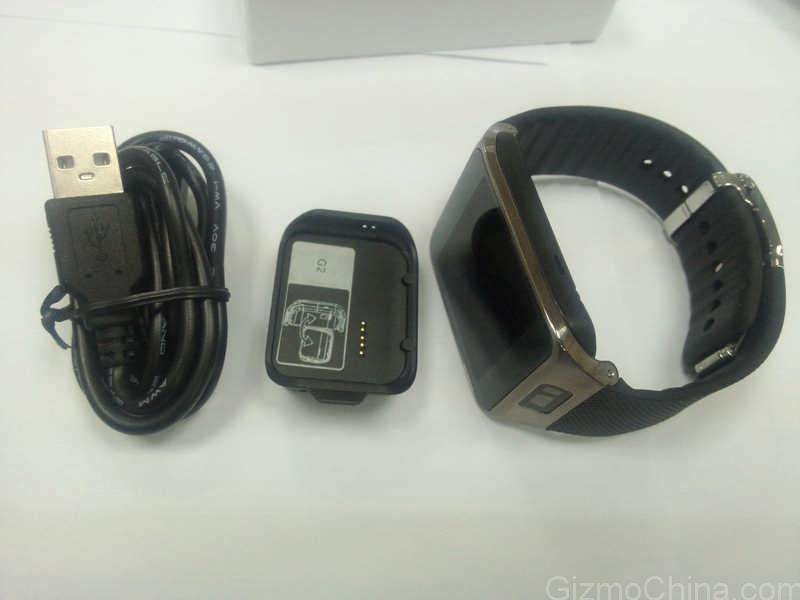 ---
DESIGN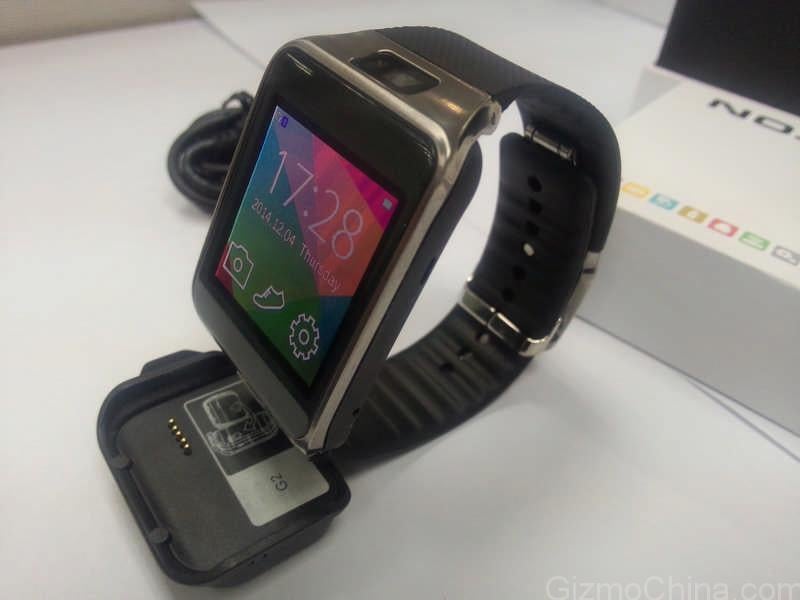 Given that No.1 has taken inspiration from the Galaxy Gear smartwatch for this particular device, you know exactly how it looks and feels. Because, despite its low price tag the company has made sure that the watch is made from quality materials. The construction is sturdy and solid, thereby matching its premium looks.
As you can see in the pictures, the face is made out of metal, while the rubber bands are made of good quality rubber. And if you ever feel that you need to change these bands, you can do that too with ease. The highlight of the G2's built is the onboard sapphire glass. Yes, the same tough Sapphire glass display that is reportedly better than the current Gorilla Glass generations.
And for those longing for a different look, the G2 is available in three different colors namely silver, gold and grey. All of them looks good but we have a feeling many would go for the gold finish.
---
HARDWARE
Here are some key specifications about the device.
The No.1 G2 smartwatch is powered by a MT2502A processor with 128M + 32M memory configuration. It has a 1.54-inch TFT screen with a resolution of 240 x 240. While this isn't the biggest smartwatch displays that we have seen recently, it is still big enough to allow easy touch inputs and on screen notifications. Like mentioned above, the front is protected by Sapphire Glass, so you don't have to worry about scratches on the display.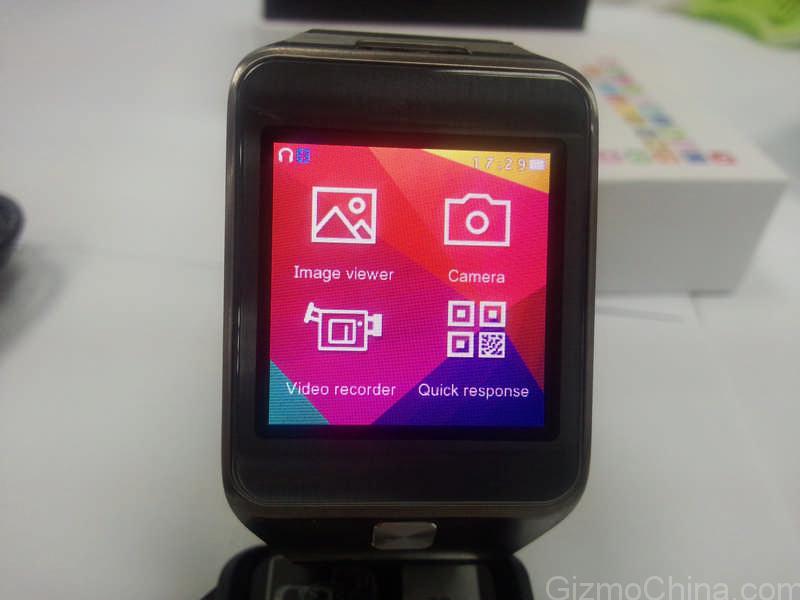 The overall dimensions of the device comes out to 36.9 x 58.4 x 10 mm which is quite decent for a smartwatch. There is a 350 mAh battery inside, which is once again standard when you compare with other competitors like LG G Watch or Moto 360. You can charge it via the provided MicroUSB port on the watch.
There is an inbuilt speaker, microphone, antenna and a vibration motor to support the various functions on the device. No.1 has also incorporated a number of sensors like Heart Rate monitor and pedometer which sets it apart from other cheap offerings in the market. However, they don't usually work that great, but more on that later. The watch is IP67 compliant which means its water proof. So, dipping it in water for a few minutes or even wearing it in rain won't any harm to the watch.
---
PERFORMANCE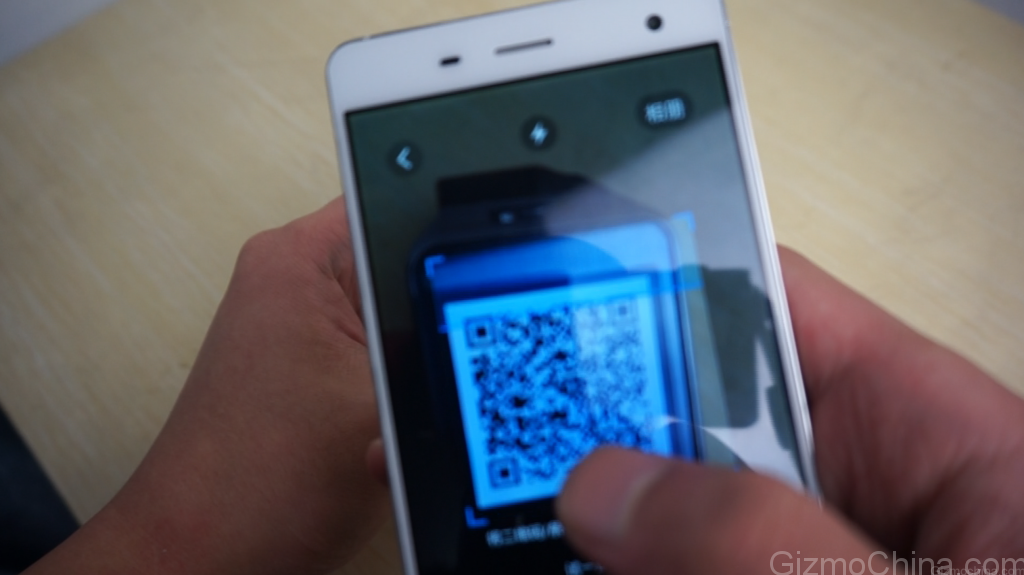 Usually, setting up a Bluetooth enabled device is pretty tiresome. Either the phone doesn't recognize the new device or the phone just doesn't connect at all. But with the No.1 G2 smartwatch, things were pretty smooth. The company has provided a QR code which when you scan it on your phone, will take you to the Mediatek Smart Device app. After downloading and installing the app, you can access various features directly from this app. For example, you can install apps on your smartwatch from this companion app. To load them, you'll see an install button inside, which will instantly download and install them on to your smartwatch. Pretty neat right? Further, you can install new watch faces, check and install software and much more from this companion app.
Once, you are connected, you get access to a number of nifty features on the watch. The highlight is probably its ability to take phone calls. The integrated microphone and the speaker does well in maintaining the call quality. So, even if the phone is somewhere else, you can take calls and talk to the person on the other end. However, remember that the watch does not feature a SIM card slot and a Bluetooth connection to a cellular active smartphone is necessary to make and receive calls.
Another important feature of the device is its inbuilt 2MP camera. The sensor managed to surprise us all in terms of clarity and color reproduction, but still it can never replace your traditional camera or even a smartphone camera. So, its just good enough for a few shots in day light every once in a while. But more on that later.
The overall UI is good and responsive, however its not completely based on Android. The inbuilt heart rate monitor gives mixed results. Sometimes, the sensor works pretty well and the results are accurate, but sometimes, it may not function properly so you cannot rely totally on the phone's heart rate monitor. The pedometer worked fine, so no problems there. It calculated the calories burnt as well as displayed the workout information pretty accurately. Moreover, it can count the number of steps taken as well as your speed.
The No.1 G2 can display text messages from your phone to its screen and you can then choose from a number of templates for reply. Even whatsapp messages are supported but you may face some problems with the app's graphics. But overall, you can use the smartwatch for your basic networking needs too.
As for music, you can't download anything on the watch. But it has a dedicated music player which can stream music directly from your smartphone to your smartwatch. You can then listen to music on the built-in speakers but if you are a headphones fan, you'll be better off playing music on your smartphone itself, as the watch doesn't feature a headphone jack.
There are a lot of other special functions as well, for example, there's a remote camera app which makes your smartwatch act as a remote viewfinder for your phone's camera. So, you can click pictures remotely from this watch. Moreover, if you go beyond a certain distance, around 10 meters, the watch will automatically start beeping alerting you that your connected smartphone is more than 10 meters away. A great feature especially if you are the kind of person who tends to forget smartphones at different places.There's a voice recorder app too which records voice through its inbuilt microphone.
Like most other smartwatches out there, you can even track your sleeping patterns which will help you analyze ways in which you can increase the quality of your sleep time. There's an infrared port as well which can control a number of appliances at your home.
On average, you get about a day's usage on the device with a Bluetooth connection. This includes regular notifications and other usage throughout the day. And when you are not connected to a phone via Bluetooth, this increases up to two to three days. So, the battery life is at par with other smartwatches that we have seen lately.
The No.1 G2 features a special power saving function as well which turns the display into grey scale when there is limited charge on the device. Moreover, with the provided MicroUSB charging port, you can charge the device using the same charger as your smartphone.
---
CAMERA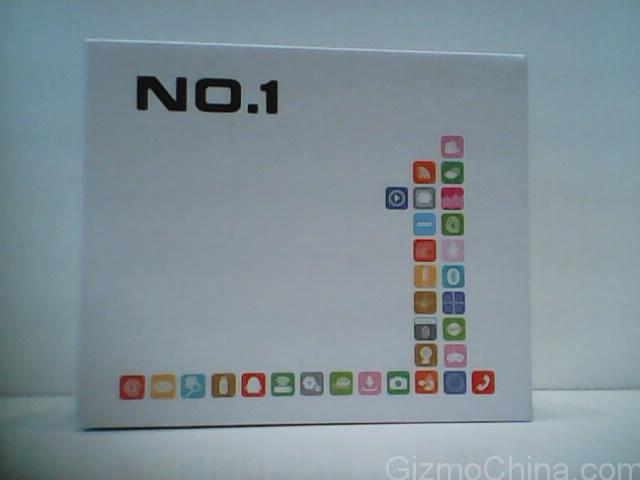 Readers are always interested in the camera quality of any device and even though this is a smartwatch, we feel there are people who will be curious about its low res 2MP camera. Like we mentioned above, this 2MP camera sensor managed to impress us, especially in day light photos.
It may not be as good or clear as regular smartphone cameras, but still its good enough for clicking casual shots or even spy shots of your friends and family. The color reproduction is pretty good as well exposure. You get some noise in the images, but given the low res sensor, you can't expect much.
Anyways, we have added a few samples down below from this 2MP camera for your reference.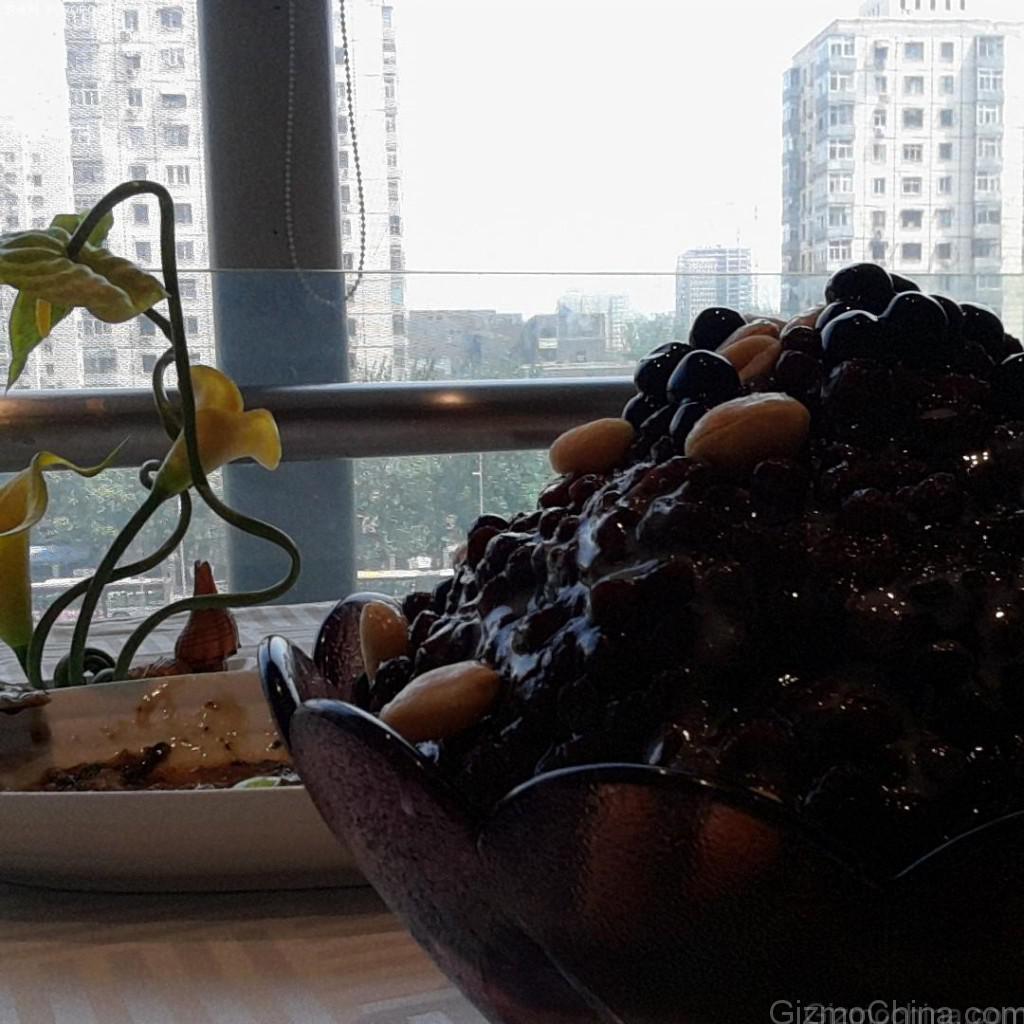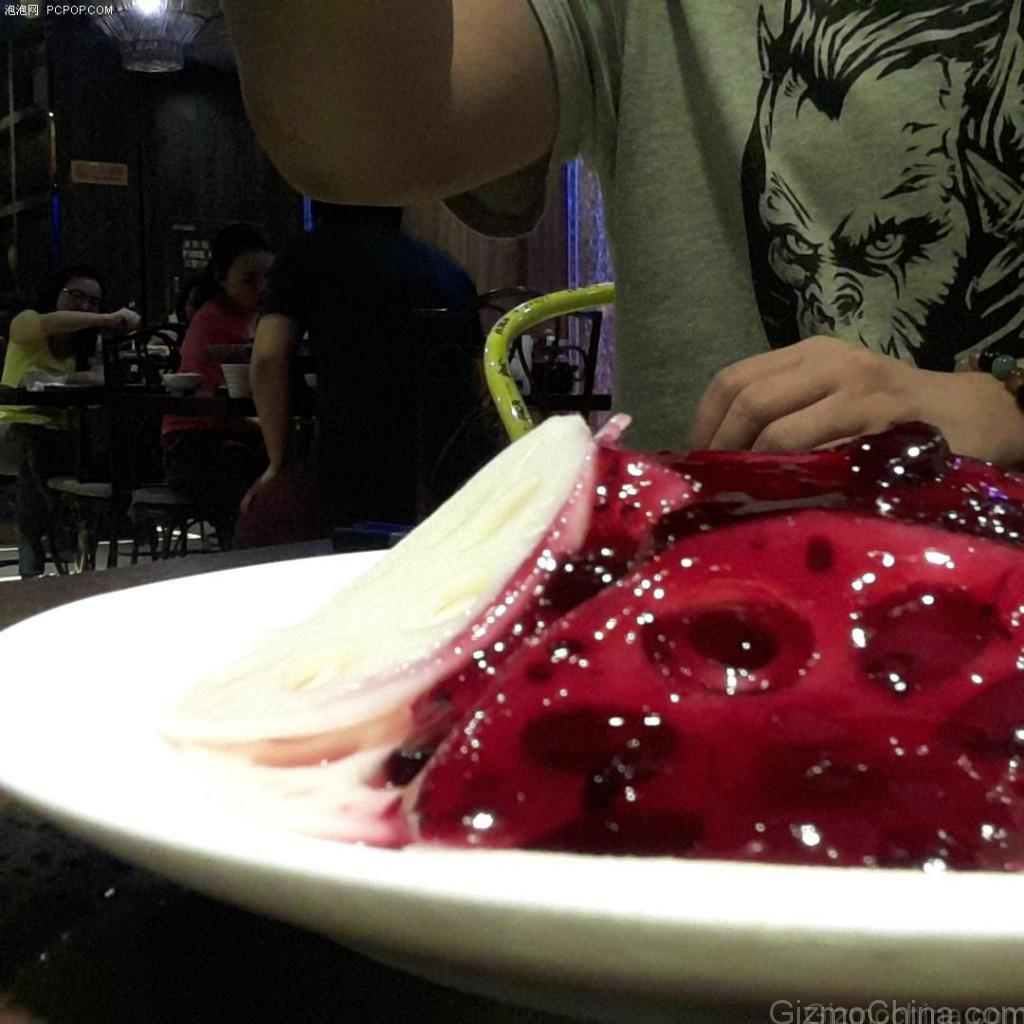 ---
VERDICT
As you can see, the No.1 G2 turns out to be a great smartwatch. In fact at this price, we can't really find any other smartwatch which looks as premium and well built as the No.1 G2 and comes with such useful features as well. The sleep tracker, heart rate sensor, infrared port, camera as well as the calling function makes this particular device a true smartwatch worthy of appreciation.
At present, Everbuying.net is selling No.1 G2 for $77 which is a great price for a device with such features. But with a coupon from discountion.com, you can get it for just $70.98. Hence, it is a must have for those looking for their first good smartwatch!
Check out the coupon below.