Xiaomi to Release Dual 4G LTE Edition Redmi 1s at 4th January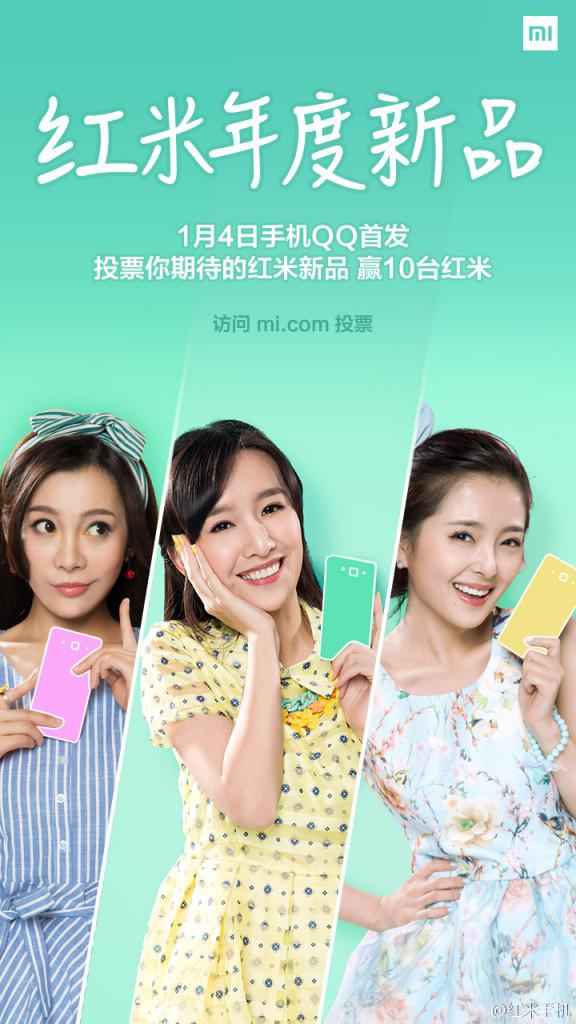 Xiaomi teased there will be a big thing happened with tencent and today Xiaomi claimed in their Weibo that Xiaomiwill release a new product along with Tencent through QQ space  at 4th January and the phone will be on sale at January . The new product is the long waited new edition of Redmi 1s.
According to the specifications on TENAA, the new Dual 4G LTE Edition Redmi 1s will be powered with Qualcomm's 64 bit Snapdragon 410, have 4.7 inch 720p display, 1GB RAM, 8GB ROM, 2 megapixel front facing camera and 8 megapixel back camera, 2200mAh battery, running Android 4.4 based MIUI 6.0. This new Redmi 1s supports GSM, WCDMA, TD LTE, and LTE FDD networks. It has 2 SIM card slots, and both of the SIM card slots supports 4G LTE.
According to TENNA's picture, its weight is 134g and some improvements must have been done with the texture and the bezels are thinner than last edition of Redmi 1s, the screen is also like an OGS screen, everything are pretty much better. But there are already a lot of phones in the market with this kind of  specifications and with more and more new competitors like Dazen and Meizu, how much will this phone will be priced at?
Meanwhile, the next generation Xiaomi Mi smartphone was also leaked recently. According to the leak, the phone features extremely thin bezels. There will also be a black edition model, which was revealed a day before. Moreover, it is said that the flagship will top end specifications like a 2K resolution display, 3GB RAM, 4G LTE support etc. Also, the screen size will be increased from 5-inches to 5.5-5.7 inches in the upcoming flagship.
Unfortunately, apart from the leaked images, there is nothing too concrete about the device. The Xiaomi Mi5 is yet to hit TENAA or crop up on any benchmark websites, so for now, let's hope that Xiaomi has something exciting to show at CES 2015.