Xiaomi Mi 5 Plus Picture Leaked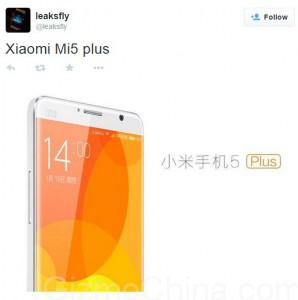 With only one more day till the anticipated launch of the Mi5 according to the Xiaomi Facebook post, a new leaked photo of the highly hyped successor of the Mi4 has been found via leaksfly's Twitter post. Our previous post from January 12 struck down the rumor that the new phone will be housing 20.1mp main cameras, since the leaked photo samples taken with the camera showed pictures with 4208 x 3120 resolution, proving that the new phone will be retaining the 13mp camera.
This update however, proves that the rumor mills are not far off with their speculations that the phone will be the thinnest phone released by Xiaomi yet. The device looks to live up to the speculations of being only 5.1mm thin, making it one of the thinnest phones aavailableon the market. The twitter post calls the Mi5 the Xiaomi Mi5 Plus, which is yet another revelation, since it shows that the launch might not just be covering Xiaomi Mi 5 but might just include the Mi 5 Plus together with it.
The Xaiomi Mi5 plus in the picture looks to be amazing, with barely any screen bezels. The screen encompasses the entire phone, and if rumors are to be believed, will be an impressive 2560 x 1440 pixel resolution. The Xiaomi Mi5 is speculated to be powered by Snapdragon 805 with 3GB of RAM to save cost. With this in mind the Xiaomi Mi5 Plus might just be a more powerful version of the phone, with a Snapdragon 810 installed alongside a pricier tag that might be well worth it, considering the affordability of Xiaomi products. Other things to expect from this new flagship device, apart from the 13mp main camera resolutions and Snapdragon 805/810 processor, includes the 5.2-inch 2.5D glass with aluminium ally frames, an arced back shell, two color options, 3-4 GB of RAM, 16/64GB of storage and other incredible features.