Latest Xiaomi teaser hints about a new NOTE flagship
Things have been confusing for the past few days. The internet is flooded with many articles claiming to be the new Xiaomi flagship. Some say that is the Mi5 / Mi4S that's going to be announced tomorrow, while others say it is the Redmi Note 2 that's gong to be released at the event. Now, Xiaomi has revealed another teaser for the tomorrow's event, this time its a poster saying the words "See you tomorrow, NOT5"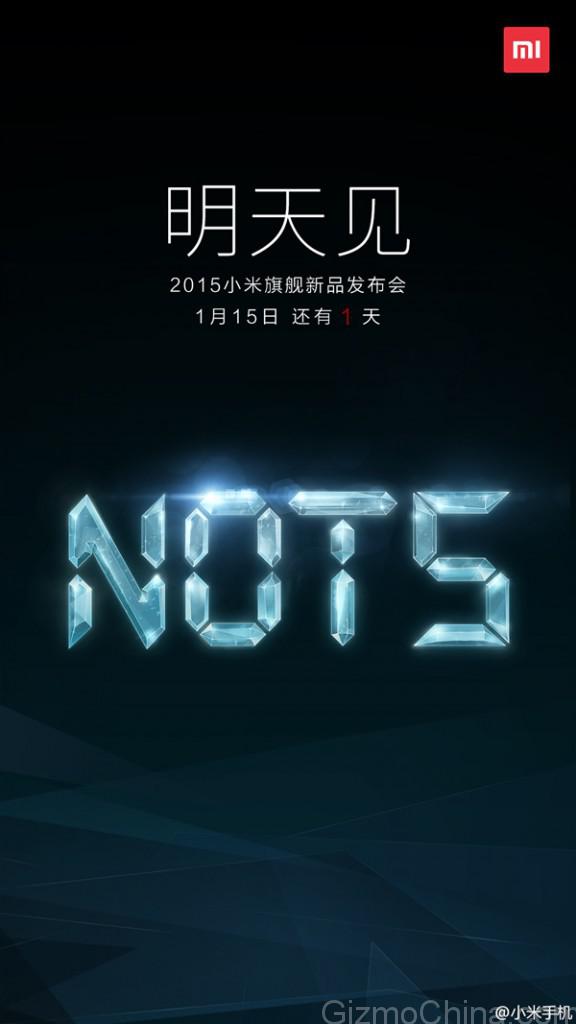 This only increases the confusion about the upcoming flagship, but since this is the official one, lets ignore all other news that we saw in the past few days. According to the poster, tomorrow, we'll see a new product called as the NOTE! Now, as you can see, there is a '5' at the end of the word 'NOT5' instead of an 'E', so could the company be calling it the Note 5 or the Mi5 Note? But it doesn't make any sense. What makes sense is something that one of our readers pointed out,– it could be "NOT 5″, meaning its not the Xiaomi Mi5 flagship that will be announced tomorrow like previously rumored. So, now there are two possibilities. One, it can be a new lineup called Xiaomi Note or it can also be called as the Redmi Note 2 as previously rumored. We know one thing for sure, there will be a device with the name 'NOTE', since the company had revealed this in the previous teaser.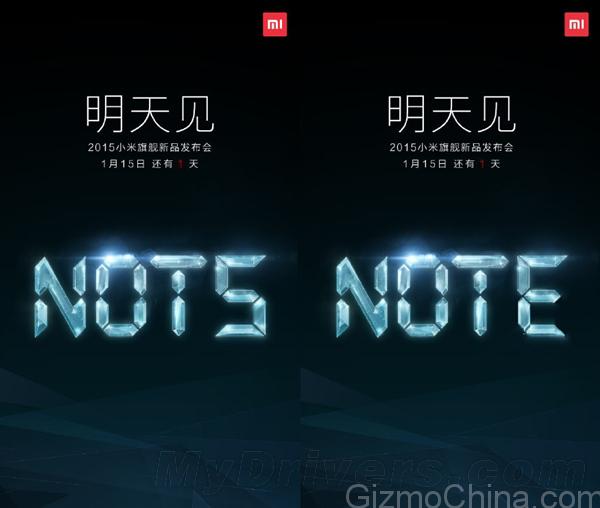 This could be one of the releases tomorrow, as another poster had said that Xiaomi will release two new devices at the Jan 15 event. Given that one of this bears the NOTE name, it will most likely be the bigger sized model. The screen size is not yet revealed, but we have a feeling it should be somewhere around 5.5-5.7inches. Anything less than that won't justify the Note name, since the regular Mi4 comes with a 5-inch screen.
The specifications of this model is not yet confirmed but it is said that the display will feature a resolution of 1920 x 1080 pixels and will be powered by the same 2.5GHz Snapdragon 801 processor as the existing Mi4 flagship. The company had also said that the phone will be very thin and light, but as of now, we don't have any particular figures to confirm the claim.
Anyways, this doesn't really help to clear out the confusion about the Xiaomi device, but luckily, we don't have to wait too long to know which flagship model will be unveiled since we are less than 24 hours away from the event.
Make sure you stay tuned to the website for more up to date news. Connect with our Facebook and Twitter pages for the  latest updates.
[socialpoll id="2246279″]