Xiaomi will release Snapdragon 810 & Snapdragon 801 smartphones tomorrow!
Well, we are just a few hours away from the official unveiling of the next Xiaomi flagship. And now we have some exciting news to reveal about tomorrow's launch.
There have been many different versions of the upcoming flagship leaked in the past few days. Some say it will be the Mi4s, others say its the Mi5 while there's even a section of population that say its a new lineup called Mi Note.
It is said that Qualcomm will hold an event on January 23rd where it will show off the new Snapdragon 810 processor. The leak says that even Xiaomi will be present at the event. The same leakster earlier said that the Xiaomi will announce two new devices tomorrow, one running on a Snapdragon 810 processor and the other running on the old Snapdragon 801 processor. This is the first time we are hearing about a Snapdragon 810 powered Xiaomi flagship and if this does turn out to be true, then fans will definitely have something to be excited about tomorrow.
Xiaomi will be the perfect partner to debut this powerful processor in China. So, it won't be surprising to see a Xiaomi flagship run this latest processor. The same source even leaked out an invite for the Qualcomm's event for Jan 23. We have added it below.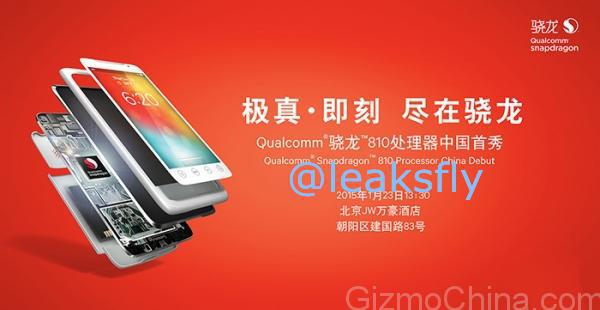 Qualcomm Snapdragon 810 is the most powerful mobile processor from the chipset maker till date. It is built upon a 20nm process and features the 64-bit architecture, big.LITTLE eight-core, and Adreno 430 GPU.
Xiaomi confirmed earlier today that there probably won't be a Mi5 at the event, which leaves us with a new Mi Note lineup. This could be the one sporting Snapdragon 810! Xiaomi will also announce another device at the event, probably the Redmi Note 2 with Snapdragon 801.
Overall, it seems like tomorrow will be a great day for Xiaomi as well as fans. Stay tuned to our website for more such exclusive updates.
[
Source
]