Qualcomm Snapdragon 820 and 815 processor details emerge
Just yesterday we saw what Mediatek had in store for us for 2015. Now, we have a new image which shows off what Qualcomm has planned for 2015. The image reveals details about the new Snapdragon 820, Snapdragon 815 and the other mid-range SoCs from the 600 series.
The most awaited processor this year is none other than the mighty Snapdragon 820! According to the leakster, this new64-bit SoC will be feature eight TS2 cores making it an octa-core beast. The leakster didn't reveal the clock speeds. Further, this new SoC will come with Adreno 530 GPU and LPDDR4 RAM. It will support MDM9X55 LTE-A Category 10 networks and will use the advanced Samsung / GF 's 14nm FinFet process.
Coming to the next SoC i.e. the Snapdragon 815, it will be an octa-core SoC with four TS1i + four TS1 cores based on ARM's big.LITTLE architecture. It will use the 20 nm process. The SoC will feature Adreno 450 and LPDDR4 RAM. It will support the high speed MDM9X55 LTE-A Cat10 network band.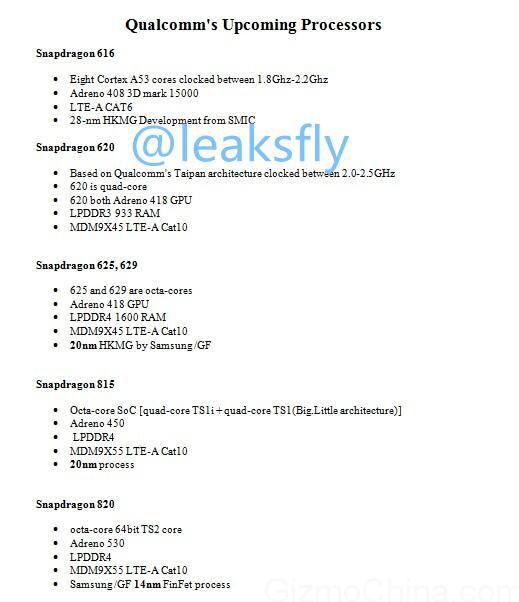 The next three are mid-range offerings from Qualcomm. The Snapdragon 629 and 625 will feature eight cores with Adreno 418 GPU and LPDDR4 1600 MHz RAM. The processor will use a 20nm HKMG process by Samsung/ GF. The two along with Snapdragon 620 will support MDM9X45 LTE-A Cat. 10 networks. The Snapdragon 620 will be based on Qualcomm's Taipan architecture with four cores clocked between 2.0 ~ 2.5 GHz. This one too will feature Adreno 418 GPU but supports the LPDDR3 933 RAM.
— leaksfly (@leaksfly) January 20, 2015
Finally, the Snapdragon 616 will feature eight Cortex A53 cores clocked between 1.8Ghz to 2.2Ghz. It will be built upon a 28nm HKMG process from SMIC and will feature Adreno 408 GPU and support LTE-A Cat. 6 networks.
Overall, it looks like Qualcomm has an advanced SoC lineup this year and it would be interesting to see the performance of these ultra fast processors in real life.
[
source
]
Thanks for the tip!